"Lollipop hair" is the hair trend to try if you want to go *seriously* bold in 2017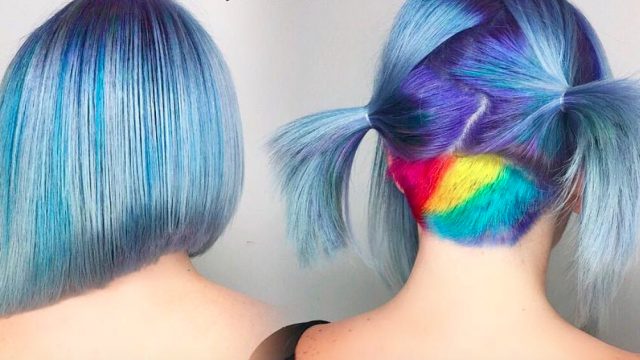 If you love all things bright and colorful, get ready to fall in love with lollipop hair! We have a strong feeling that this is going to be a MAJOR hair trend in 2017 (at least for the boldest among us) because it seriously packs a punch, much like the rainbow roots of this year. And if you like your hair color a little more subtle, you'll love this because of how versatile it is. Ah, we love this so much!
Hair stylist Jamie Gomez is based in Huntington, CA, and her 10k Instagram followers know her for her unique cuts and colors — and this lollipop surprise is one of our faves! It's just so cute and daring!
At first, this looks like a simple asymmetrical cut in a bright blue color with some slight ombré happening.
We love that mix of blues, especially since denim hair is def a thing taking over in 2017.
But there's a surprise! We told you lollipop hair is bold, but it's also totally wearable since it's nice and sneaky and comes in the form of an undercut.
Like, OMG! We definitely didn't see that coming, but we totally dig it. Gomez wrote,
"How bout this Lollipop Surprise! 🍭 Even the most classic haircut can still have a party 🎉"
According to Gomez, you can get this look using the Kenra Professional Neon Mania colors after bleaching hair. It's a mixture of violet and blues along with neon magenta, yellow, blue, and more violet. We heart this so much!