This is why part of Logic's 2018 Grammys speech was censored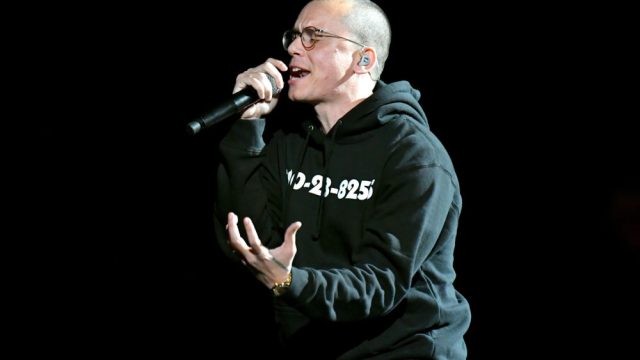 There were more than a few powerful moments at the 2018 Grammy Awards — in no small part because so many artists spoke out on the current political and social climate.
One of the most poignant parts of the evening came when Alessia Cara and Khalid joined Logic to perform his suicide prevention song "1-800-273-8255." The musicians shared the stage with a group of suicide attempt and loss survivors (the name of the song is the number for the National Suicide Prevention Lifeline).
After finishing the emotional performance, Logic gave a politically charged speech, addressing victims of sexual harassment and racism. But a part of the rapper's speech was censored by CBS, leaving many to wonder what Logic said that was deemed inappropriate for TV.
Logic began his speech by speaking about specific marginalized groups.
He said, "Black is beautiful. Hate is ugly. Women are as precious as they are stronger than any man I have ever met. And unto them I say: Stand tall and crush all predators under the weight of your heart that is full of the love they will never take away from you."
He then expressed the importance of standing up to predators, saying, "Be not scared to use your voice, and especially in instances like these when you have the opportunity. Stand and fight for those who are not weak, but have yet to discover the strength that the evil of this world has done its best to conceal."
However, Logic was censored when he addressed Trump's reported remark about "shithole countries," adding, "To all the beautiful countries filled with culture, diversity and thousands of years of history, you are not shitholes!"
The phrase "shithole countries," of course, has been repeated on countless news shows and stations (uncensored) for the past several weeks, so CBS's decision to censor the phrase is perhaps questionable. However, at the end of the day, we don't think Logic's message was lost (because let's be real: We're all curious enough to look up what he said), and we're just glad that his message reached so many people last night.
Logic concluded his speech by saying, "Lastly, on behalf of those who fight for equality in a world that is not equal, not just and not ready for the change we are here to bring. I say unto you, bring us your tired, your poor and any immigrant who seeks refuge. For together, we can build not just a better country, but a world that is destined to be united."
Hear, hear!