You can shop comfy tops for just $8 at LOFT's massive extra-80%-off sale
With all this extra time at home, the words "comfy" and "cozy" are at the top of our priorities list (as well as our most-frequently-used vocabulary list). We've been leaning into loungewear and prioritizing non-restricting clothes that feel like a big hug—because we could all use one right now. So, we were excited to see that LOFT's massive warehouse sale is stocked with exactly what we need. We're talking soft leggings, loose sweaters, comfy jumpsuits, simple T-shirts, and more—and the prices start at just $8.
The LOFT warehouse sale includes hundreds of already discounted items marked down up to 80% off. You can scroll through all the 400+ items in the sale or you can narrow the search down to look at categories including $8 tops, $12 pants, $16 dresses. A bunch of plus and petite styles are also marked down. To make your shopping even easier, we picked out the nine pieces that we want in our at-home wardrobe ASAP. But don't drag your feet—the sale ends Friday, May 15th, at 3 a.m. Eastern, and multiple sizes and styles are already selling out.
Shop our favorite loungewear items from the LOFT sale below.
Lou & Grey Tweedy Twist Front Top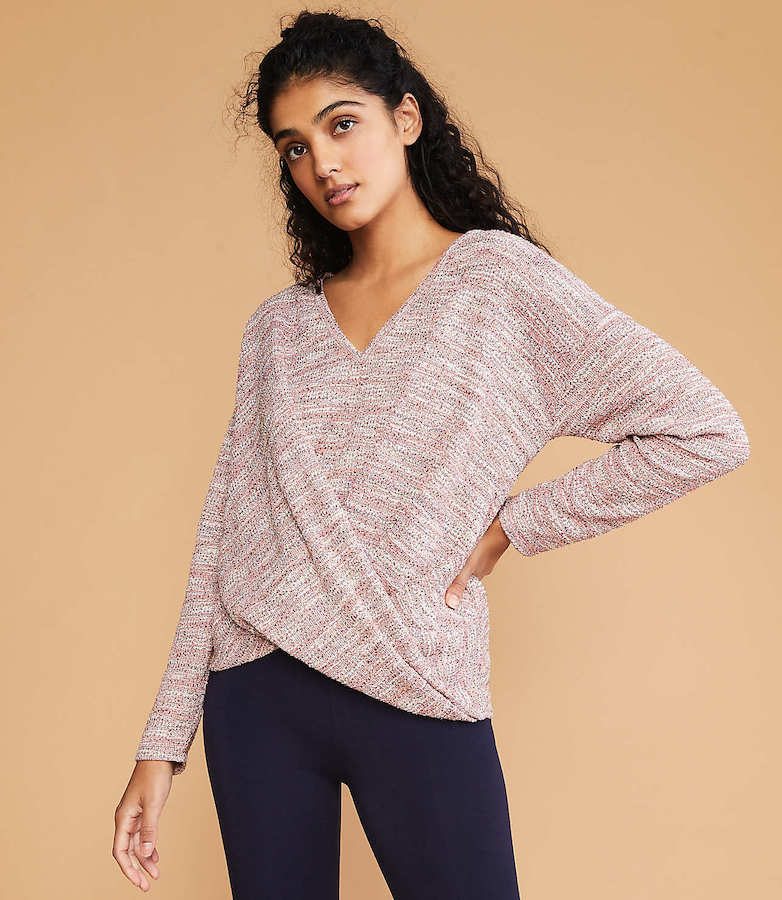 This thin and airy sweater is the perfect piece to transition to warmer weather. It will keep you cozy indoors and it's light enough to throw on for an evening walk outside.
Lou & Grey Velour Wide-Leg Pants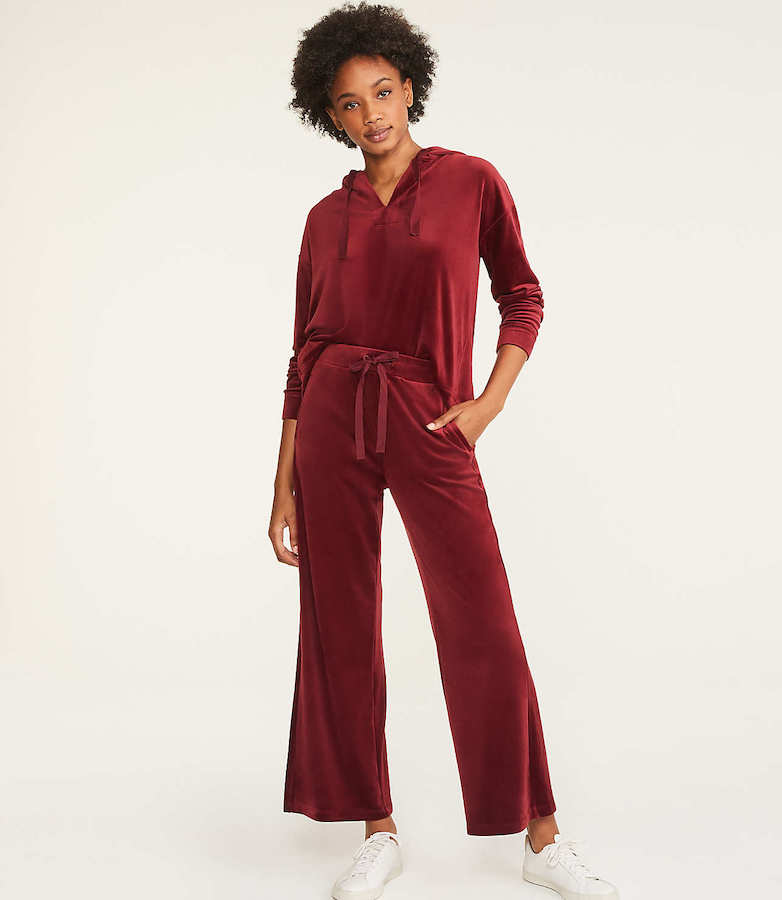 We want to live in these cozy wide-leg pants. Grab the matching sweatshirt for $29.88 here and you can have a serious Cheetah Girl moment in an all-velour sweatsuit.
Puff Sleeve Sweatshirt Dress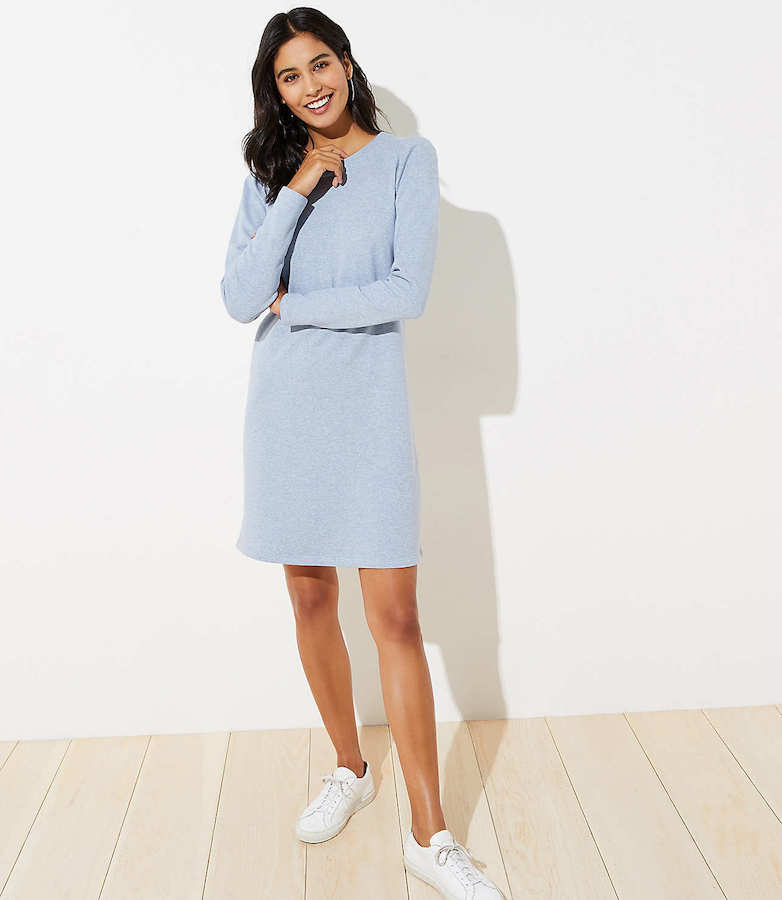 We're declaring sweatshirt dresses the new "business casual." It's the comfiest version of getting all dressed up with nowhere to go.
LOFT Plus Twist Front Capsleeve Jumpsuit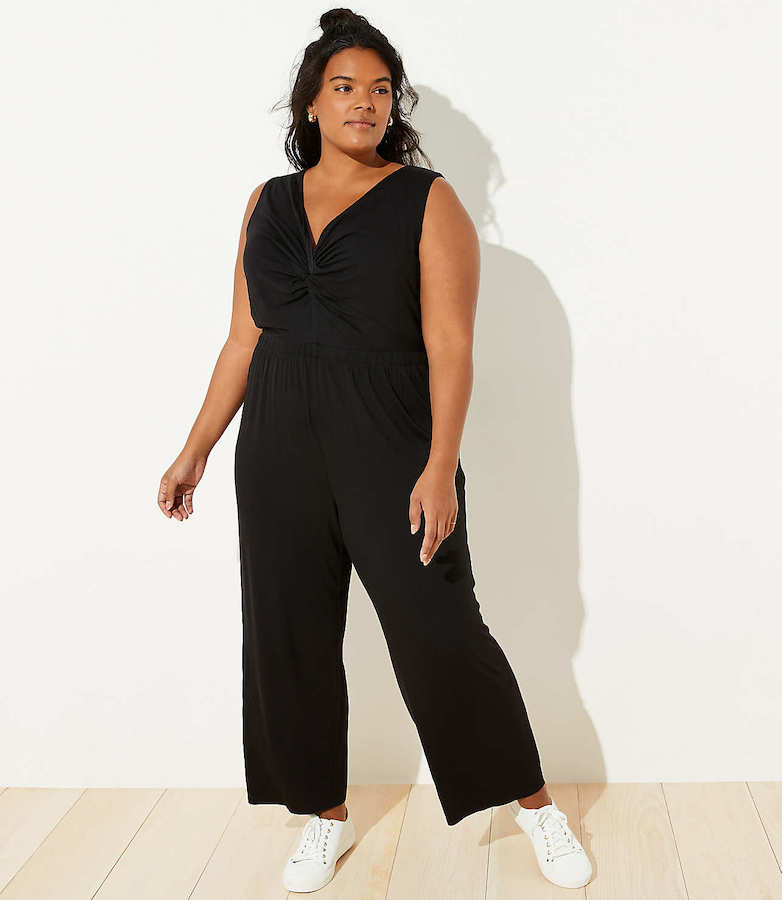 Comfy jumpsuits are the best thing to happen during quarantine. It's an all-in-one outfit that feels put-together without the strain of having to actually put anything together.
LOFT Striped Peplum Tee
Tired of your same old dingy T-shirts? This striped peplum shirt will add some color and fun to the rotation.
LOFT Plus Leggings In Seamed Pointe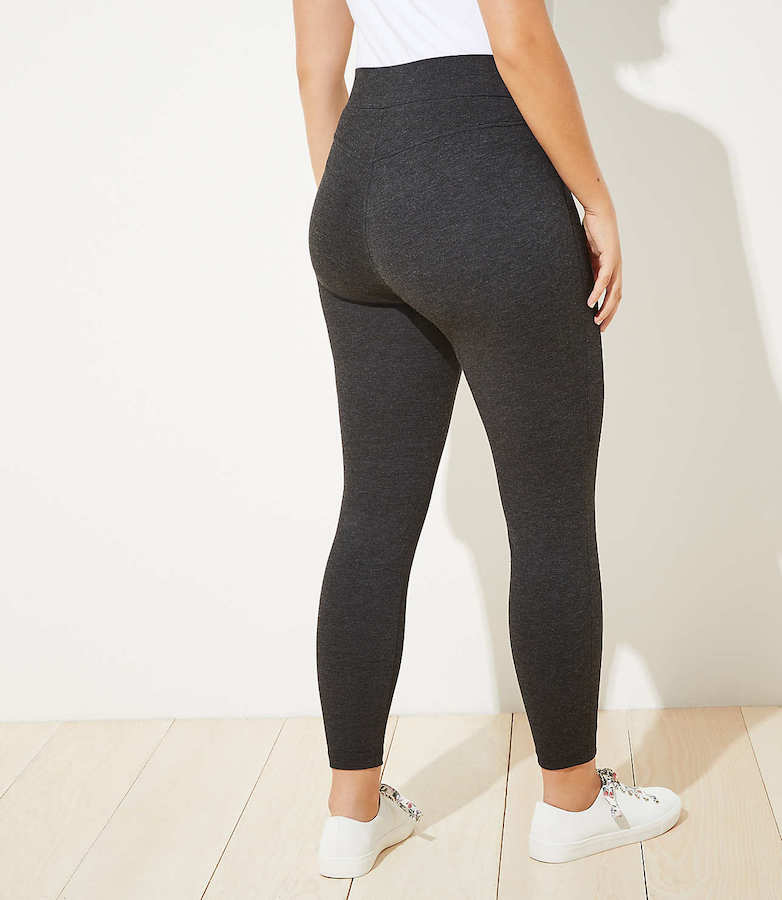 For an item most of us are wearing every single day lately, leggings at only $12 is a steal. Plus, to add another perk to an already great deal, they're high-waisted with flattering contoured seams.
LOFT Plus Spacedye Double V Sweater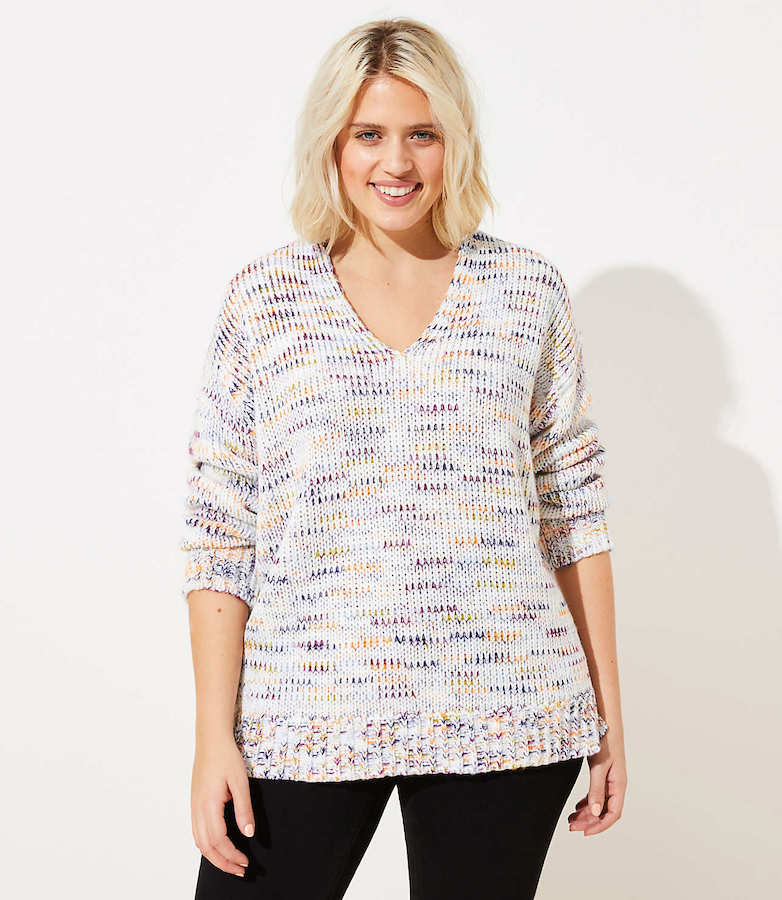 Cozy and colorful, this sweater is the kind of comforting joy we need in our lives right now.
Lou & Grey Signature Softblend Lite Jumpsuit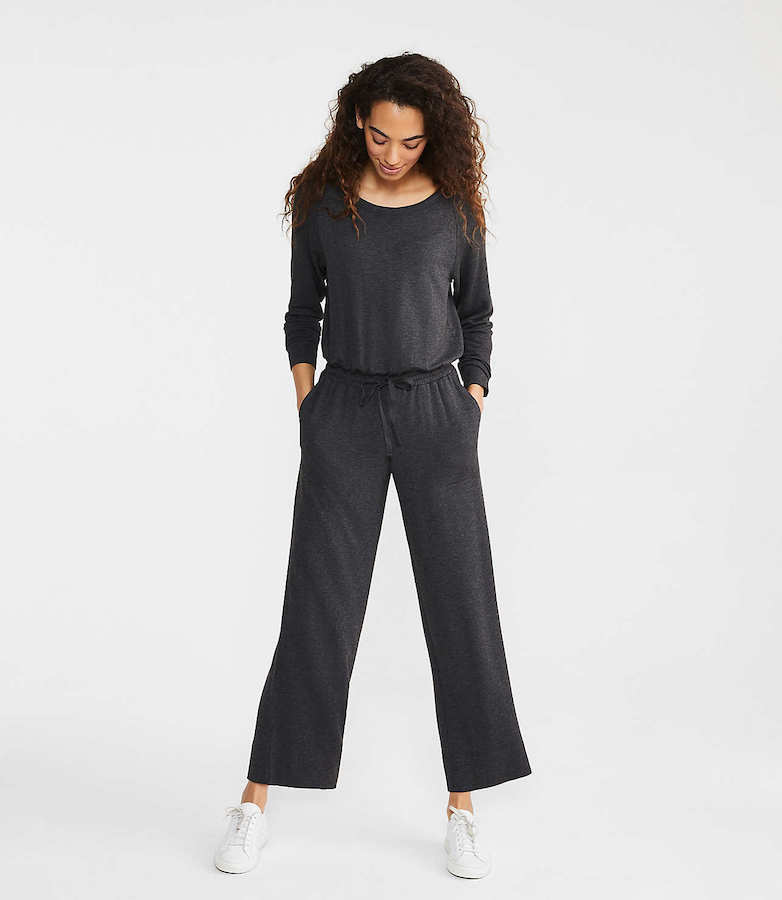 Here's to another comfy jumpsuit that we are adding to our carts immediately. This style has pockets, a drawstring waist, and it's made with Lou & Grey's Signature Softblend fabric.
Lou & Grey Back Pocket Ponte Leggings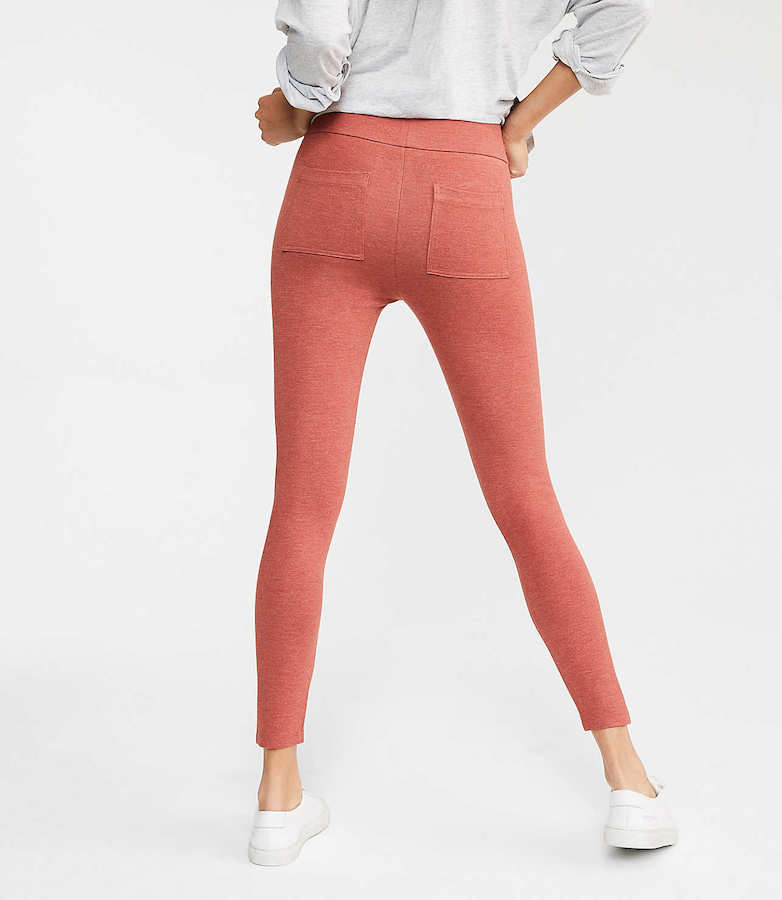 We've said it before and we'll say it again: Leggings are pants. With the slim pockets on the back of this pair, no one can even try to argue with that.
LOFT Waffle Stitch Wrap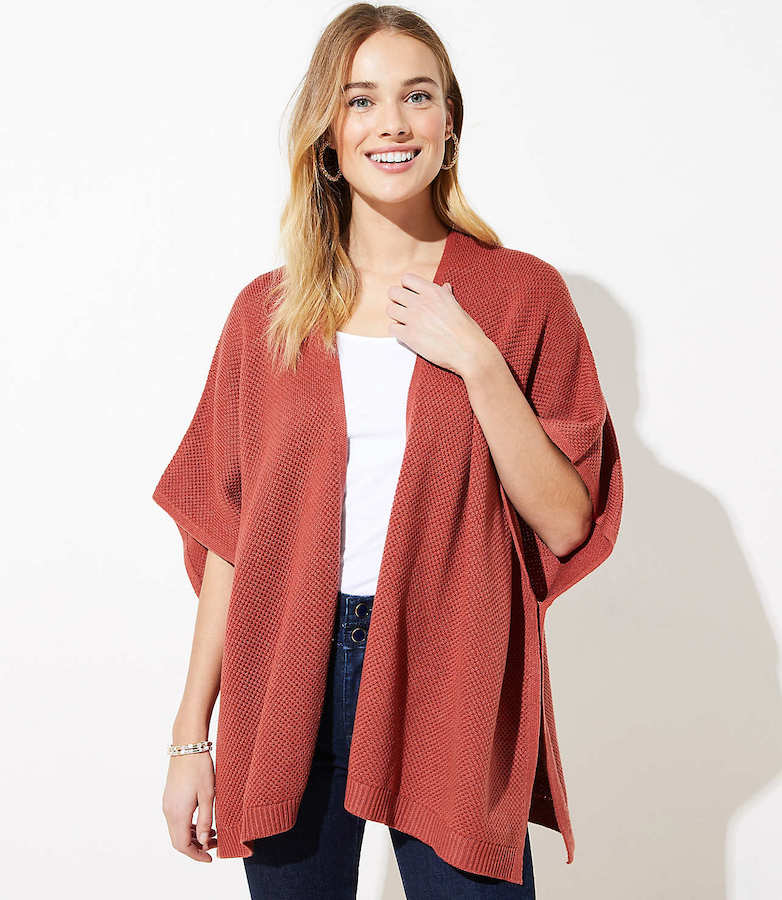 All we want is to wrap up in this sweater, turn off our notifications, and enjoy another movie marathon.