Lo Bosworth slays in this iconic New Yorker-in-the-winter look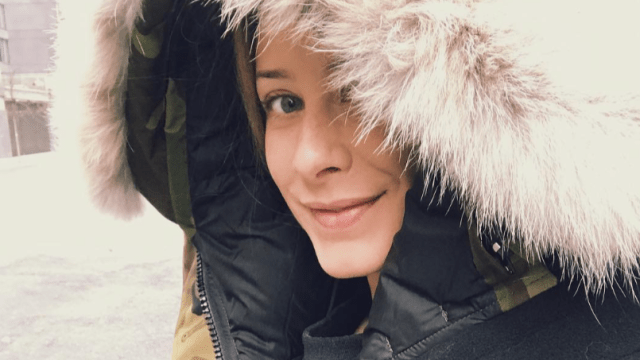 The last thing we're thinking of in the winter is being oh so chic! Honestly between praying we make it to our next destination without getting hypothermia, and counting the blocks until we reach Starbucks, cute winter outfits may not be top of our list. But we are here to help you look put together starting with Ms. Lo Bosworth. Her latest outfit is SO iconic New York in winter that it almost makes us want to venture outside in the less-than-pleasant temperatures.
If you're not following Lo on Instagram stop what you are doing and hit the follow button immediately. Although we are obsessed with all of the content on her page, we love when she showcases her Cali girl turned New Yorker style. If you didn't know her from Laguna Beach, one would think she has been a native New Yorker for years. If we had to create the perfect New York uniform the essentials would be cool girl shades, an enviable pair of heeled booties and lots and lots of layering.
The beauty of fashion in New York is that women strive to let their individuality show in the clothes they wear. Whether that's in an all black outfit, sparkly boots, jewel toned sweaters, or funky stockings we love the effortless vibe that downtown girls exude and the prim and proper attire of the Upper East Siders. According to a StyleCaster interview Lo did when she first moved to New York, that is exactly the essence that she tried to encapsulate.
The city breathes life into me every day.  Individuality is embraced here and it's that ideal that reminds me to wear whatever I fucking please out the door everyday.  I dress for myself, not for others.  I also bring Band-Aids with me everywhere.
So how can you capture the chicness and effortless style of a New York woman you may be wondering? The answer is simply wear what you want to wear and dictate what you deem stylish. But don't forget to always layer, layer, layer.
https://www.instagram.com/p/BM4F76djEJy
In the wise words of Tove Lo "I'm a, I'm a, I'm a cool girl, I'm a, I'm a cool girl, Ice cold, I roll, my eyes at you, boy" except this year you won't be ice cold, because if you're truly invested in New York fashion then say it with me always layer, layer, layer.