Lizzo performed a Harry Styles cover with a special shout-out to the singer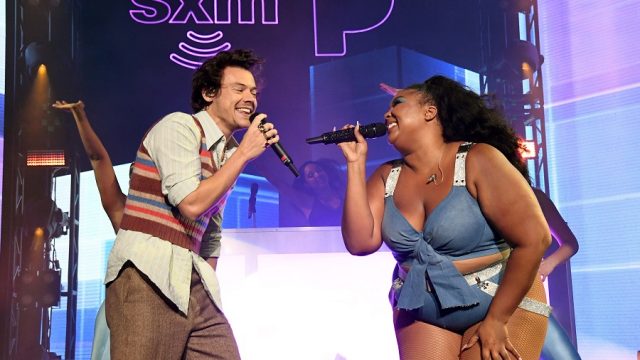 Lizzo and Harry Styles are playing one intense game of back-and-forth, and we just can't get enough of it. After Styles covered Lizzo's "Juice" during a December episode of BBC Radio 1 Live Lounge, Lizzo has volleyed the ball back to him with her own Live Lounge cover of Styles' "Adore You." Can these two just tour together already?
It's true that all good things come in threes. First we had Styles singing "Juice," then we had Styles and Lizzo perform together at the SiriusXM and Pandora pre-Super Bowl concert at the end of January, and now we've been blessed with Lizzo's February 17th "Adore You" cover. We're either just really lucky, or Lizzo and Styles have something up their sleeves that they're hinting at with all these crossovers—is there possibly a major collab in the works? Wow, we hope so.
Lizzo brought her own soulful, jazzy feel to "Adore You." She did her flute thing and punched up the lyrics to fit her style. It's very Lizzo, yet still very Harry Styles, and like the past two times their paths have crossed, it's utter perfection.
Lizzo even replaced the lyric "Honey" with "Oh, Harry," and that just about did us in.
Now we're waiting for Styles to deliver the punchline, as Lizzo did back in December.
(Although, Lizzo is still on her Twitter hiatus, so perhaps they should simply text each other—you know they have each others' numbers. What we would do to be in a group chat these two?) Keep this game going, guys. The more Lizzo and Harry Styles mashups we can get, the happier we will be.