Lizzo opened up about her depression, and she said being "emotionally honest" saved her life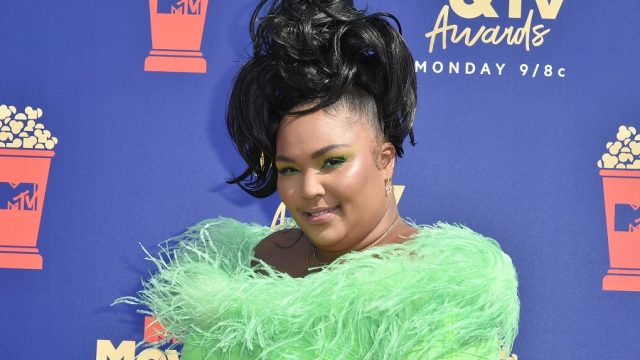 Just because someone's life seems peachy-keen on social media, doesn't mean they're not going through it. In Lizzo's case, she has two hit songs of the summer ("Juice" and "Truth Hurts"), and a number one album on iTunes (Cuz I Love You). But no one is immune to mental health struggles. The artist recently opened up to her Instagram followers about her depression and how she struggles to stay positive sometimes. In response, so many fans—both famous and not-famous—showered her with support and love, often sharing their own stories.
On June 21st, Lizzo posted a short video to her Instagram feed. The caption read, "I self-love so hard because everything feels like rejection… it feel like the whole world be ghostin me sometimes. Sad af today. But this too shall pass. S/O all the messages of love. Thank you."
The text over the video read, "I'm depressed and there's no one I can talk to because there's nothing anyone can do about it. Life hurts." Even though she felt at the time as though words from friends couldn't help her, she got so many "messages of love."
"U drag me up everyday … fr," SZA commented on Lizzo's Instagram. "Take your time u carrying a lot of us. We love you."
Claws actress Neicy Nash added, "Thank you for your transparency Queen. You are not alone. We all have those days and your right, they shall pass. Adjust your crown."
Lizzo's co-star in the upcoming Hustlers movie, Constance Wu, commented, "Love you." Designer Marc Jacobs wrote, "I hear you- depression is real. Struggle with it all my life. It does pass although while in it, it seems it never will. You are so loved. I love you Lizzo."
Lizzo also received an outpouring of support from Twitter.
This is officially our new motto:
Lizzo took to Instagram hours after posting to respond to the messages and talk about reaching out for support.
"I learned in the last 24hrs that being emotionally honest can save your life," she captioned the video. "Reaching out may be hard but as soon as I did it, I was immediately covered in love."
If we have anything to say about the matter, Lizzo can always reach out. And that's true for anyone—Lizzo's story is a reminder of how, even when you don't feel like it exists, there is a network of support when you're struggling. The weight doesn't have to be just your burden to carry.
If you or anyone you know is dealing with thoughts of suicide, you can reach The National Suicide Prevention Lifeline 24/7 at 1-800-273-8255. You are not alone.