Lizzo is collaborating with Megan Thee Stallion, and we hope her jazz flute is involved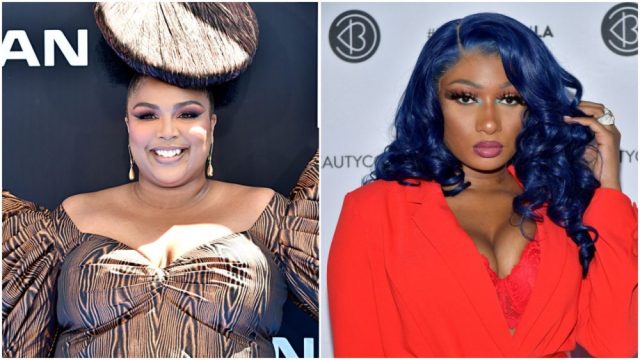 Both Lizzo and Megan Thee Stallion have dominated summer 2019. Thanks to Megan's viral social media slogan, the phrase "Hot Girl Summer" has been inescapable, and Lizzo's chart-topping bops have been blasting out of car stereos all season long. Both of these women are badass artists on their own, and the idea of them working together is almost too good to be true. But fear not: apparently, a Lizzo/Megan Thee Stallion collab is on the horizon.
Speaking with Entertainment Tonight's Kristen Gill at Beautycon 2019, Megan revealed that she and Lizzo are hard at work on a new collaboration.
The two Houston natives have been hanging out recently, fueling fans' hopes that they will release a song together. On August 8th, Megan posted a video of her and Lizzo drinking together, and Lizzo followed it up with a video of Megan twerking to Sasha Flute. When Gill asked Megan if the videos foreshadowed a future song together, the rapper simply replied, "Of course!" and added that they already have plans for their collab.
"I already know. And I just can't wait for y'all to hear it. It's amazing already," she said. "Just two Texas girls and we just had a really good time."
We're already stoked to hear what Lizzo and Megan have in store for us—and we're crossing our fingers the flute will be involved.
Both artists have had some major musical partnerships recently. On August 9th, Megan dropped her latest single, "Hot Girl Summer," featuring Nicki Minaj and Ty Dolla $ign. Lizzo, meanwhile, worked with legendary rapper Missy Elliott on the song "Tempo," released ahead of her 2019 album Cuz I Love You. 
Lizzo and Megan working together is a dream come true. We hope they share more details soon.