Lizzo announced she's hosting a Juneteenth fundraiser in an epic video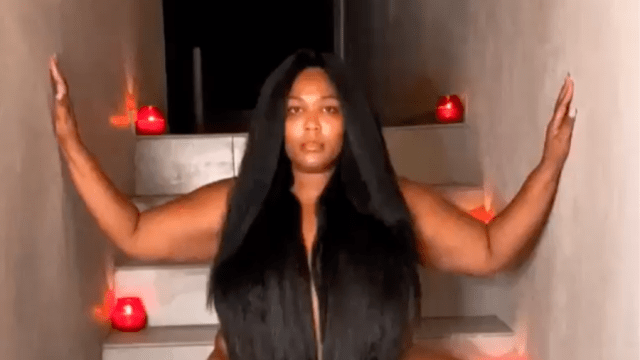 Lizzo is celebrating Juneteenth in the best way possible. The Minneapolis-proud singer and rapper is hosting a silent auction and raffle that will benefit Black organizations and businesses in the Twin Cities, the heart of where the Black Lives Matter protests have taken place in the past month. The fundraiser, which lives at LizzoLovesYou.com, is primarily about putting money back into Black communities (which is beneficial to everyone), but there are plenty of other great incentives to donate as well.
Never one for subtlety, Lizzo's announcement of the fundraiser was a masterpiece of its own. She shared a video to Instagram, in which she's sitting on candle-lined stairs, in the nude, with floor-length hair extensions covering her body.
"Happy Juneteenth y'all," Lizzo started. She went on to explain the auction and raffle, urging people to celebrate Juneteenth by "giving back to Black."
Donating $10 will give you 100 entries in the raffle for a chance to win a video call with Lizzo herself, two VIP tickets to one of her concerts, a custom vase in the shape of her majesty's iconic booty, and more.
If you're ready to throw down more money, you bid on a number of items from some iconic Black artists. You can bid on Missy Elliott's jacket from the 2012 BET Hip Hop Awards, Janelle Monae's pink pants (you know the ones) from her "PYNK" music video, Lizzo's custom bra and vintage coat from her "Tempo" music video, or artwork by Kezia Harrell and Jan Gatewood. There are also photo prints of Lizzo available from non-Black photographers David LaChapelle and Luke Gilford. You can also purchase items like Lizzo's "Buy Black" T-shirt for $75, which comes with 750 entries in the raffle, and an autographed by Lizzo box of Quay sunglasses for $750 and 7,500 entries in the raffle. But be quick! Items like Tracee Ellis Ross' hair products box have already sold out.
The proceeds from the fundraiser will support the Minneapolis Sanctuary Movement, the Black Church Food Security Network, Black Women Speak, and Headcount.