Lizzo dropped a new music video for "Good As Hell," and, well, it's good as hell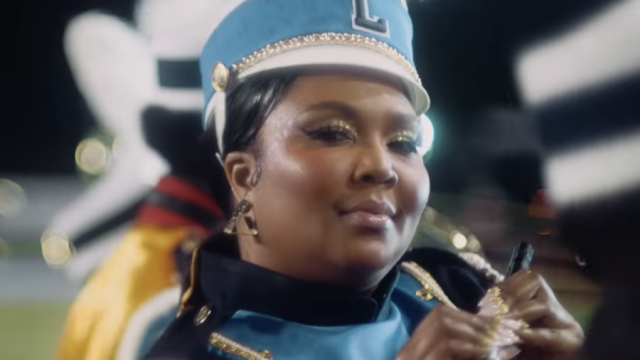 If you needed another reason to love Lizzo, then we will gladly give you one. Sound the trumpets, drums, and all your favorite marching-band instruments because Lizzo just released another music video for her hit single "Good as Hell," featuring a real-life marching band. And there's no better way to describe it—it's good as hell.
The new music video, which dropped December 9th, harkens back to Lizzo's band-kid roots (if you don't already know that Lizzo plays the flute, frankly, how dare you). She stars alongside members of The Southern University Marching Band, dubbed "The Human Jukebox."
The Human Jukebox is an ensemble that can "perform any musical arrangement, give it newfound emotion and radiate that 'old Southern spirit' to the masses," as the band's website claims. And they certainly brought a brand new flair to Lizzo's old favorite.
We're feeling nostalgic, amped up, and "tired of the B.S." all at the same time. Check out the music video below:
If you're like, "huh, I could have sworn I already watched a music video for this song years ago," don't worry. You're not losing it. Before "Good As Hell" blew up earlier this year, Lizzo released a video for the single in 2016 when it first premiered on her Coconut Oil album.
But, given the song's recent success—which includes a brand-new remix featuring Ariana Grande—it makes sense that Lizzo wanted to freshen up the vid and give it some attention.
Here's the original (which has racked up over 52 million views), if you'd like a refresher:
Both "Good As Hell" videos are great in their own way, and trying to pick our favorite is like trying to pick a favorite child or pet. So, we'll opt out entirely and watch each video every day for the rest of eternity.
However, we will definitively say that in light of Lizzo's most recent music video drop, we think it's about time we start learning the flute.