Lizzo's 14 best fashion looks ever, from the Grammys to the Met Gala
When Lizzo arrives on a red carpet, everyone turns to look—and it's hard to look away. The "Truth Hurts" singer never shies away from bold outfits but embraces them at every turn instead. On and off stage, Lizzo loves to offer up theatrical moments, whether with boas, giant puff sleeves, or layers upon layers of tulle. The bottom line is: When Lizzo makes an appearance, we pay attention.
The star has made it known that when it comes to her style, she has one priority: Always feel sexy. This doesn't seem to be an issue for Lizzo—she's known for rocking thigh-high slits, sweetheart necklines, and form-fitting silhouettes, all while looking confident as hell. Below, we rounded up Lizzo's top 14 fashion moments of all time, from the red carpet to the stage.
12020 Grammys red carpet gown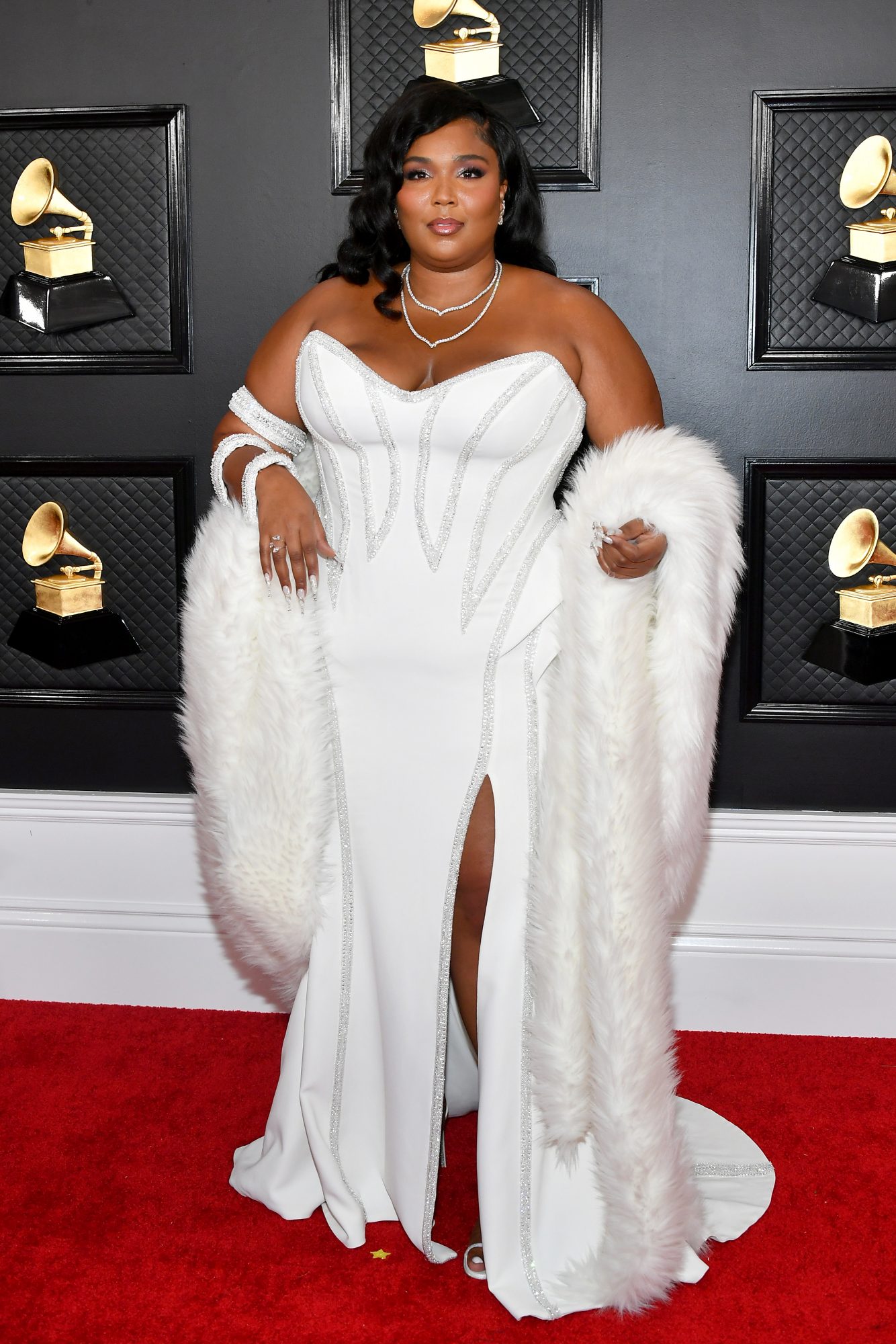 Lizzo showed up to the 2020 Grammys looking as angelic as ever. The singer literally dripped crystals on her custom Atelier Versace gown, her accessories, and even her fingernails. The white fur shawl and matching bag oozed Old Hollywood vibes. It's safe to say Lizzo's 2020 Grammys red carpet look is one to remember.
22020 Grammys dress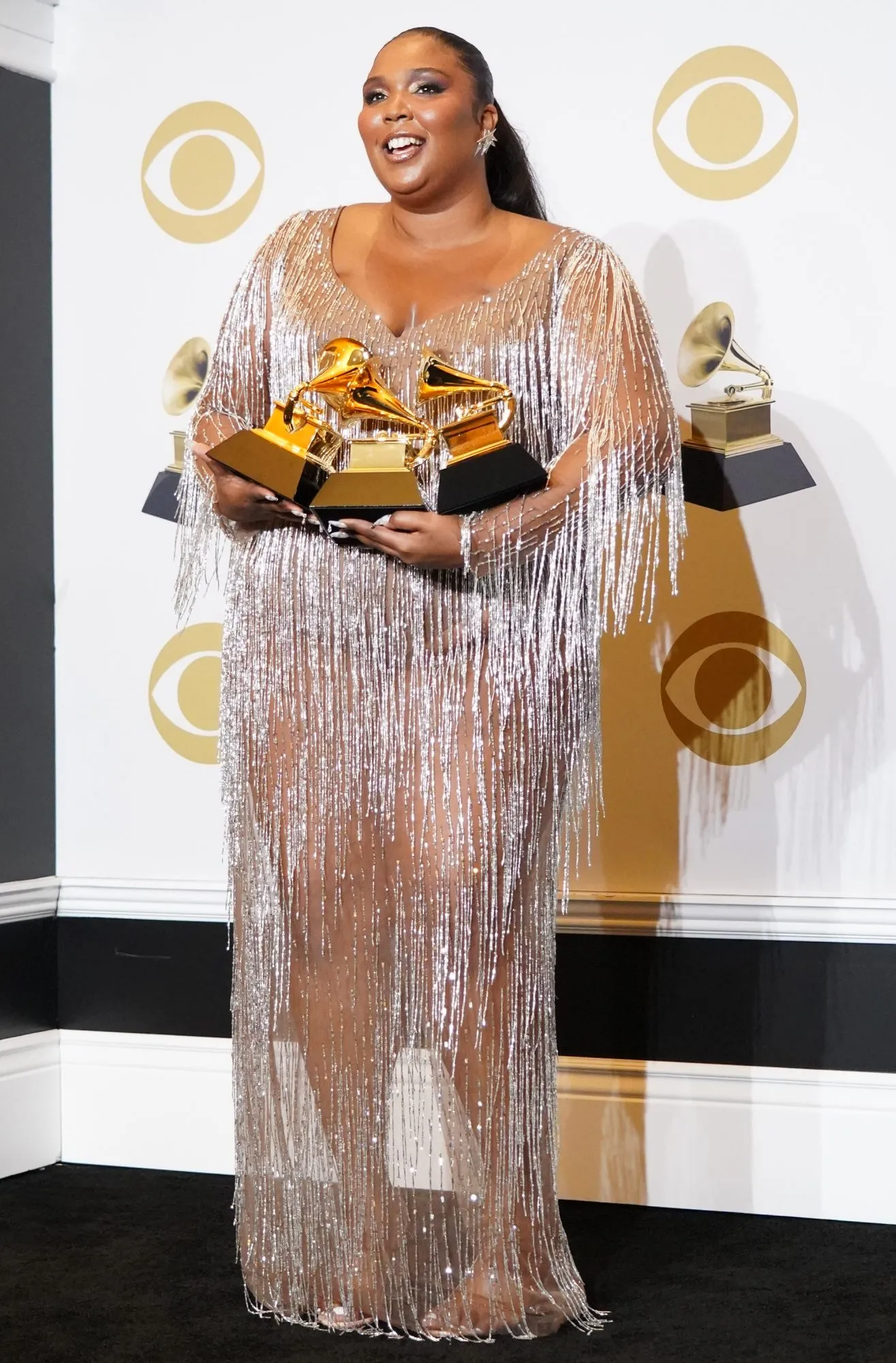 For music's biggest night, Lizzo pulled out not just one but two iconic looks. Her second look at the 2020 Grammys was a nearly naked dress covered in silver fringe. She's looking like a '70s disco ball, and we're guessing she danced the night away in this playful gown.
32019 American Music Awards outfit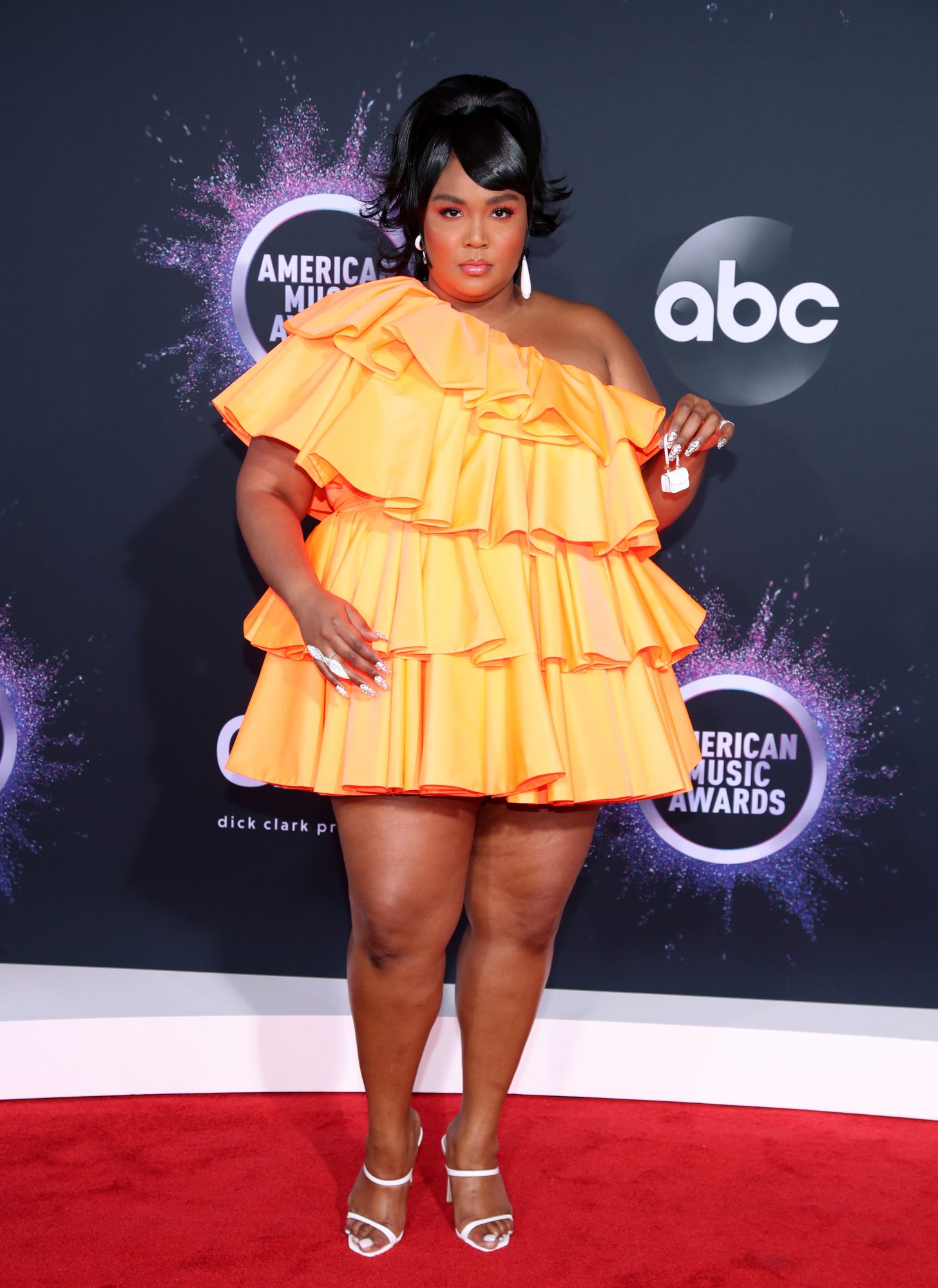 Who could forget the teeny tiny purse that Lizzo carried at the 2019 American Music Awards? Although the miniature accessory was the talk of the night, Lizzo's ruffled tangerine dress deserves just as much buzz. We're loving the layered look, and her retro high ponytail seals the deal for making this one of the star's all-around best red carpet looks ever.
42019 AMAs performance dress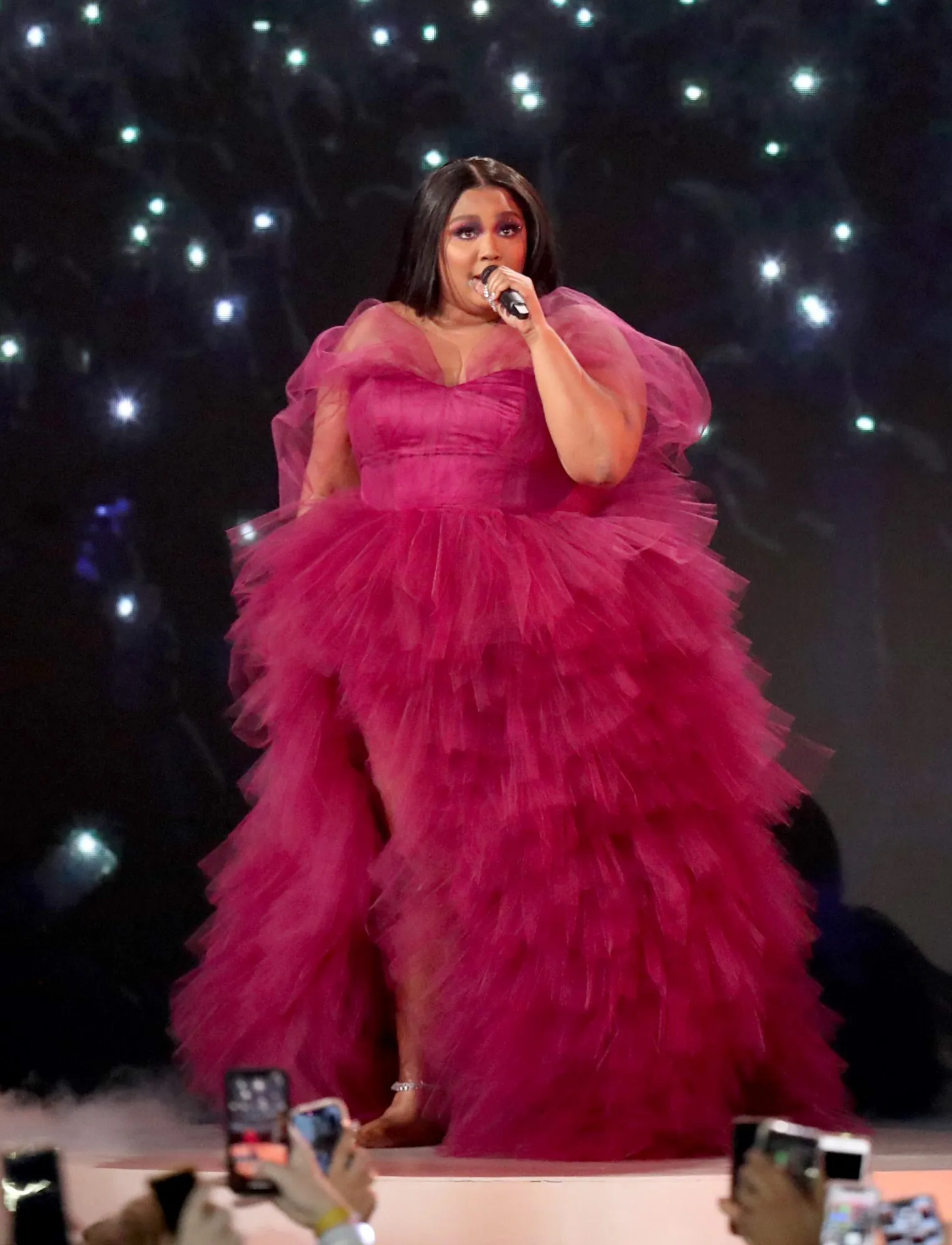 Lizzo opened the 2019 American Music Awards with an epic performance of her ballad "Jerome." Even more epic? Her fuchsia, tulle-tastic gown. The bold color is stunning, and the layers upon layers of tulle are serving ballerina-meets-princess vibes.
52020 Brit Awards dress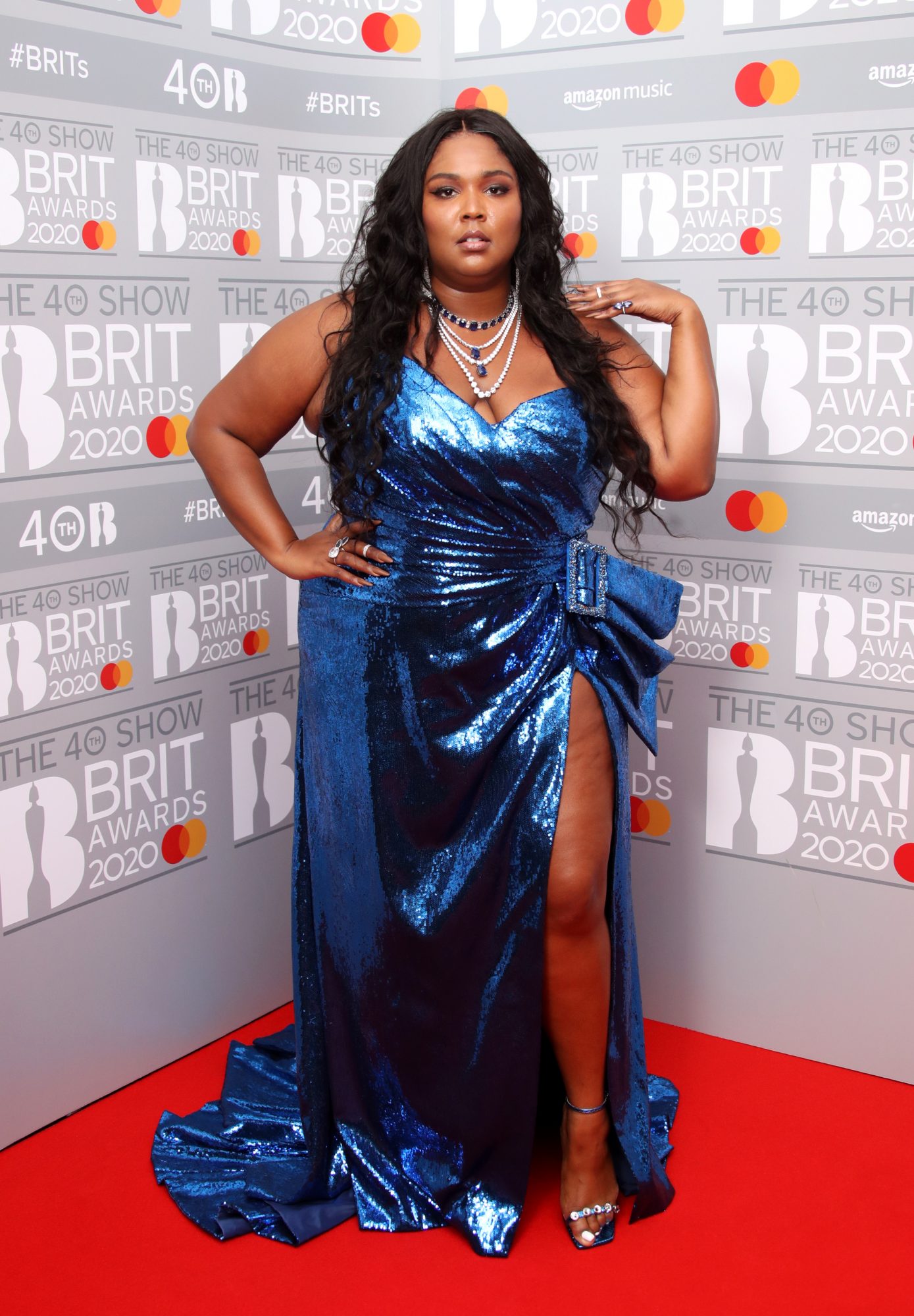 From the long waves to the layered pearls to the shimmery blue material, this look embraces Lizzo's inner mermaid. Add in the sweetheart neckline, thigh-high slit, and oversized belt buckle, and you have a winning dress in our eyes.
62019 GLAAD Media Awards shirtdress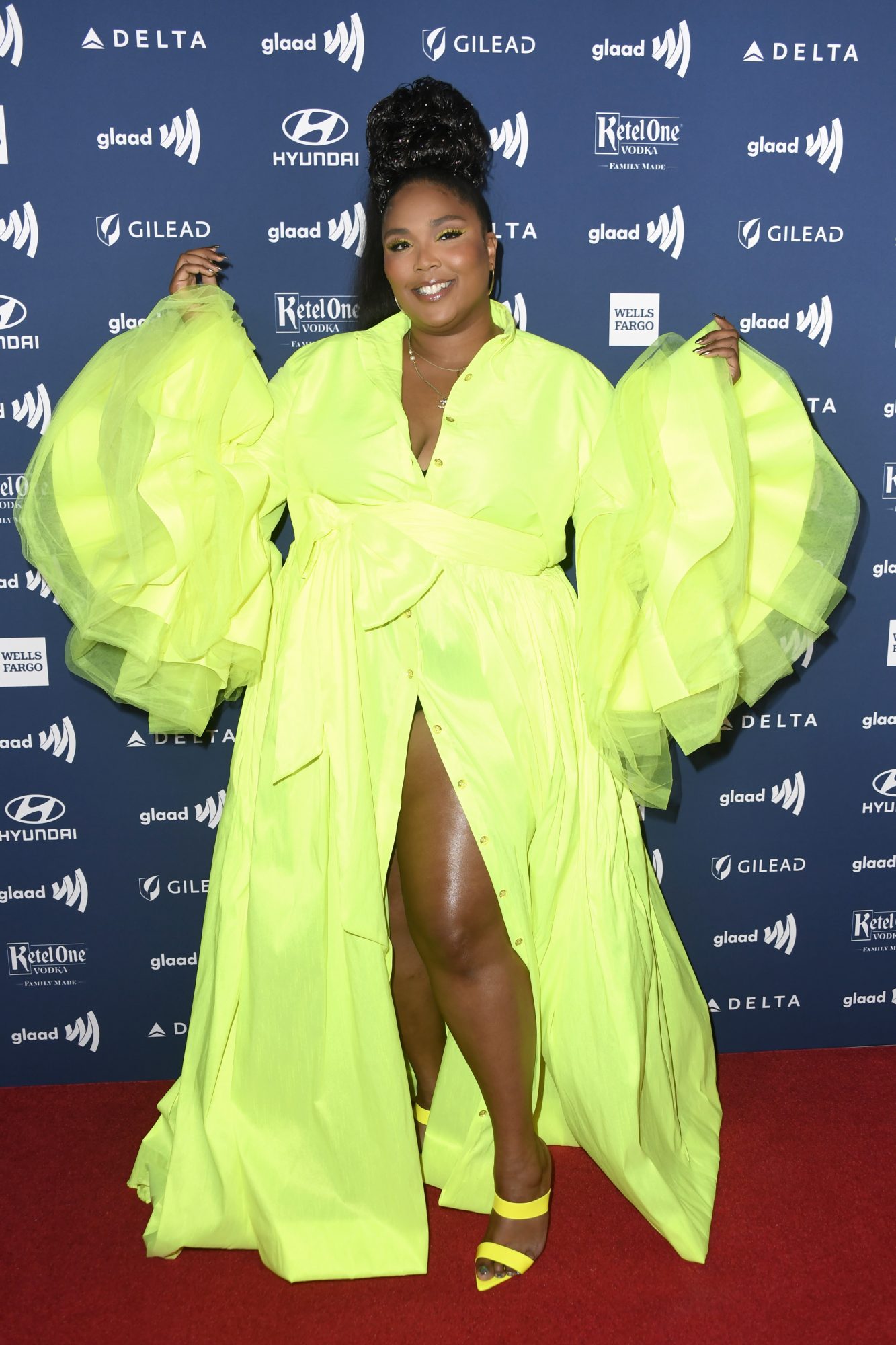 For the 2019 GLAAD Media Awards, Lizzo tried Billie Eilish's favorite color on for size with a neon green shirtdress. But this wasn't just any old shirtdress: With giant bell sleeves wrapped in tulle, a large sash, and a nearly waist-high slit, this was a showstopper.
72020 NAACP Awards gown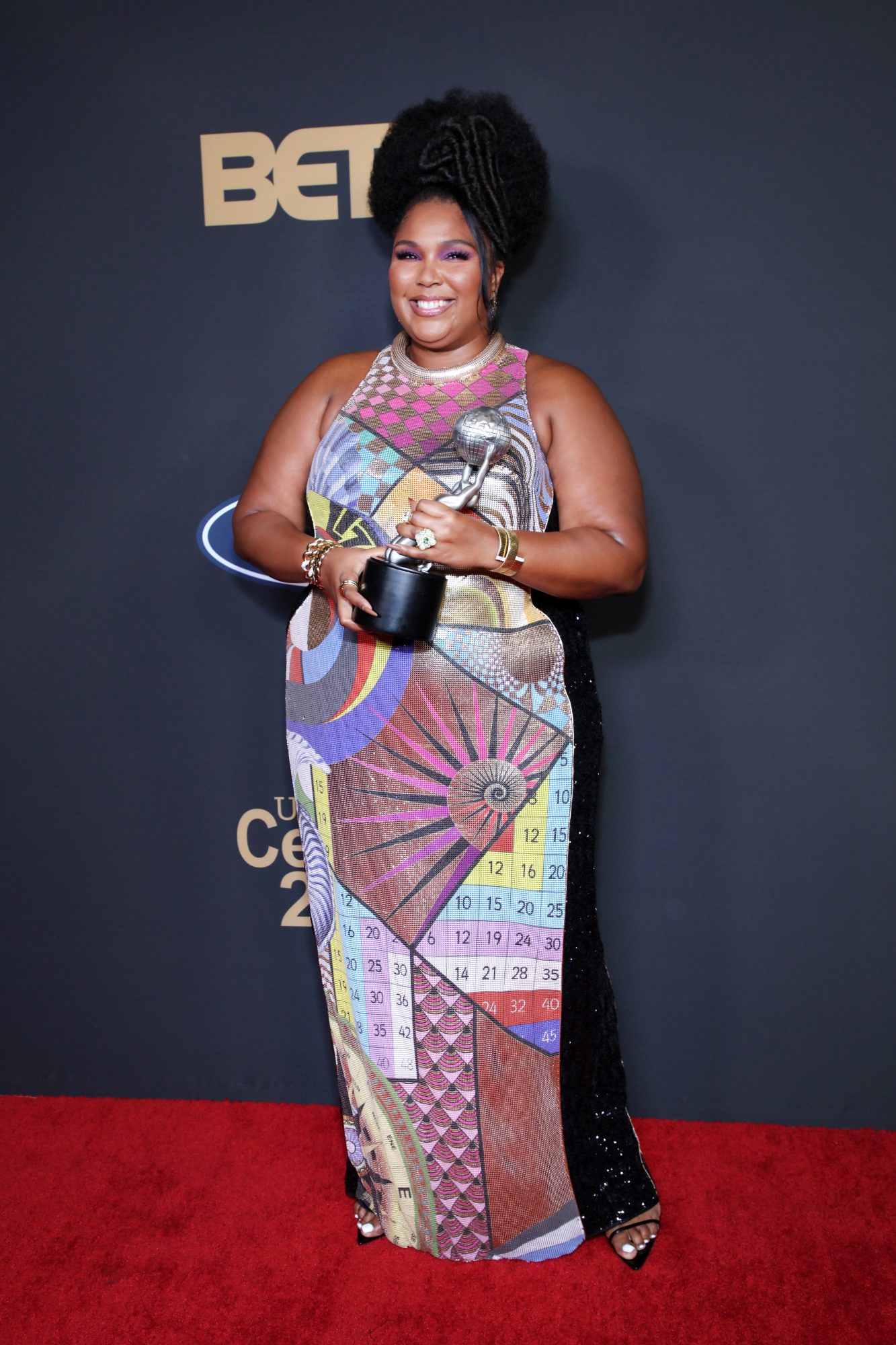 Lizzo wore a custom Mary Katrantzou dress when she accepted the award for Entertainer of the Year at the 2020 NAACP Awards. This one-of-a-kind geometric gown included a number grid, Cleopatra-esque neckline, and a thick stripe of sequins on each side.
82020 Grammys dress
Coming at you with a third show-stopping dress that Lizzo wore at the 2020 Grammys. While performing a melody of "Cuz I Love You" and "Truth Hurts," the singer rocked a black ballgown covered in shimmery rhinestones. She looked like the star she is all night long.
92020 Brit Awards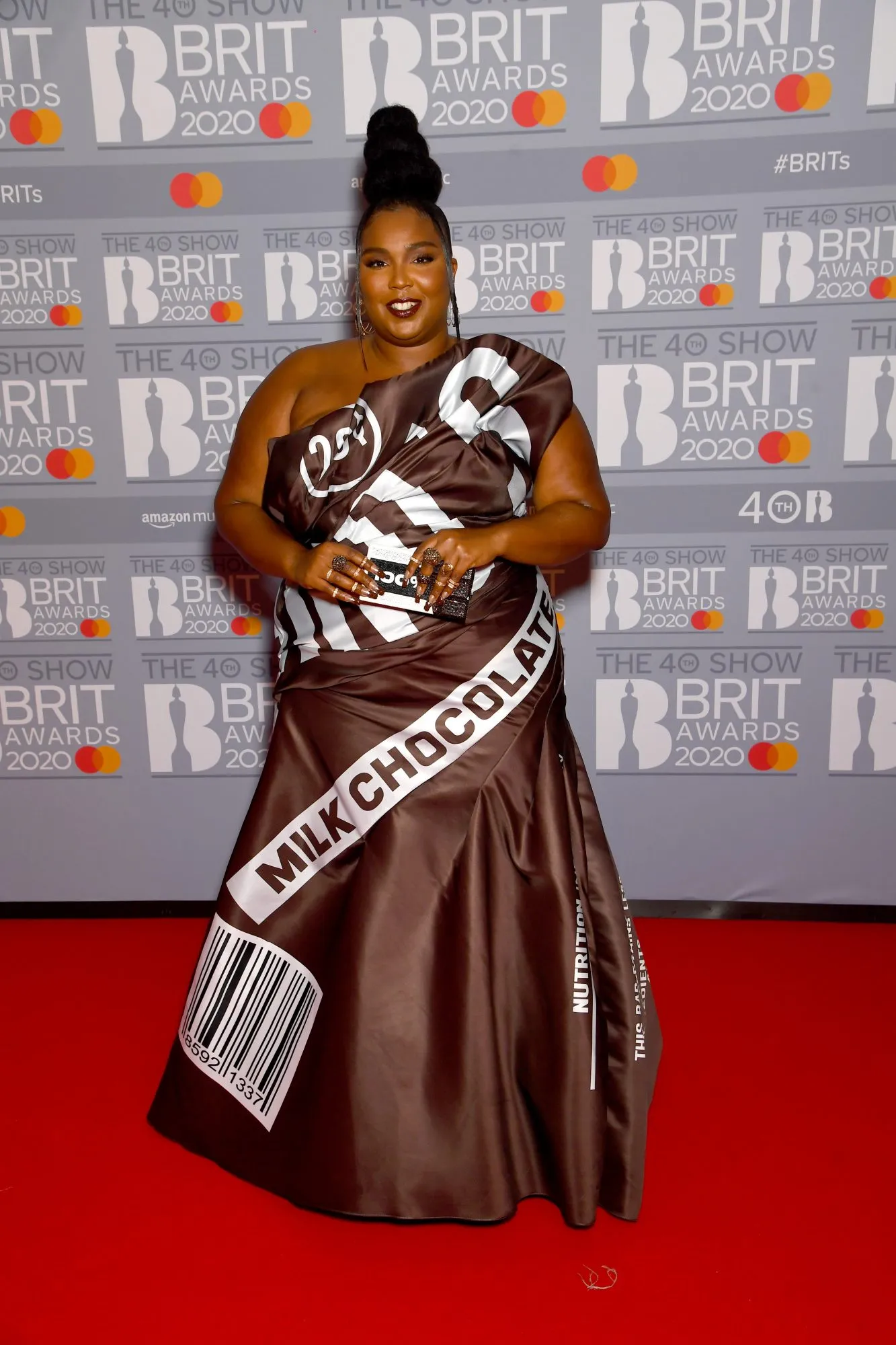 Leave it to Lizzo to incorporate humor into a killer fashion moment. For her second outfit at the 2020 BRIT Awards, the singer wore a gown inspired by a Hershey's milk chocolate candy bar. Designed by Moschino, no details were missed—right down to the barcode and nutrition information. Plus, she carried a candy bar purse that read "100%"—a nod to her iconic "Truth Hurts" lyric. She pretended to take a bite out of it for some photos, of course.
102020 Warner Music & CIROC BRIT Awards Party dress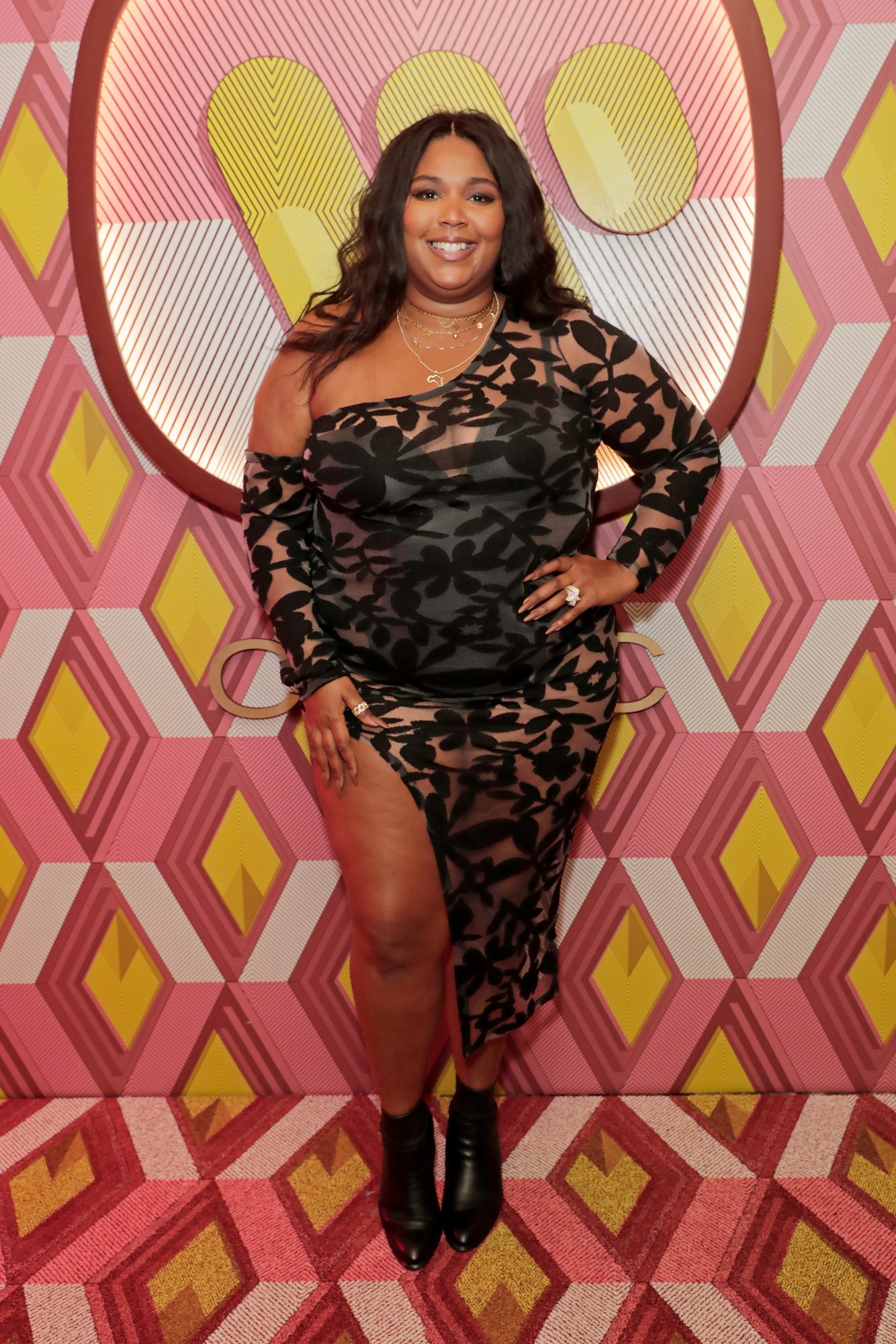 Lizzo is always down to rock a thigh-high slit, and this mesh gown covered in velvet flowers is classic. We're loving the leotard underneath, and the one-shoulder look suits the award-winning singer.
112019 Roskilde Festival outfit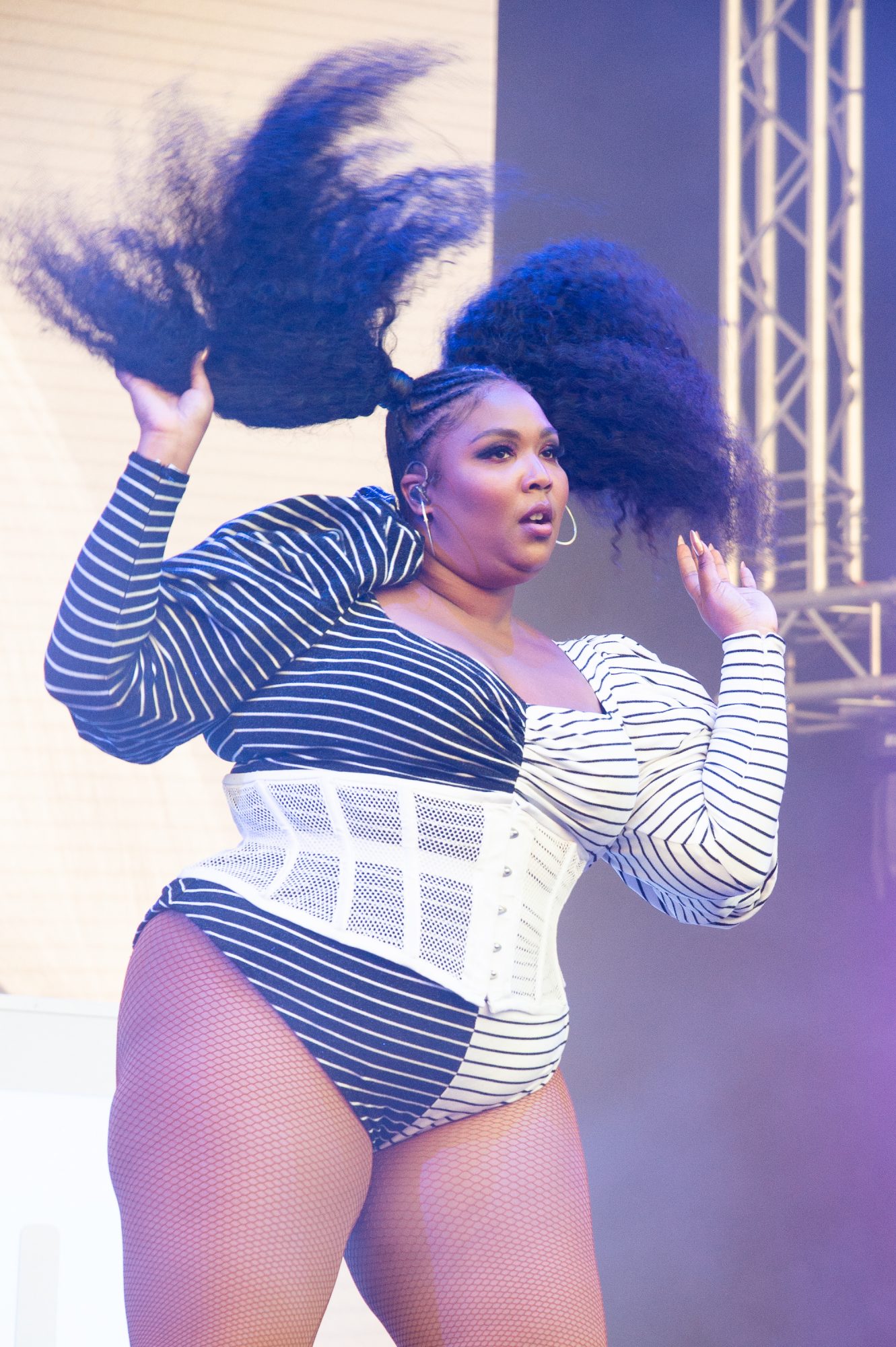 Lizzo is the queen of many things—leotards being one of them. They're her signature piece when she's performing, and this striped, puff-sleeved number is one of our favorites. The white netted corset and fishnets pull everything together. Bravo!
122019 BET Awards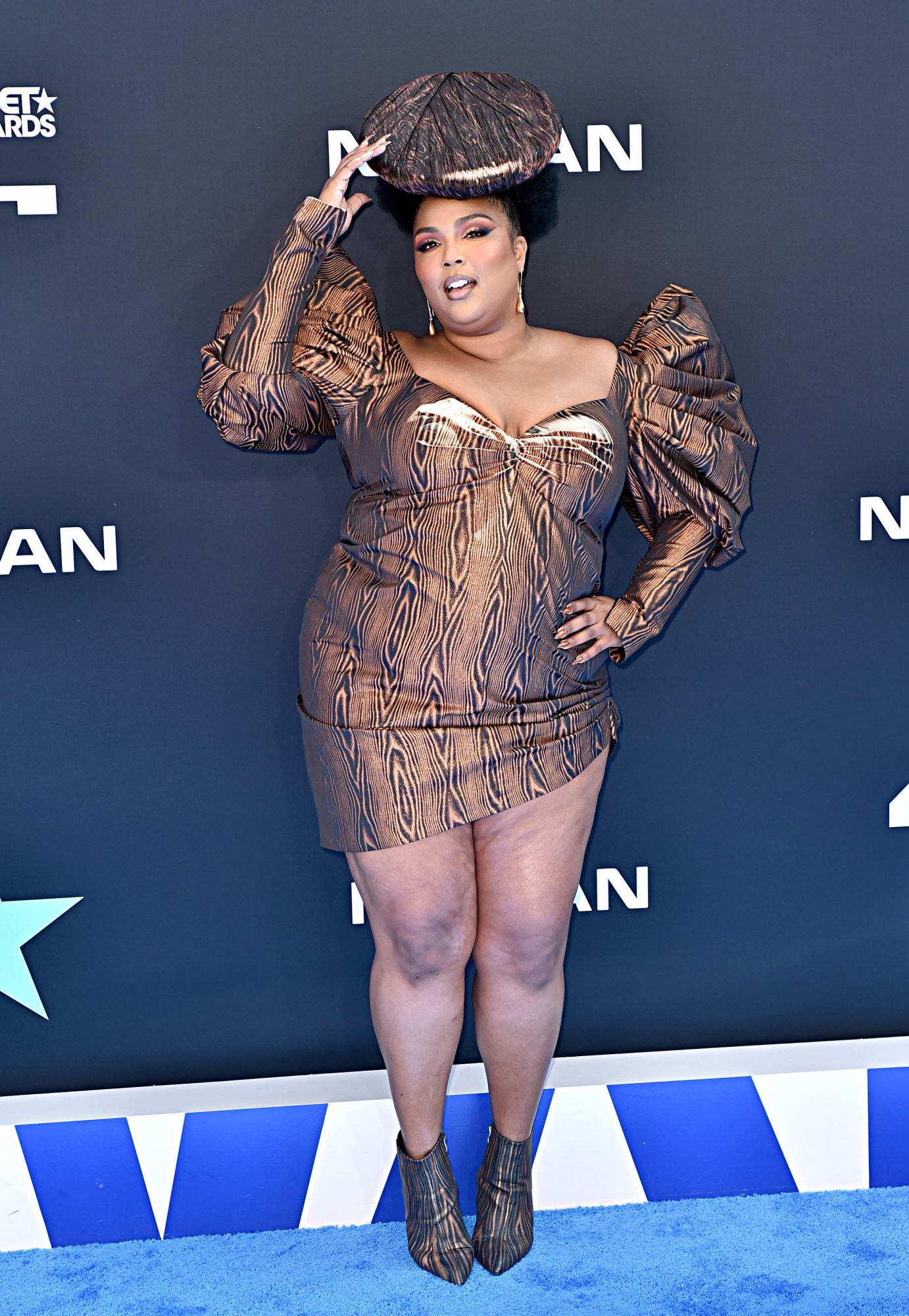 Never one to turn down a puff-sleeve dress, Lizzo kept things sassy and classy at the 2019 BET Awards. The matching animal print dress, hat, and shoes made for an unforgettable look.
132019 MTV VMAs gown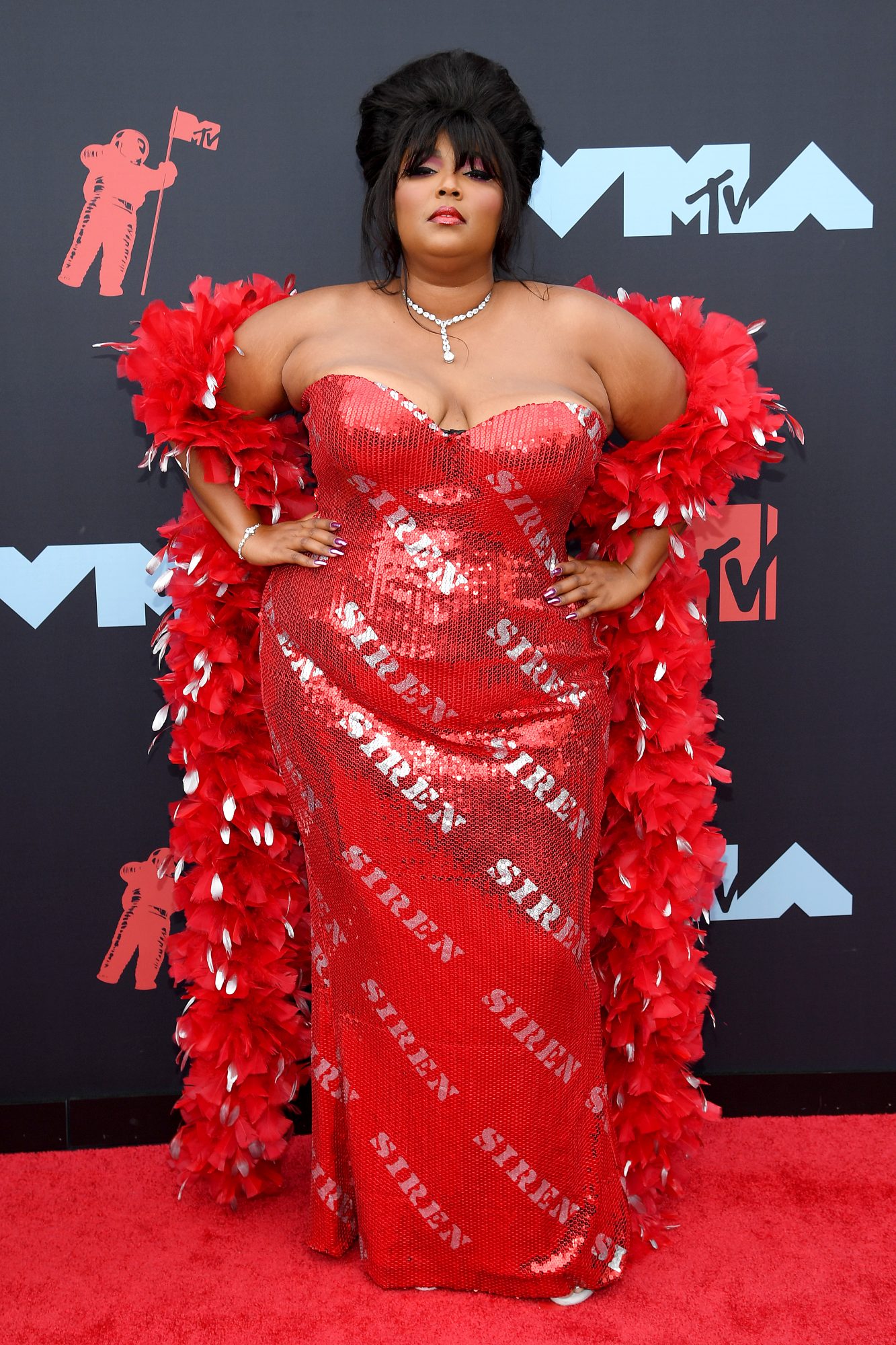 The 2019 MTV Video Music Awards red carpet saw one of Lizzo's boldest looks to date. The singer showed up in a red sequin gown that read "Siren" in bold text all over the dress. Add in the red boa and dramatic '70s hair, and all eyes were focused on Lizzo that night.
142019 Met Gala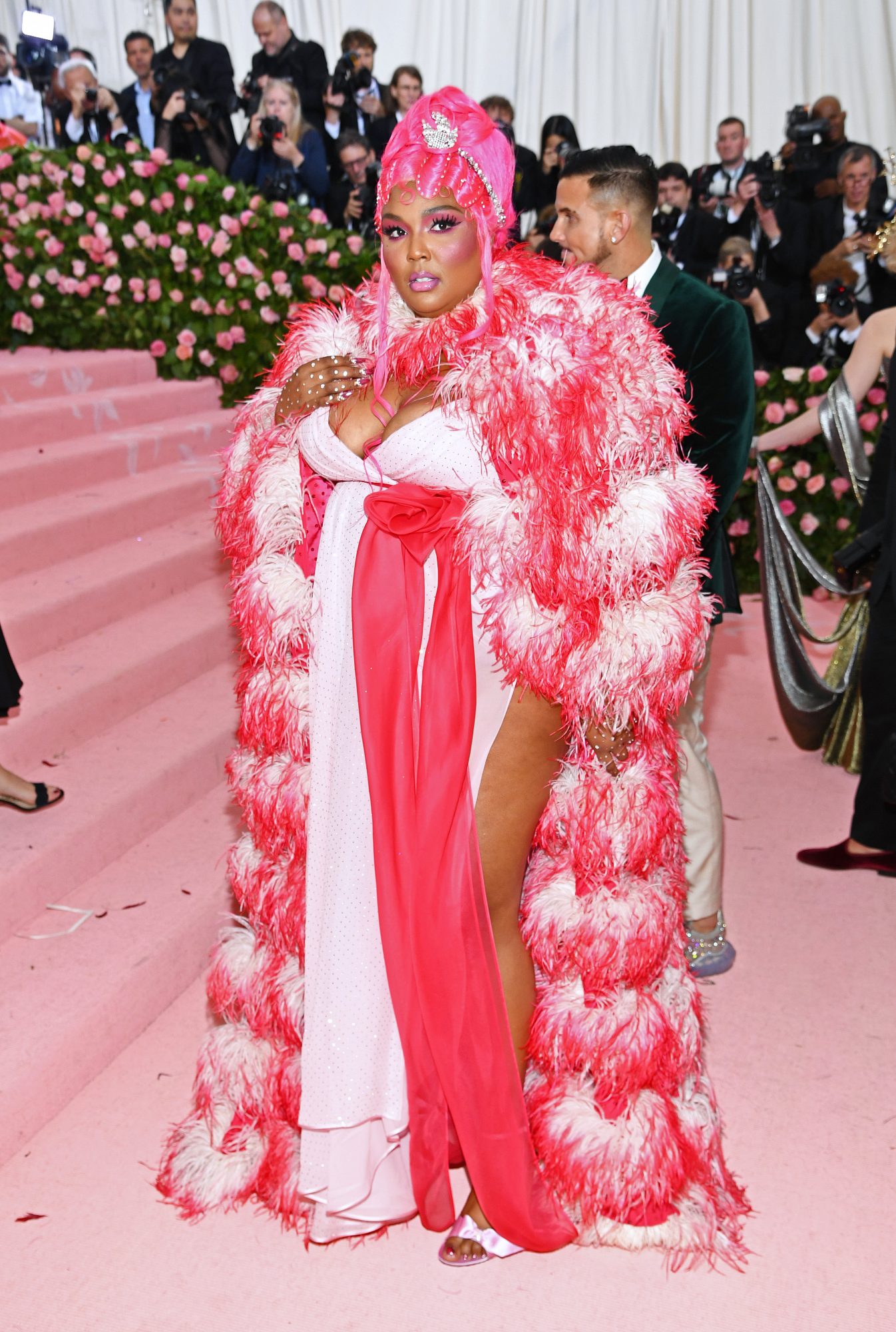 All pink everything. Lizzo's 2019 Met Gala look included a romantic baby-pink dress and a giant feathery coat (which she wore to the airport the next day, BTW). She even travels in impeccable style.