The trailer for Kristen Stewart and Chloë Sevigny's Lizzie Borden movie puts a feminist, LGBTQ-friendly spin on the tale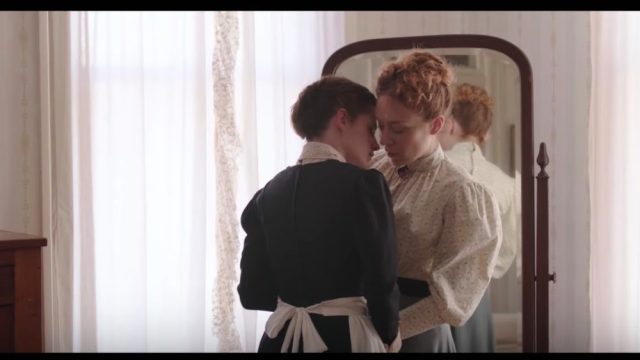 You've likely heard the infamous American true-crime tale of Lizzie Borden: The woman who may or may not have murdered her father and stepmother with an axe in 1892 (though she was technically acquitted for the crimes). The story has been the topic of countless books and several movies—not to mention a particularly gruesome children's rhyme. And the Lizzie Borden story is coming to our screens yet again—this time in the movie Lizzie starring Chloë Sevigny and Kristen Stewart.
Warning: Some of the below plot detail may be triggering for victims of sexual abuse.
Based on the trailer that dropped today, August 3rd, it looks as though the well-known story has been taken in a dramatically different—and potentially feminist and LGBTQ-friendly—direction. From what we can gather, Lizzie (Sevigny) and her housemaid (Stewart) not only fall in love, but are both victims of physical and sexual abuse at the hands of Lizzie's father, Mr. Borden. This brings the case into a whole new light: Were the murders acts of self-defense? Did they represent a victim finally reaching her breaking point in a society that offered her no real legal recourse (especially as a gay woman)? It's tough to tell from the trailer alone, but suffice it to say, we're intrigued.
Watch the full (incredibly tense) trailer for Lizzie below:
https://www.youtube.com/watch?v=A79ziwolkr4?feature=oembed
Lizzie was written by Bryce Kass and directed by Craig William Macneill. It hits select theaters on September 14th.