I lived like Chrissy Teigen for five full days, and this is what happened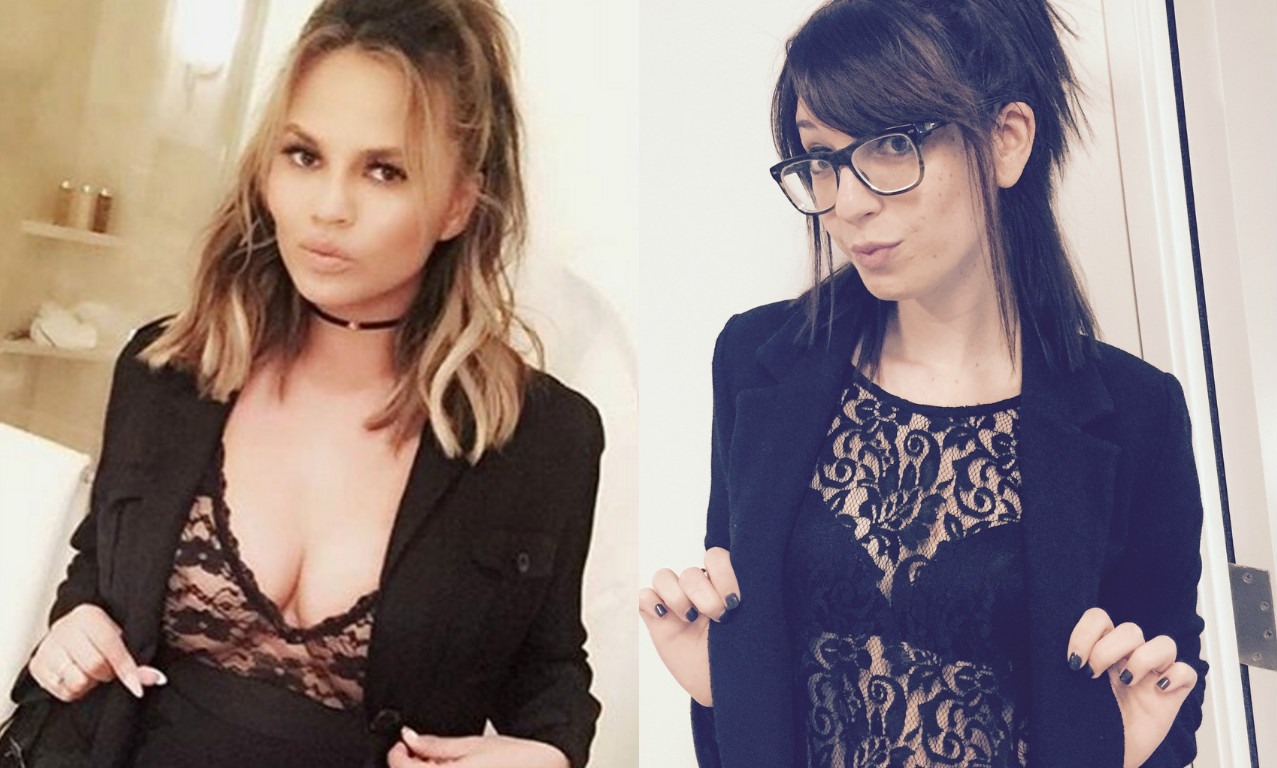 From Monday to Friday, I did my absolute best to emulate model/Instagram queen/cookbook author/cutest grimace extraordinaire Chrissy Teigen. Since I'm not actually a model, married to R&B singer John Legend, or a millionaire, I did the best with what I had.
Here were my Chrissy Teigen rules:
1. I had to document every full meal I had on social media (a yogurt and coffee for breakfast didn't count, since Chrissy only takes pics of aesthetically pleasing meals and my probiotic yogurt smoothie from Trader Joe's is pretty Instagram-lackluster). If you follow Chrissy, then you know she is food OBSESSED. Like, more food obsessed than I am, which is impressive.
2.I had to wear clothes Chrissy would wear. That means: solid colors (especially white and black, which she seems to wear a lot) lacy tops, crop tops, boots, and wedges.
3.If I wore makeup, it had to include bronzer and a lot of smoky eyeshadow.
4.I had to express myself more on Twitter even if it meant being zesty and a little confrontational.
5.I had to cook every meal for dinner using recipes from Chrissy's cookbook, Cravings. 
6.Unless I went out, and in this case, it had to be for fast food, because Chrissy loves her some fast food.
So, here's how the week went.
Day 1
I started my day by eating one of Chrissy's favorite cereal combos: Cap'n Crunch with Berries and Fruity Pebbles.
It was really delicious, so Chrissy totally knows what she's talking about when it comes to combining cereals.
I decided to wear a white button-up shirt and gold wedges — I dug up these bad boys from my 2000s wedge-wearing days, and they seriously made me feel like I was going to prom/Da cLuB. Also, they were uncomfortable and I couldn't wait to take them off, but don't tell Chrissy.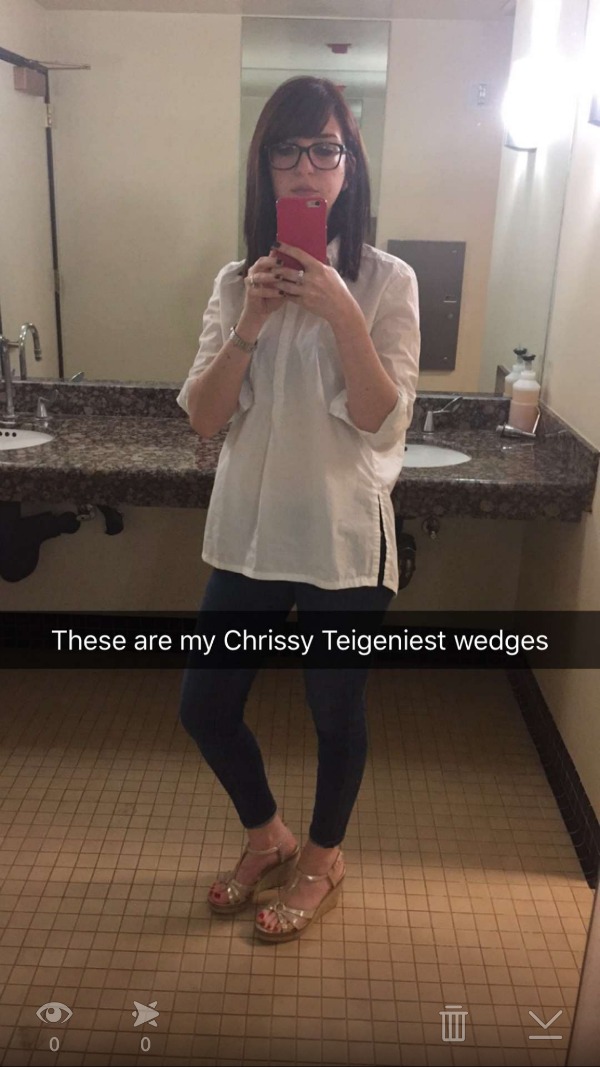 When my co-workers asked me very important questions on Twitter, I answered them in a way that would make the real Chrissy proud.
And then for dinner, I made Chrissy's Lemony Arugula Spaghetti Cacio e Pepe because according to Cravings, Italy is her FAVORITE place in the world. It's where she and John got married, so I channeled that everlasting love and made this dish.
You guys, it was DELICIOUS. I didn't have enough parmesan cheese and ended up using some rando hunk of orange cheese in my fridge (sorry, Chrissy!), but the pasta was amazing and I essentially felt like I was in Italy, sans getting married to John Legend.  ?
Day 1 Thoughts:
Even though the wedges were super uncomfortable and made me feel really awkward, no one at work even noticed I was wearing them unless I told them. And I actually ended up losing 8 followers on Twitter after my ~spontaneous~ Chrissy-esque tweets about Taco Bell.
Day 2
Sometimes, Chrissy wears business lady outfits, so I did my very best business lady look with a similar striped dress.
Chrissy:
Me:
Also, yes that is my cat trying to get in on my selfie action; she's *such* an opportunist. Everyone at work asked me where I got the dress (ASOS), so today's outfit was a success, overall. And it was comfy.
I had a bacon sandwich at work, so I 'grammed it for the world to see how much this feast meant to me.
For dinner, I channelled Chrissy's Thai roots and made Basil Chicken, or Pad Grapow. All was going smoothly until I realized my PoS fridge was set too cold and FROZE my fresh basil beyond recognition. Like, the basil leaves turned black and frosty, it was scary. If I had a fancy fridge like Chrissy probably has, this travesty would NOT have happened. So I only used like, five healthy leaves (the recipe called for three CUPS). Still, it tasted amazing and I ate ALL OF IT.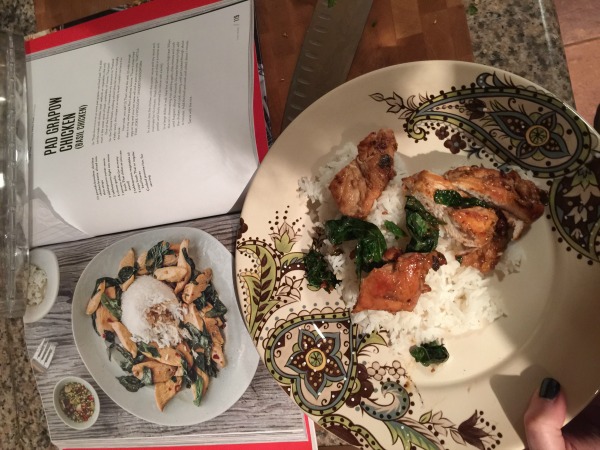 Day 2 Thoughts:
My striped biz lady dress got a LOT of compliments at work and even my husband was like, "whoa where are you going today," and I was like, "work, duh, bye." Even my selfie on Instagram got more comments than usual —my executive editor even commented, "Gurl you look gud." 
And when I made Basil Chicken for dinner, my SO said it tastes like Thai food from a Thai restaurant, so THANK YOU CHRISSY, I am basically a chef now.
Day 3
Today was a big day. I wore a crop top to work, because Chrissy is a big fan of crop tops and wears them like, every other day basically (and slays).
Here's me. In my work bathroom. Wearing a crop top. I never wear crop tops. Also shorts because Chrissy wears shorts sometimes, and I was like, why not it's sunny out today and my thighs need the Vitamin D.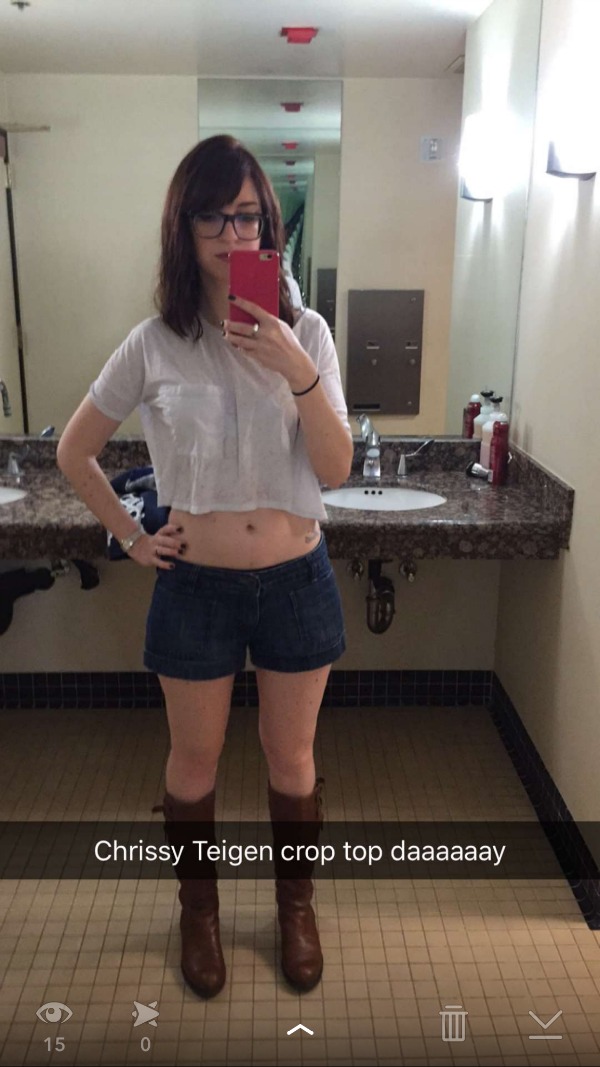 Honestly, I felt really cold all day, especially since the HG office's AC is at full arctic blast. It didn't help that I also wore shorts and boots (I unfortunately didn't have thigh-highs, which Chrissy wears a LOT). We also had a meeting this day, so I felt super awkward showing up with my tummy out, so I just hid under a blanket I used as a makeshift poncho, but I didn't really get any weird looks (probably because our office is freezing and everyone wears a blanket as a clothing accessory anyway).
Luckily, my discomfort was placated by FREE SCONES which were brought in and I immediately had to dig in. I did it in TRUE Chrissy Teigen fashion. I cried while taking a bite into my cream cheese scone because it was THAT GOOD. I got a lot of stares, but I think everyone at HG understood, because we all have a lot of emotions about food.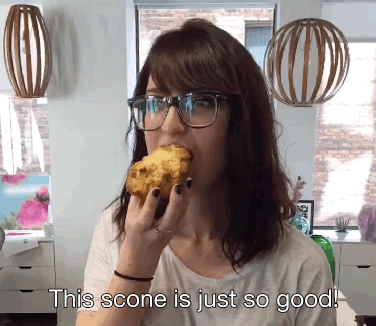 If you don't remember, Chrissy couldn't help but cry when she ate a pie that was just too delicious. Sometimes, food makes you FEEL all the FEELINGS, and that's OKAY. Embrace them.
I also had a pizza slice the size of a baby for lunch because Chrissy would want me to. I took a few unsuccessful selfies at the pizza shop, and stopped trying because everyone in the restaurant was staring at me like I was a psychopath so I took this quick one of just the pizza. I'm sure everyone who hangs around Chrissy Teigen is MUCH more understanding when she needs to take a pizza selfie. Psh.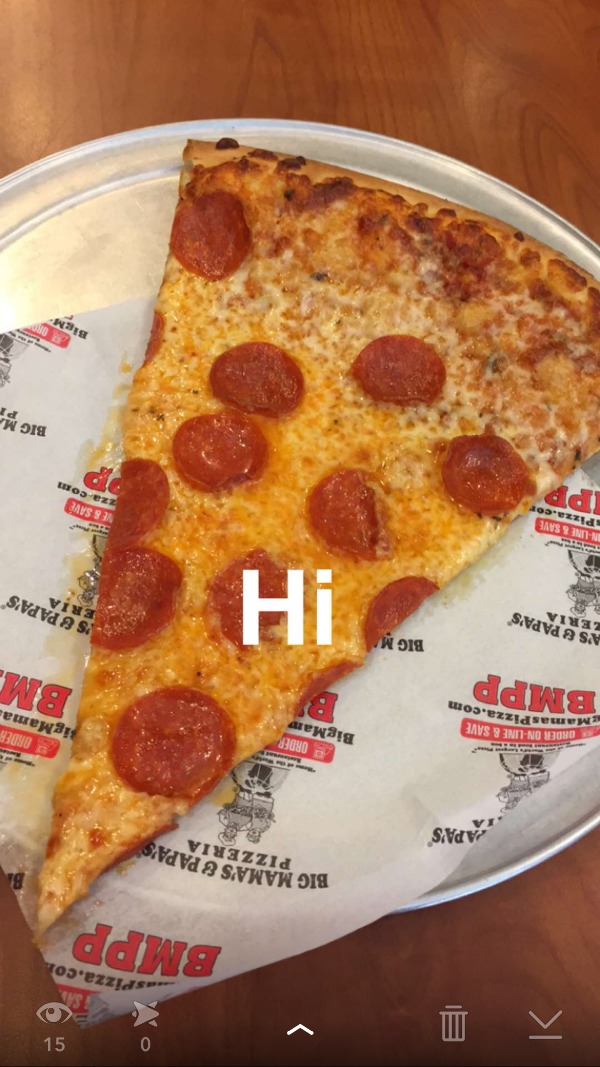 And for dinner, John Legend made me his chili (you can find the recipe Cravings). Just kidding. My husband made me John Legend's chili. It was pretty good even though it didn't call for cumin? Which is weird because half of the flavor of chili is cumin? But whatever, John Legend can do what he wants to his chili because he is JOHN LEGEND.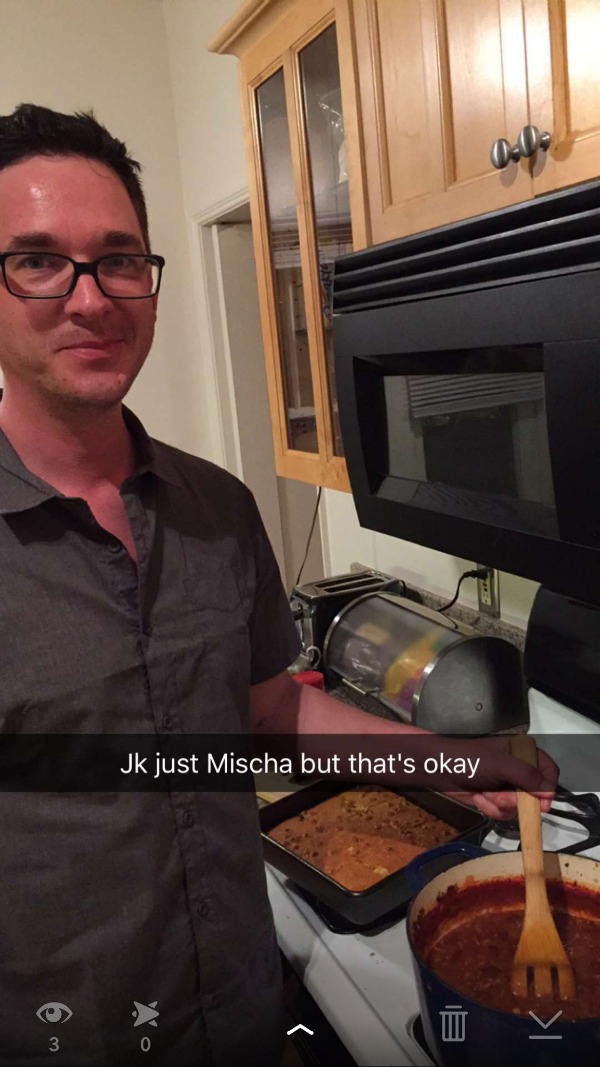 Day 3 Thoughts:
To be real with you, I HATED wearing a crop top. I hated that I wore a crop top, ate a pizza slice the size of my laptop, and then ate some more chili (with sour cream and some corn bread, because how else would I do this life) while wearing a crop top. I didn't feel great about myself, it was like instead of blood running through my body, it was cheese and carbs. Everyone at work was really nice though and said I looked great even though maybe they were kind of confused that I was wearing a half-shirt to work.
Day 4
Chrissy wears SO MUCH LACE, and she always looks gorgeous, so I decided to wear a black lace shirt with NOTHING UNDERNEATH (except a bra).
Chrissy:
Me: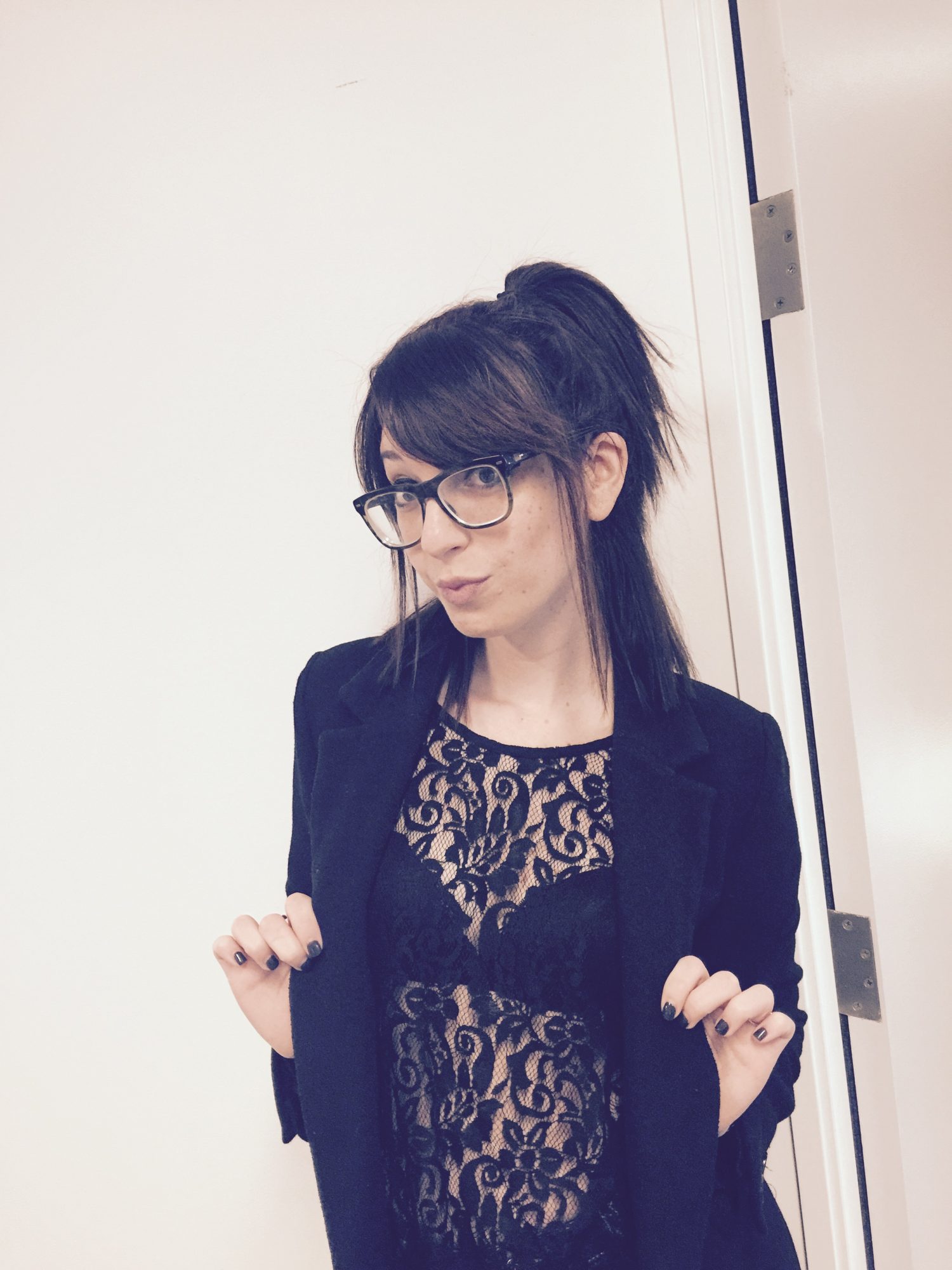 Since I normally wear t-shirts and button-ups and dresses that cover up my entire body, I felt pretty exposed and alien to myself. And since I'd been eating pretty rich foods all week long and had gained a few pounds, I felt kind of…icky.
After a day of feeling cold and sort of gross about my body, I decided to do what Chrissy Teigen would do if she ever felt badly about herself: I got Taco Bell.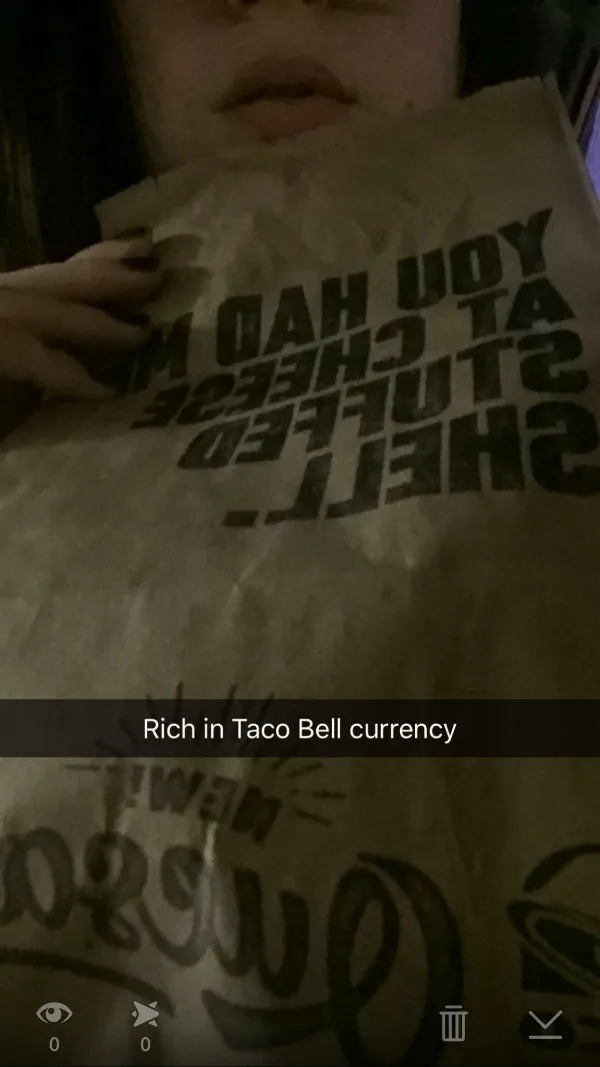 3 soft beef tacos, a Doritos Locos taco, and a side of nachos later, I felt totally better. Chrissy, you know what's UP.
Day 4 Thoughts:
Even though the black lace made me feel ~sexier~, I still felt more naked than normal. But my co-workers were super on board with my new look, and told me I need to wear lace more often, so I guess I'll think about it.
Day 5
Since I worked from today, I just stayed in my PJs, like Chrissy would also do because she KNOWS how to do self-care right. And for dinner, and because it was my last day as Chrissy, I went all out and made the Chrissy Burger. The Chrissy Burger was actually inspired by Chef Josh Capon's, and it's made with the fattiest hamburg, and Chrissy's secret special sauce, and it is DELICIOUS and essentially was the highlight of my week.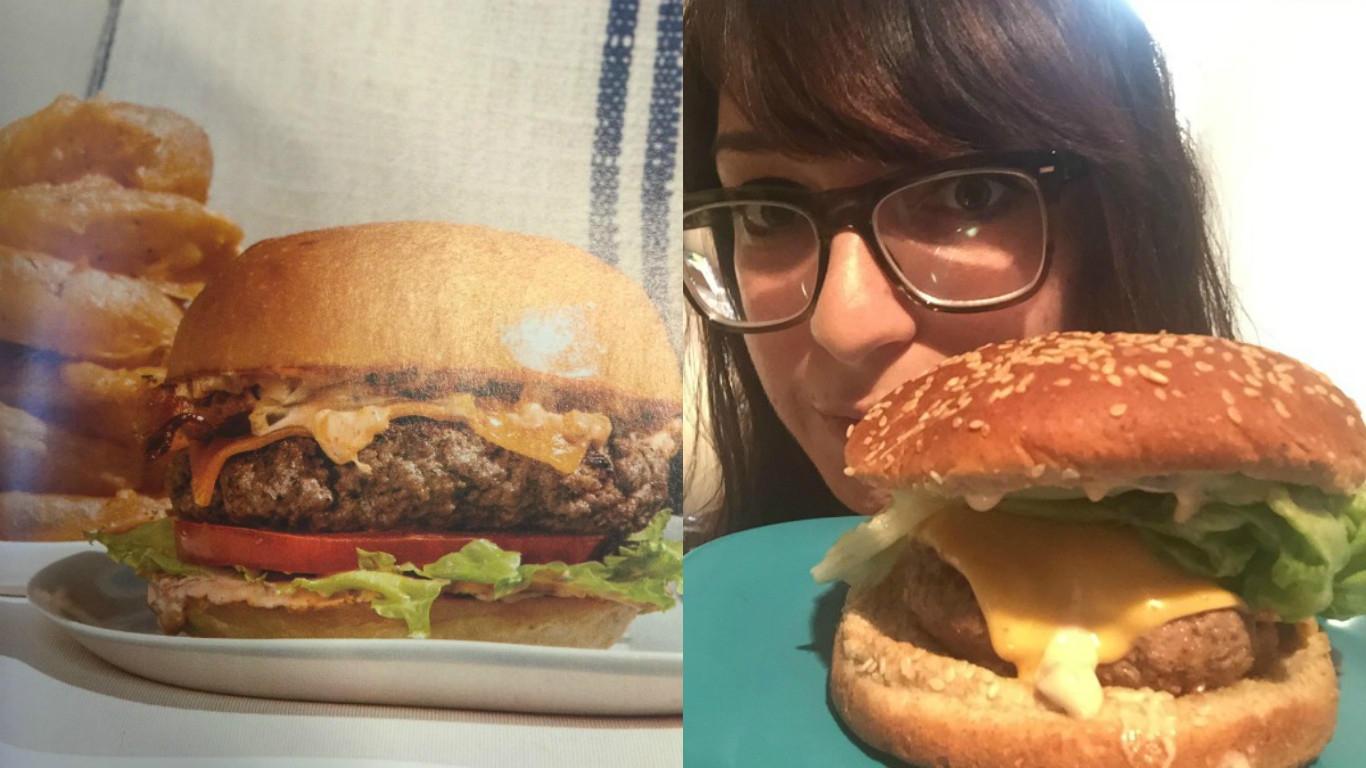 To end my week of Chrissy, my co-worker Christina made me a Rice Krispy Chrissy Teigen cake. You know, like the one she got on her birthday that made the Internet explode?
Here's me and MY Rice Krispy creation. I felt really special and also hungry!
You like?
Thoughts:
By day five, I really, really just wanted to stop taking pictures of food. Like, I just wanted to make or order food and eat it right away without documenting it and getting the right angle and making sure I look cute in the picture alongside my meal.
The Takeaway:
I thought living like Chrissy Teigen for five days would be fun and carefree, but it actually wasn't so easy.
Wearing revealing clothing made me, personally, feel really self-conscious (not that there is ANYTHING wrong with more revealing clothing or wearing it!). For the most part I've come to terms with my size 8 body and my love handles and my not-so-flat tummy —but wearing Chrissy-inspired outfits made me feel more self-aware than normal. So kudos to Chrissy for her wardrobe and her killer self-confidence. You work those crop tops, gurl. I am certainly not brave enough (yet).
Second, it was exhausting taking so many food pics. Stopping myself from eating lunch or dinner to take a selfie or ask someone else to take a picture was so tiring. How does Chrissy do it?
I will say, though, that it was fun making dinner every night (normally I come home from work, think about making mac 'n cheese, and then give up because I am *that* lazy, and order from GrubHub), and I liked discovering new recipes using Chrissy's cookbook.
I also learned that I look terrible with bronzer on and the one time I tried putting on fake lashes, I almost got glue in my eyeball. All good things to know!
Best of all, Chrissy made me feel less ashamed of indulging in fast food every once in awhile. A girl needs her Taco Bell now and then, you know?!