Now you can live-stream an interactive yoga class from home and even get real-time feedback from your instructor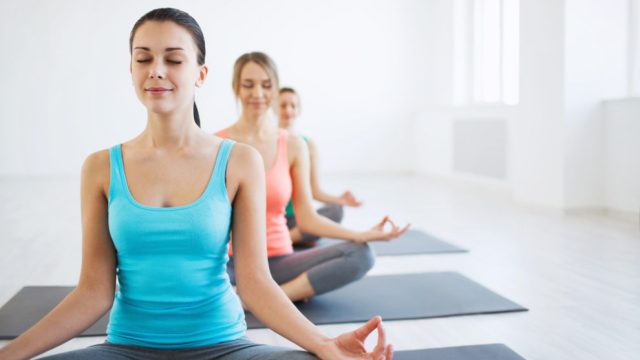 Have you ever wanted to go to a yoga class, but not leave your home? That's the beauty of online workouts. As Shape pointed out, online streaming workouts are continually on the rise. But we're not looking for just any online yoga class. We're looking for one where we can actually interact with an instructor.
Yes, now you can live-stream an interactive yoga class from home and even get real-time feedback from your instructor. Once you become a member — through the mobile app, website, or Apple TV — you have yoga at your fingertips, literally and figuratively.
Sounds perfect if you're a bit shy about participating in a yoga class IRL. And, let's face it, we've all been there — whether we're talking about yoga, spin class, or anything else where there's the potential for our instructors to critique us in front of everyone else (read: the most mortifying thing ever).
With the new Manduka + Yogaia live-streaming classes, you can choose to join the class through a webcam to receive guidance from teachers — or not. It's a win-win either way. Plus, instead of stressing over trying to make it to your favorite in-person yoga class or wondering when you can fit one in, you can take these classes from anywhere.
Count. Us. In!
"Manduka consistently strives to innovate everything we do to support people's yoga practice, with exciting ways to help them learn, explore and grow, Manduka President Cathy Quain said in a press release. "We've seen great feedback with our previously recorded yoga classes; and with this new Yogaia partnership, we can take things to the next level by offering customers daily interactive classes.
There will be new live classes offered every week from various locations and time zones — more than 100 of them (!).
Plus, if you miss a live class or two, they'll be recorded so you can catch them later.
As for pricing, plans range from $9.99 to $19.99 per month. When you think about the average cost of a yoga class, TBH, these membership prices are super reasonable. If you're not sure if you want to commit just yet, you can also do a 7-day free trial.
Manduka + Yogaia may be new, but they're already working to do good. October is Breast Cancer Awareness Month, and Manduka will be hosting a Yogaia live-streamed class by Kino MacGregor on October 25th. In conjunction with Susan G. Komen and Project OM, users will be able to participate in this class if they donate $10 to the worthy cause. Plus, they'll receive 30 days of Yogaia. Another win-win, right?
Now, if you'll excuse us while we go stretch and get ready for our first Manduka + Yogaia live-stream class. Namaste!