We talked to the rad lady behind the Instagram "Live From Snack Time" about her new book, what it's like to go viral, and funny kids
We're sure everyone has, at one point or another, witnessed a kid saying something completely ridiculous and very honest. But have you been keeping track of them? Alyssa Cowit has, and when she realized the kids in her kindergarten class were saying things that were just so hilarious, and so real, she realized she needed to write them down. 
And that's how the viral Instagram, @LiveFromSnackTime, was born.
Teaming up with a design-savvy friend from college, Greg Dunbar, Alyssa started keeping track of what her students were saying; Greg brought their quotes to life with some spot-on lil' kid stock images. 60k+ followers later, the Instagram is now a book, I Did My Homework In My Head  — and it's available RIGHT NOW. It's already made Josh Gad laugh, so you know it must be good.
HelloGiggles caught up Cowit and chatted about the origins of @LiveFromSnackTime, what it was like to see the crew at Good Morning America laugh at some of quotes from I Did My Homework In My Head, and when to expect "Live From Snack Time: The Movie."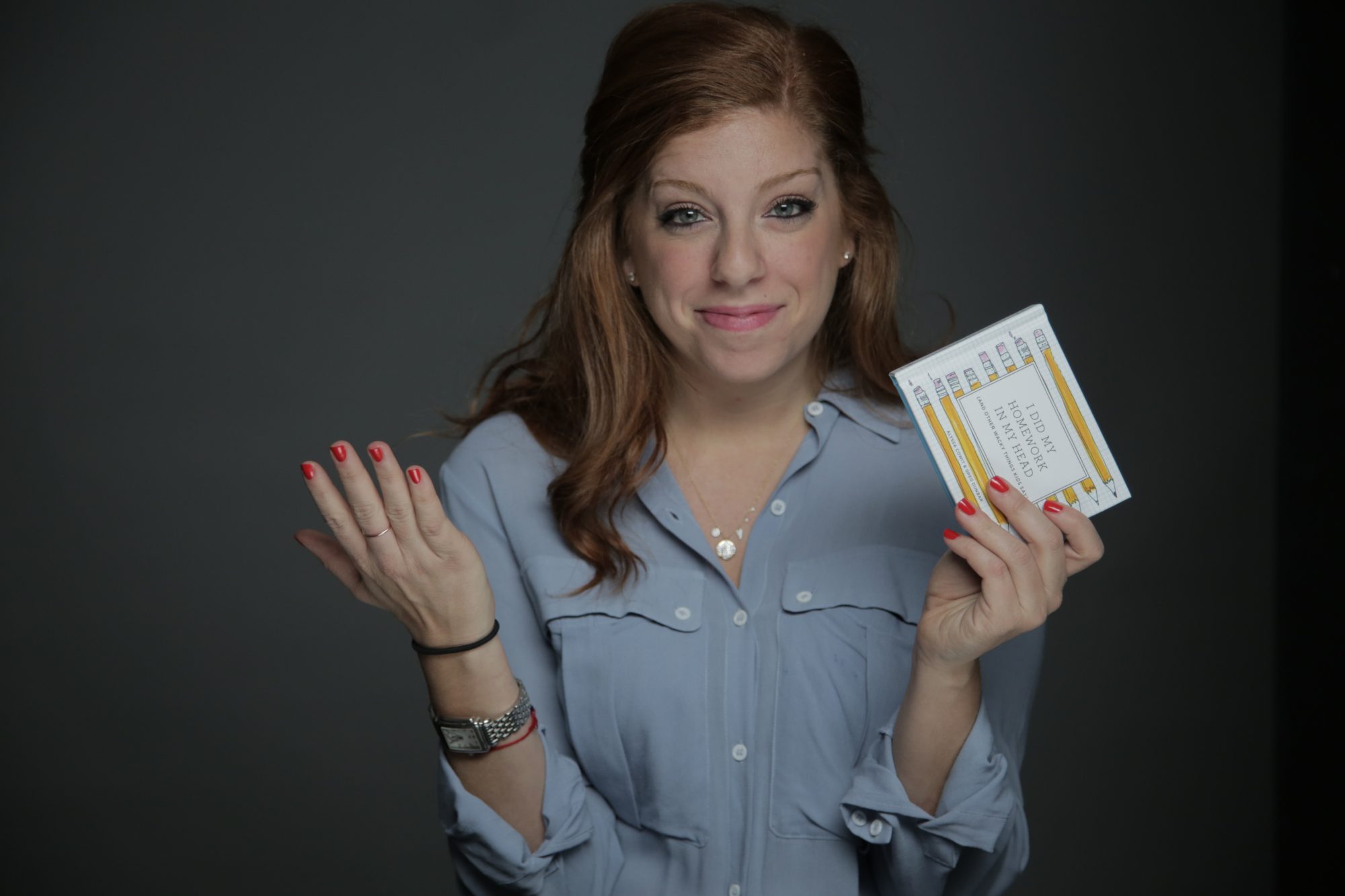 HelloGiggles: When did you first come up with the idea for @LiveFromSnackTime?
Ayssa Cowit: The reason why I had the idea to start documenting was because my students were just saying not only the most hilarious things, but the most fascinating things. To hear them sort of think out loud and ask these very sort of honest questions and serious questions was so fascinating for me. I was like, "I have to start documenting this. This is pretty amazing."
HG: When you were first getting started, did you ever think @LiveFromSnackTime would be what it is now, a viral sensation and a book?
AC: Never. I literally just started tweeting. I thought it would be funny to call it "Live from Snack Time" because it sounds like live news. It was just a Twitter and I followed some of my friends, and some of my teacher friends. I was like, "Oh they would like it," and I followed my mom. Greg [Dunbar, the co-author] was like, "Can I add graphics to these Tweets? I think people would find it funny, not just teachers and parents. I think that you have something here, can I be your partner on this and make some pictures with it?" I thought, "Sure, if you think its funny, go for it."
HG: When did you first realize it was a hit?
AC: In may of 2015, Greg started to make the pictures that go along with the quotes and we were picked up by Buzzfeed shortly after. As soon as Buzzfeed picked it up, it sort of spiraled from there and then different news outlets started to recognize it because they saw it on Buzzfeed and then got 40 thousand followers [on Instagram] in a week. It was crazy.
HG: You definitely feature some really crazy quotes on the @LiveFromSnackTime Instagram, but what is the one that surprised you the most? Like, what was one that you were like, "I can't believe a kid actually came up with this?"
AC: I can tell you the quote that really made me start documenting. It's not the craziest quote but it's sort of to me, it was when it sort of hit me that this is pretty funny, this is stuff that people can identify with. I was teaching a geometry lesson and I said to the kids, "What's one thing you learned from this lesson? What's the big takeaway?" A lot of them weren't really getting the concept and then one student raised his hand and he said, "My butt has a line of symmetry. I get it." He was like 'bam, I understands it.' It needs to be parallel, it needs to be equal, and he helped the other kids to sort of understand it so I could have yelled at him of punished him for saying something inappropriate but I was like "Yeah, exactly. This is amazing."
HG: That's hilarious.
AC: So that's the day that I was like, "I really need to document this. This is very very funny."
HG: You were recently featured on Good Morning America when Michael Strahan was reading aloud quotes from your book, I Did My Homework in my Head, and you got a lot of laughs from people like Josh Gad. What was that like?
AC: That was an unbelievable feeling. Michael Strahan said something like, "This is how kids think. They're really thinking this way." That to me is so powerful because we all sort of laugh at it, but I think the real deeper meaning or the mission of me writing the book and the Instagram is that [the kids] are not trying to be funny. They have these real questions and they have these real aha moments and it's our job to really guide them through that. It was really interesting to see Michael Strahan not just laugh, but he was also like, "This is what kids are really thinking."
HG: Yeah, like he got it.
AC: He sort of understood my mission and I was really happy about that because people relate [the Instagram, and] to Kids Say the Darndest Things, and stuff like that but to me it's much bigger than that. Kids have outbursts and tantrums and we tend to think they're just trying to be the center of attention or they're tired, but there's such a realness to it we should really address. That's what I'm trying to get across.
HG: Now that @LiveFromSnackTime has gone viral, do any of the parents come to teacher conferences and know about the Instagram?
AC: Yeah! So my whole school knows about it. On the Instagram, there's a link to submit quotes. I have parents and teachers from all over the world submitting to Greg and I, and we go through them everyday. All my students' parents are giving me quotes in the hallway, at drop-off, when they come to pick up their kids. I'm like, "I'm not documenting right now. I'm teaching!"
HG: Do any of the kids know that you're keeping tabs on their quotes?
AC: So all the kids know and they'll sort of try and be funny and say things like, "What if I say it this way, Miss. Cowit?" I always just tell them there's a time and a place.
HG: Where do you see @LiveFromSnackTime going from here? You were talking about Michael Strahan and how kids aren't trying to be funny, they're just processing things and going through everyday life. Is that something you want to keep doing with Live From Snack Time, like helping people understand how kids operate?
AC: Yeah, definitely. I feel like I do it a lot at school now. Problem solving and really talking about solutions and questions. I want to continue to do that and I want to continue to push that message. I'm doing a bunch of book talks in the next few weeks and that's really what I'm going to be focusing on. I really want teachers and parents to understand that you can definitely laugh because we're all human but let's really dive into these questions because if we don't tell [kids] the answers, how will they really know.
HG: When can we expect Live From Snack Time: The Movie?
AC: That would be incredible. As soon as possible. Greg and I are ready.
I Did My Homework in My Head (And Other Wacky Things Kids Say) is on sale today — April 4th! —  and you can snag a copy right here. Follow along with Live From Snack Time on Instagram, Twitter, and Facebook.