Why you should live life like fashion icon Iris Apfel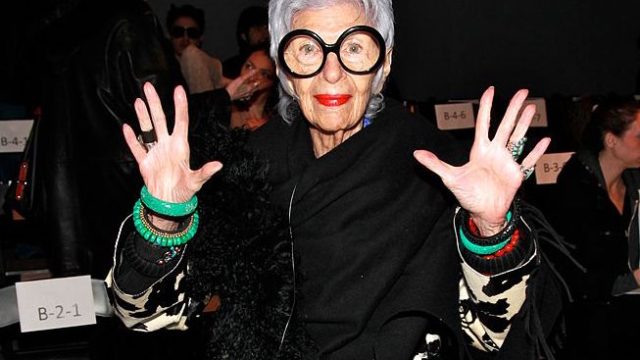 Iris Apfel is a businesswoman and interior designer, born and raised in New York. Many of us know her as the "rare bird of fashion." She is also known for her large circular eyeglasses and shimmering white hair. When she met Kanye West, his normal scowl disappeared, and he said, "You killin' it, you look so good tonight," while he looked at her with admiration. Just a few years ago, she became a widely acclaimed fashion icon after the Fashion Institute of Technology decided to display a selection of her antique costume jewelry from all around the world at an exhibit. At the time, she was 83 years old.
It can be tough as a young woman, growing up and trying to figure out what will make us happy. When I came across the documentary "Iris" on Netflix, everything changed. She inspires me to be myself, to embrace my personal passions, and to be content. She is strong-willed, mindful, and creative. She truly is the ultimate role model, and in learning about her life, I have taken a few notes about how to successfully follow in her footsteps.
Follow your passions, no matter how small.
Iris Apfel is a renown antique collector who claims she bought her first piece of thrift shop jewelry at the age of eleven. She had been eyeing a sixty cent broach for a long time before she finally saved enough money to buy it. That early passion for vintage apparel led her to her lifelong career, many of her closest friendships, and eventual stardom.
Say "yes!" to more unexpected opportunities.
So often, we're all trying to plan everything down to the last detail. This is healthy in some respects, but there is a power to being open to the unexpected. When discussing how she wound up in her first job, customizing vintage fabrics, she said, "I thought it sounded like fun." That's all you need to know!
Focus on your inner self more than your outer appearance, even if you're a fashionista like Iris.
Iris once said, "When you're somebody like myself, in order to get around and be attractive, you have to learn something, so you become a bit more interesting… Anyway, I don't happen to like 'pretty'. Most of the world is not with me, but I don't care." This is such a great quote, because who doesn't want to leave behind the pressure to live up to societal standards of 'pretty'?
Invest time in learning about the history behind the things you love.
In the fashion industry, it can become easy for people to look like carbon copies, as trends come and go quickly, and many people eagerly follow them. Following trends doesn't really allow us to become entrenched in the history of the clothing we wear. However, Iris doesn't play this game. She knows the context of everything she collects and inspires up-and-coming fashion artists to do the same.
Last but not least, don't take life too seriously.
Iris has a great sense of humor. She applies humor to the daily occurrences in her life and takes everything in stride with ease. This is a trick only a few people truly acquire. Iris and her husband's Manhattan apartment is described as "the perfect house for two teenagers," and they spend their days together there cracking jokes and playing with their vintage toys. They go by the motto, "you are never too old to make life fun for yourself." Not to mention, they have been married for almost 70 years, which is pretty cool.
Elise Hernke is an Arizona girl who likes all things movies and exploring mother nature. She can be found enjoying Goodwill Saturdays, taking pictures, working at an outdoor wine bar, dancing (whether or not it be the appropriate time or place) drinking hot tea, cuddling dogs, reading things online or otherwise (a sucker for classic novels) or binge watching a TV show featuring a strong female lead. You can follow her on Instagram or Twitter, or check out her website.