The first look at live-action Winnie the Pooh isn't as terrifying as live-action Mrs. Potts, but it's close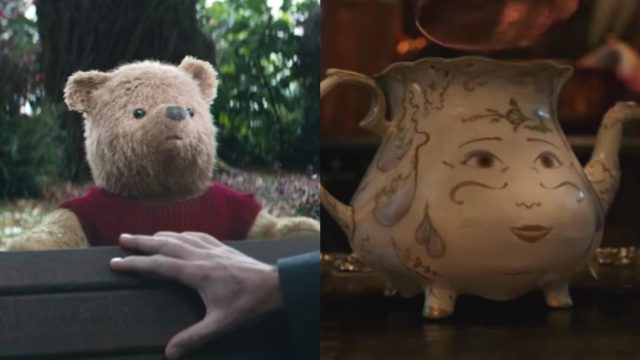 After getting our very first glimpse at live-action Winnie the Pooh in the teaser to Christopher Robin, we finally have a full look at the beloved teddy bear…and honestly, it's a little bit weird. Entertainment Weekly has just released two new photos from the upcoming Disney film, and it seems Christopher Robin's childhood friends have strayed far away from the Hundred Acre Wood.
The film, which takes place in 1949 London, follows a now-adult Christopher Robin (Ewan McGregor), who has long since lost his childhood wonder. After being forced to skip a family weekend away to work — and prevent the luggage company he works at from laying off employees — he receives a visit from Pooh. Noticing that Christopher Robin feels burdened by responsibility and duty of adulthood, Pooh and the rest of the Hundred Acre Wood gang reunite with their childhood friend to help him find his long-forgotten childhood imagination.
While the movie will surely bring us to tears, it's certainly odd seeing the Hundred Acre Wood crew in all their live-action glory. Yes, Pooh looks how stuffed teddy bear should look, but another look at those life-like facial expressions and you'll definitely start keeping your childhood teddy bear out of the bedroom while you sleep.
The first newly released photo depicts Pooh, Piglet, Eeyore, and Tigger living their best lives at the beach: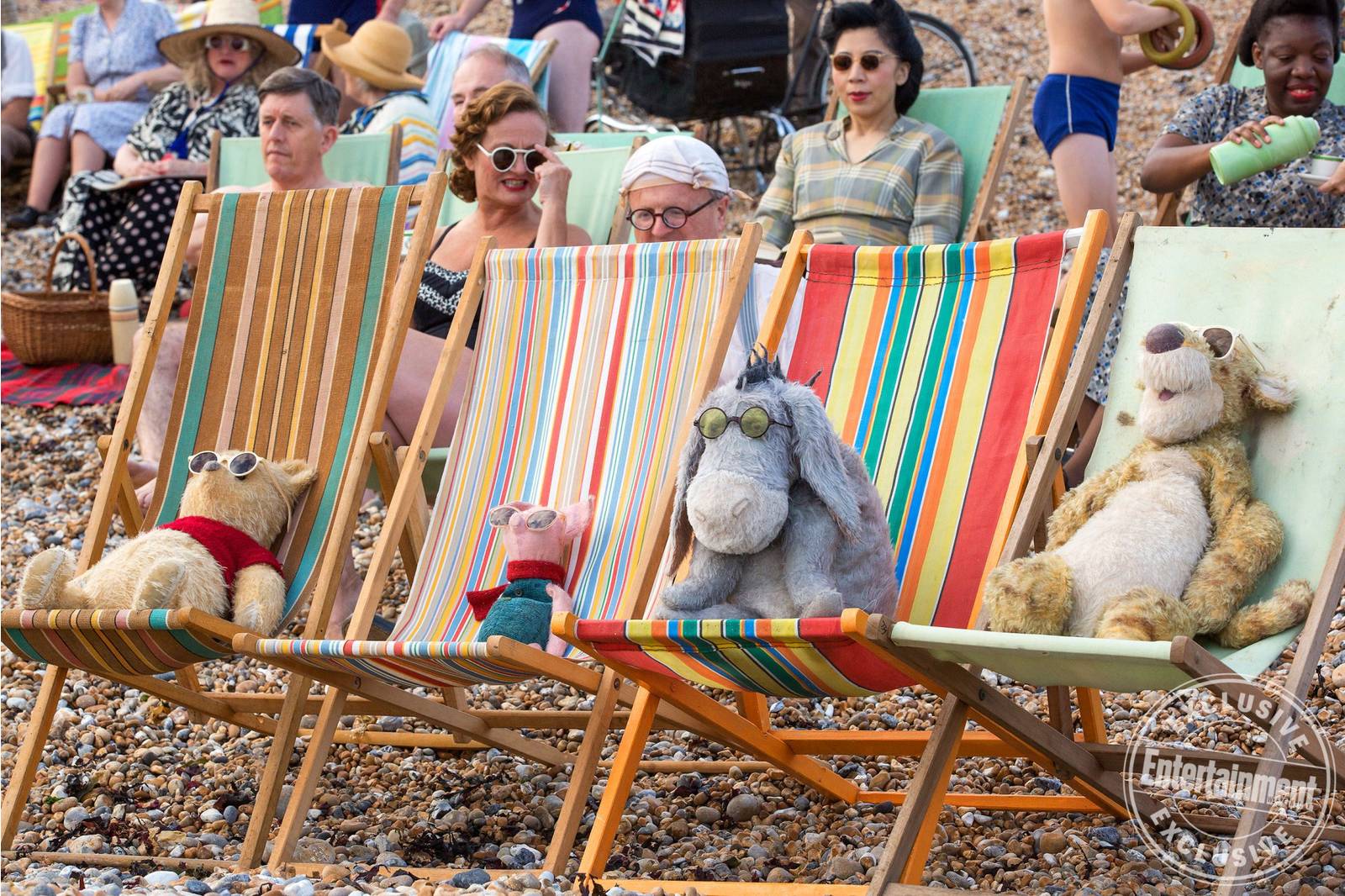 Who says they can't have a little fun while bringing a newfound life to their old pal?
Meanwhile, the second photo sees dapper Christopher Robin carrying Pooh on the streets of London: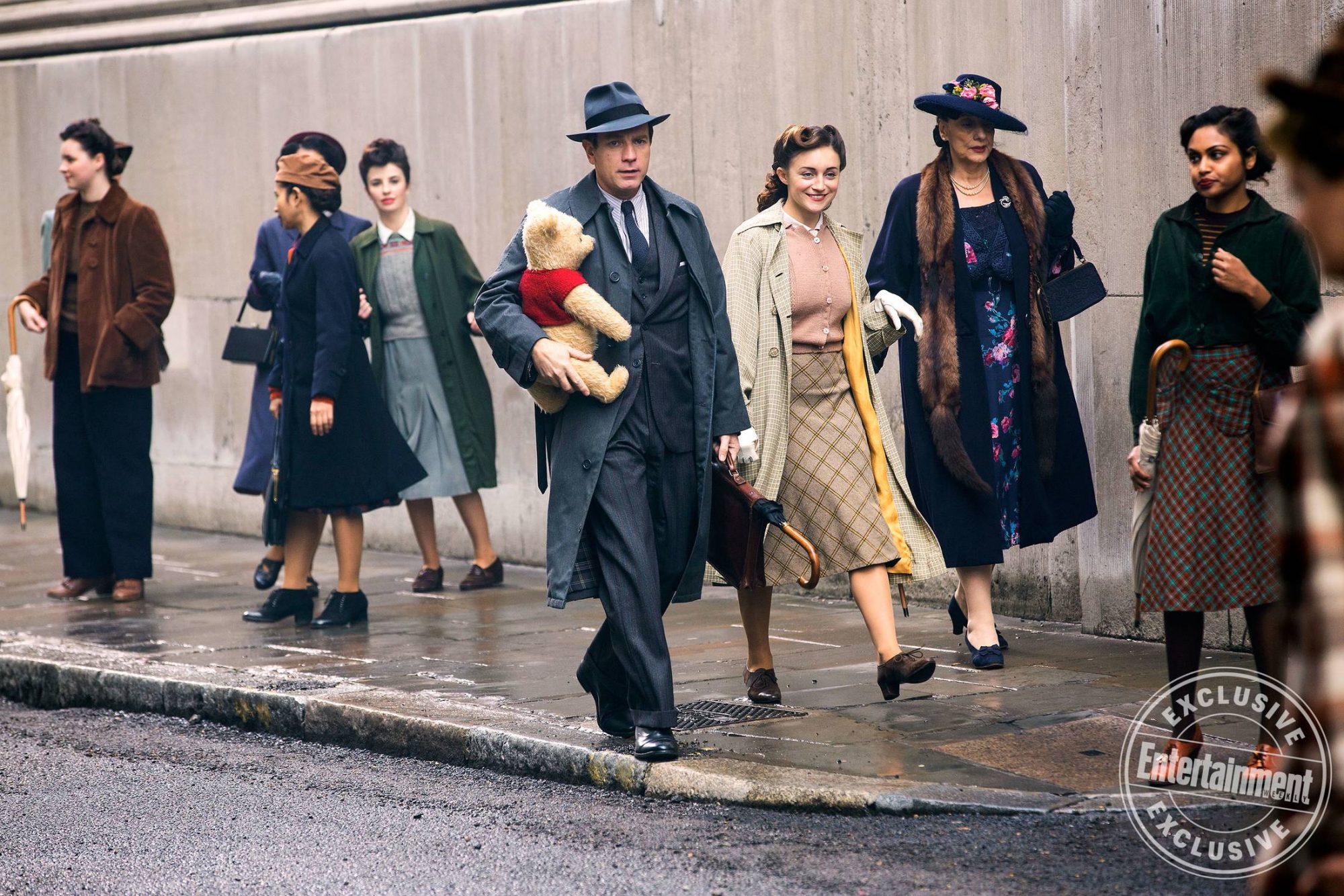 We know Christopher Robin is very stressed at the moment, but there's something about seeing Ewan McGregor dressed for work while carrying Pooh that's seriously charming, and we can't help but smile. Even his fellow Londoners are amused.
Christopher Robin also stars Hayley Atwell as the titular character's wife Evelyn, Bronte Carmichael as his daughter Madeline, and Mark Gatiss as his boss.
Meanwhile, longtime Winnie the Pooh voice actor Jim Cummings is returning to voice the beloved bear, while Chris O'Dowd (Tigger), Brad Garrett (Eeyore), Toby Jones (Owl), Nick Mohammed (Piglet), Peter Capaldi (Rabbit), Sophie Okonedo (Kanga), and Wyatt Dean Hall (Roo) join the cast to voice the rest of the Hundred Acre Wood crew.
The film is set for release on August 3rd, but meanwhile, we'll be keeping an eye on our own teddy bears.