The first teaser for Tim Burton's Dumbo is here — and this baby elephant is going to make you cry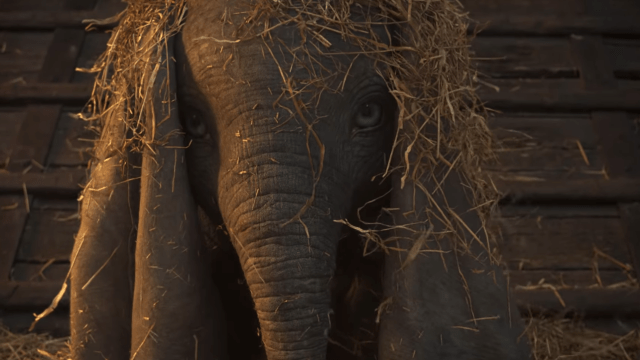 Ladies and gentlemen, boys and girls, children of all ages, we're here to tell you the most relephant news you'll hear this fine day. The first teaser trailer for the live-action remake of Dumbo is finally here. Following the success of Cinderella, Beauty and the Beast, Maleficent, The Jungle Book, and Alice in Wonderland, Dumbo is the latest Disney classic to get the live-action treatment. No other than acclaimed director Tim Burton will take the reins to bring our favorite floppy-eared friend back to life.
With a modern rendition of the film's signature ballad, "Baby Mine" in the background, the trailer features the adorable Dumbo hiding under a stack of hay, until he's discovered by Colin Farrell's Holt Farrier and his two children, Milly (Nico Parker) and Joe (Finley Hobbins). The reimagined story will center around the young family as they are enlisted by circus owner Max Medici (Danny DeVito) to look after this baby elephant — a baby elephant with oversized ears that make him the subject of mockery in an already struggling circus. But their lives will take a whole new turn when they discover that Dumbo can FLY.
The rest of the trailer is just what you'd expect from a Tim Burton creation — vivid colors, stunning visuals, and larger-than-life performances. You'll see glimpses of Michael Keaton as ringmaster V.A. Vandevere, and Eva Green as aerial artist Collete Marchant. There's also a brief shot of the iconic pink elephants that Dumbo sees when he accidentally gets inebriated, and a clip of him soaring across the circus tent. Oh, and there's no need to worry about the resurfacing of the racist crow characters. They are nowhere in sight.
Watch the official teaser trailer below:
https://www.youtube.com/watch?v=-QPdRfqTnt4?feature=oembed
Dumbo flies into theaters on March 29th, 2019.