The new live-action Aladdin trailer finally shows Will Smith as a blue genie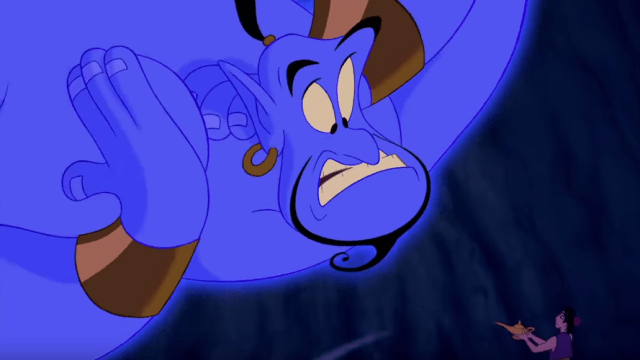 When we got a sneak peak at Disney's live-action Aladdincast back in December 2018, everything looked great—except for one major thing: Will Smith's Genie wasn't blue. As in, he looked way too human to be able to grant wishes. Well, patience is a virtue, dear ones. The blue Genie has finally made his first appearance in a new trailer, and the nostalgia is hitting us hard.
The latest trailer for the Guy Ritchie-directed Disney flick, which is due out in May, shows Aladdin (Mena Massoud) rubbing *the* lamp and releasing the Genie. Smith appears from the iconic blue smoke, his blue body decked out in bangles and necklaces. And just like in the animated film, it appears that Smith's Genie does not have legs, either.
After the newest trailer aired last night, February 10th, during the Grammys, Smith took to Instagram. "I told y'all I was gon' be Blue!! Y'all need to trust me more often!" he captioned his post.
Sorry Will, we just needed to see the blue Genie to believe it.
In December 2018, Smith told Entertainment Weekly that stepping in for Robin Williams, who voiced the Genie in the original 1992 Disney classic, was no small feat. "Where was there meat left on the bone? Robin didn't leave a lot of meat on the bone with the character," Smith said. However, he realized that like Williams, he would have to infuse a lot of himself into the character to make it work.
"I started to feel confident that I could deliver something that was an homage to Robin Williams but was musically different," the actor continued. "Just the flavor of the character would be different enough and unique enough that it would be in a different lane, versus trying to compete."
Just from this sneak peak, we can tell that Genie and Will Smith are one in the same. That is to say, magical.
Aladdin hits theaters on May 24th. We can't wait to see Smith's version of the iconic blue Genie in action.