Why Tessa Thompson and Nia DaCosta made a feminist western about the opioid crisis and abortion access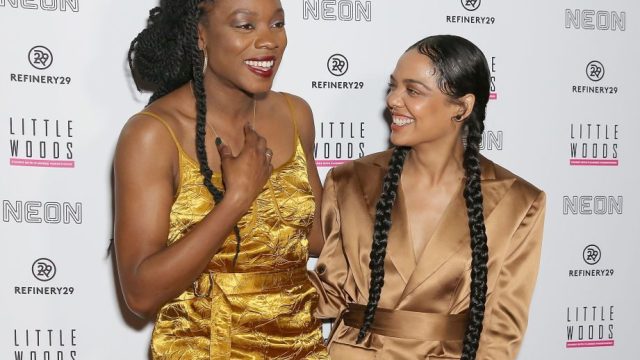 Nia DaCosta is here to reclaim westerns. In Little Woods, the writer and director explores a classically American genre through a contemporary lens. The film follows two estranged sisters, Ollie (Sorry to Bother You's Tessa Thompson) and Deb (Baby Driver's Lily James), who are driven to unlawful means to remain afloat following the death of their mother. Set against the backdrop of an oil boomtown in North Dakota, Little Woods tells the story of the bleak reality that often plagues, in DaCosta's soulful words, "wide open, isolating, and enveloping western landscapes"—ones where "your choices are only as good as your scant options." The opioid crisis, health care (or lack thereof), and reproductive rights are themes explored in the searing, nuanced Little Woods, which garnered a Nora Ephron Award honoring excellence in storytelling by women at the Tribeca Film Festival in April 2018.
Ahead of the film's April 19th release, I met with DaCosta and Thompson. "I wanted to tell a story about women who live in the rural part of America—what their lives were like, what their experiences were like, what their struggles were," DaCosta explained. "And putting those things together, it's like, what does a western look like from that point of view? From a woman's point of view?" The award-winning director also touched on diving into a historically white genre.
"I love westerns. But growing up loving something like westerns is definitely growing up trying to find yourself in those faces, and wondering why you're not in those faces—especially [when] three quarters of cowboys were men of color and some were women. So there's absolutely no reason besides just racism, hence the injustice of why that's not represented on the screen, [so I wanted to] see what doing a modern version would be like. That was really the emphasis for me—wanting to be really honest and human and specific and clear about that experience.
During our talk, DaCosta and Thompson discussed anti-heroines in pop culture, Little Woods' ambiguous ending, female creatives in the industry, and racial visibility in media. Continue reading for more from our interview.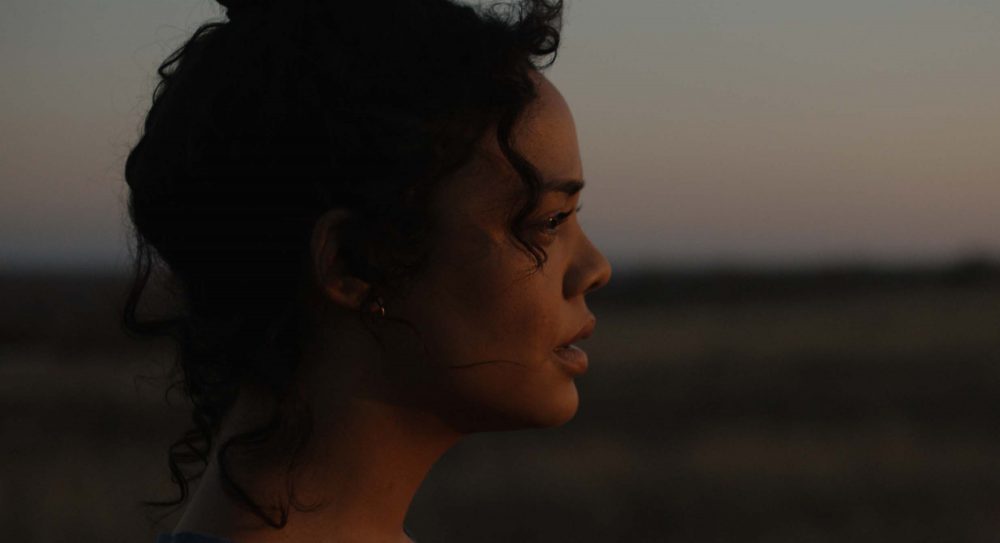 HelloGiggles: Tessa, what was it about the script and role of Ollie that resonated with you?
Tessa Thompson: I'm always looking to do something that I haven't done before. My favorite thing inside of a job is to worry if I can do it. I think inside that space of being mildly terrified, you can do things that can be sort of remarkable and surprise yourself. In terms of Ollie specifically, just getting to explore the complicated relationship of sisterhood and family—when the family that you're born into at a certain point, you also have to choose them and what that is—I thought it was poignant and beautiful. I knew Nia set out to make a movie that humanized issues that are often politicized. She wrote this movie when Obama was still the president, but I think we always need that. We're just not curious about "the other" in ways that we should be. I think particularly now, at a time where we're terrified of "the other" or want to vilify "the other," it's important to have stories that challenge us to be more empathetic and kinder.
HG: The film is, at its core, about two women driven to shitty means to survive. I've always loved the exploration of complex anti-heroines in pop culture. Who are some of your favorite anti-heroines?
Nia DaCosta: Carrie Bradshaw from Sex and the City.
TT: She's not anti, is she?
ND: She's terrible! [laughs]
TT: I like Faye Dunaway in Network.
ND: Yes. Oh my God. She's so good.
TT: I think that's my favorite. That performance is incredible. She just like eats—watch the movie again and see how much she eats in that film and how she eats. Well, she's a man-eater, too. But she just eats. The way she consumes people, ideas, and food in that film is so brilliant. A depiction of hunger and a specific kind of hunger that has to do with being a woman in a male-dominated space.
ND: That is such a good answer. I fucking love her in that movie.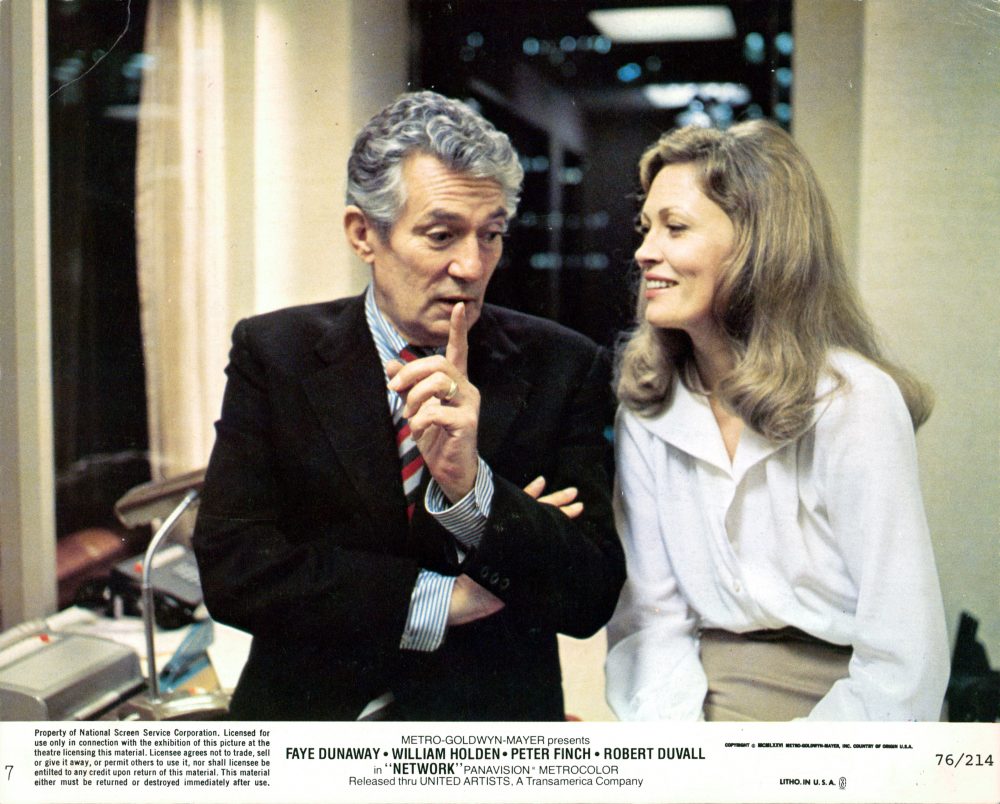 HG: I was thinking about anti-heroines and realized most of these fictional characters are white, too. I want more women of color doing really shitty things.
TT: All I wanna do is shitty things.
ND: Every character that I write is kind of an anti-heroine in a way. Not because I'm like, I need to write an anti-heroine. But I'm just like, let me write something interesting and unconventional to the point that they're dangerous, whether it's physically or her ideas of who she is.
HG: Back to Little Woods. I love the ambiguous ending at the border. Can you tell me more about how you arrived at this ending? Is this something you envisioned from the get-go?
ND: Not at the very beginning of the writing process, but by the time we came to shoot I knew that the film wasn't going to be like, she's getting on a Greyhound to Washington. I wanted it to be like, oh, thank God. They did this. They're in America now. Troubles [are] over, and now they're going into the rest of their lives no matter what struggles they have—together as family. That was what I wanted to be the last thing that you feel.
HG: What are your interpretations of the ending and Ollie's fate?
TT: A lot of my favorite films are films in which everything happens and nothing happens, because that's sort of the way life is. Change happens incrementally, and so much so that sometimes you don't notice it. Things that seem really small and inconsequential, specifically to one person, are paramount and huge. So inside of Little Woods, I think there's so many [of these] moments—just them coming back into each other's lives is such a huge thing. They're in proximity again in a way that they haven't been. So I think the ending is huge. The story is really about them, so there's ambiguity as far as what their trajectory is after that, but it is tied up in a way that's really beautiful because you understand that they have each other again.
ND: That's why for me, the movie could've ended at, "I love you. You know that, right?" "I love you, too." "Okay." But then everyone's like, what happens then? I also like the symmetry of the border. In the beginning, it's terrifying and then, it's peaceful.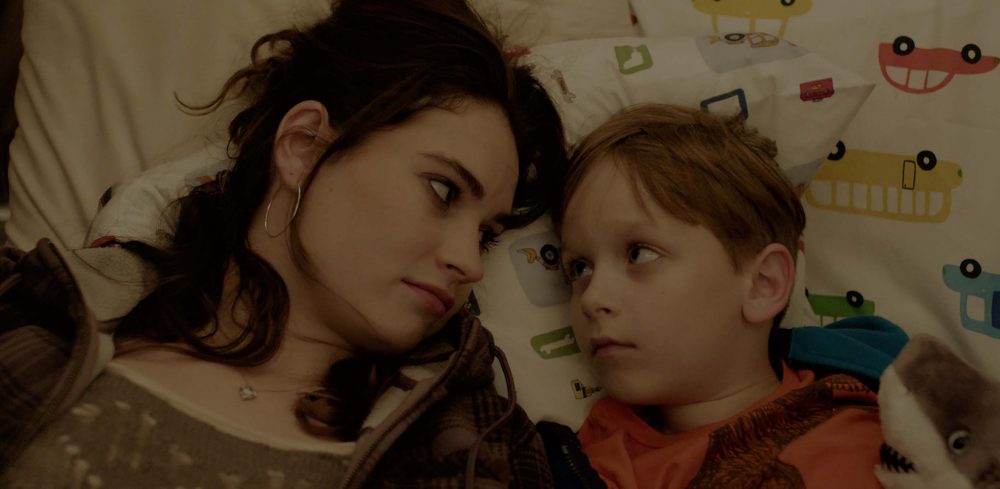 HG: Tessa, you pioneered a challenge earlier this year with Time's Up that called on creatives to work with a female director for the next 18 months. It's jarring that only 4% of the studios' top 100 films of the decade were directed by women. What do you both think this discrepancy stems from?
ND: Just the system. Like, this is run by white dudes. And they have more white dudes and make movies with white dudes, and the women are just sort of like, there [to be] wives and sisters and dead people. This was not a priority.
TT: The other thing is inclusion doesn't happen by mistake, and obviously there's a tremendous talent pool. You can see the amount of independent films that are written and directed by women, so they exist in the pipeline. Because it doesn't happen by mistake. In some cases, [there] needs to be a mandate. That's why you see people talking about the inclusion rider.
To Nia's point, so many of those issues are systemic until you get to the root and decide that people have to make changes. Then you get a story that is more nuanced and interesting and representative. I feel like that's where we're heading, but it takes real work. So you have to make an imperative, like what Ava DuVernay did on A Wrinkle in Time. [She] just told those departments, "Yes, hire some of your folks and then hire some folks that you don't know, because I want my set to look like the world in which we live." And of course it's going to be hard at first, [but] then it just gets easier.
ND: I think the thing about systemic oppression is that inclusion is purposeful, but so is exclusion. But because of the system, it doesn't seem [like] purposeful exclusion. It seems like it's just the culture. You've been forcefully excluding people for no other reason for a very long time. I think that's [the] trick of it, which is frustrating.
HG: What are your thoughts on the new wave of racial visibility in film and TV?
ND: Love it. I also love that it's expanding genres.
TT: That's the most significant thing. There's so much to celebrate. There [are] so many filmmakers [and] creatives—Issa Rae, Lena Waithe, Jordan Peele. You look at people working together in exciting ways, which is cool, but the truth is, you look back at the '90s [and] there was so much representation. In a weird way, we've kind of gone backwards.
ND: A zig-zag.
TT: So it's not as if this has never happened before. But I think to Nia's point, that [this] is happening across genres is the most impactful thing—the idea that we're not a monolith. And also that we don't have to be boxed into spaces. We can do anything and tell old stories in new ways.
This interview has been edited and condensed. Little Woods is in select theaters on April 19th.