Warning: Florence Pugh in Little Women might completely change how you feel about Amy
Our bookish hearts already have the most anticipated movie of the year on lock. We can't wait for the Greta Gerwig-directed, star-studded remake of Little Women. We've been enchanted by the story of the four March sisters coming of age in the 1800s for years. But TBH, we're less enchanted about one of those sisters in particular. Amy March is basically canceled for her actions against Jo. But Midsommar's Florence Pugh, who plays Amy in the upcoming movie, promises we'll feel differently after we see this movie.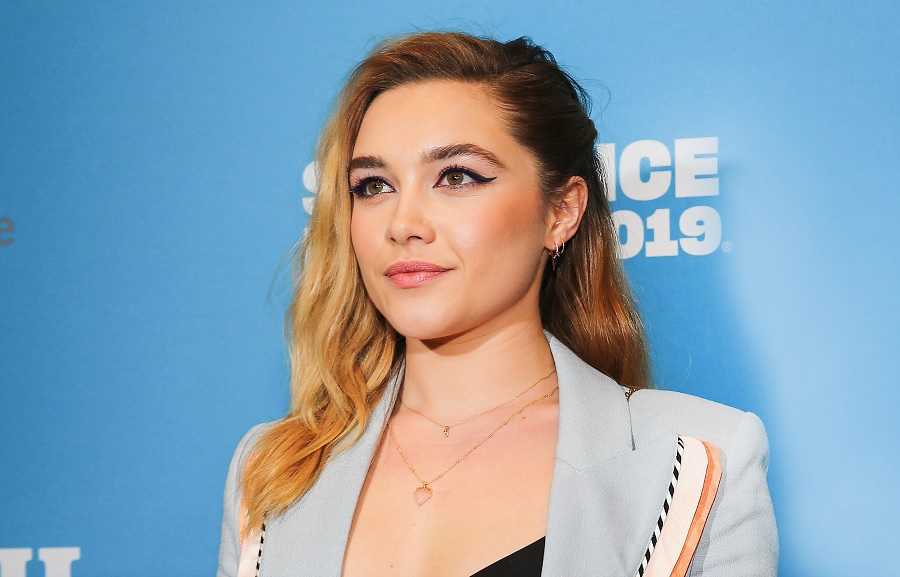 We're suspicious of Amy, but we'll give you a shot because we're fans, Florence.
In a new interview with Pugh, Entertainment Weekly calls Amy the "scene-stealer" of the entire upcoming Little Women adaptation. The rest of the cast includes Saoirse Ronan as aspiring writer and first-wave feminist Jo; Timothée Chalamet as her childhood comrade and first love, Laurie; Emma Watson as the eldest, Meg; Eliza Scanlen as Beth; icon Laura Dern as their affectionate but somewhat overwhelmed mother, Marmie; and Meryl Streep as Aunt March.
To call Amy the "scene-stealer" feels like a betrayal to our love for Jo—if you recall exactly what Amy does to make her so reviled. (There's manuscript-burning and first-love-marrying involved.)
Pugh herself acknowledges the difficulty of the character in her interview with EW, noting that after she was cast, people said she was playing "the worst sister ever."
"I can imagine that people hate her because she's never really been beefed out. You never really understand why her and Laurie get together; you wish that it was Jo and Laurie, so it doesn't really make sense," Pugh says. "As fairy tales go, that's not the ideal way: to let the bratty sister win the guy. So I understand why she's a frustrating character."
But Pugh says that Gerwig's Little Women aims to achieve something different with the character. It gives Amy more development, screen time, and fleshing out of her relationship with Jo.
"Coming to this job, it was always laid down that this was very much an ensemble cast, and Greta really wanted to tell a story of these girls, not just one arc," Pugh says when asked about the expanded relationship between Amy and Jo. "When we got to set and we started working together, we found our own dynamics…. We formed our own friendships anyway. It was very easy bringing that to the table [for Amy]. She deserved a bit of spotlight and I hope people watch her and go, 'I get it. I understand her now.'
Sometimes the best films reinvent a previously held opinion about a beloved—or misunderstood—character. With a Christmas 2019 release date, we don't have much longer to wait to form our own opinions about the rehabilitation of Amy March.