7 little tricks to help you actually relax on your vacation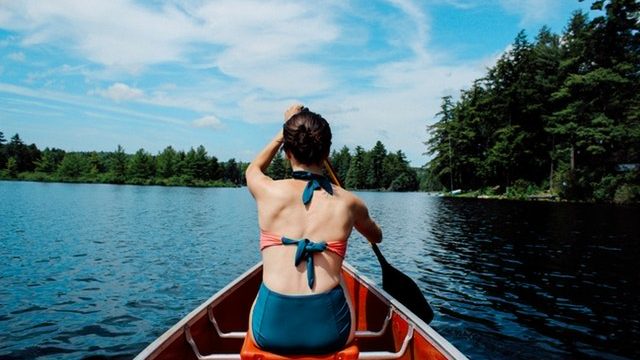 We're approaching that glorious time of the year when the weather is warm and we're looking forward to our upcoming vacation. Whether you're planning on taking a tropical trip or you want to spend a long weekend in the mountains, it's important that you take some time for yourself and unwind. It's been a hectic year so far, after all.
As fun as vacations are, it takes effort to plan a memorable trip that will truly help you arrive at full relaxation. So don't underestimate the planning process that goes into a good vacation, because you want to squeeze every benefit out of this holiday as you possibly can. Below are some useful tips that will help you fashion the vacation of your dreams, and the extra time and energy you put in before you hop on the plane will pay off when you're lounging by the pool, totally relaxed and chill.
Here are seven little tricks to help you actually relax on your summer vacation.
1Pack ahead of time—and pack *smart*
https://www.instagram.com/p/BUYQ1uPg_x8
The whole point of taking a vacation is to leave your stress behind and enjoy the activities (or completely empty schedule) that lie ahead. This is very difficult to accomplish, however, if you save the packing until the last minute and you're scrambling around to just get yourself to the airport. Rather than piling on anxiety before you even arrive at your destination, do some planning ahead when it comes to packing.
First of all, make sure you have a great piece of luggage that is both functional and affordable. If you don't know where to begin, the Allpa 35 (aka the Ultimate Adventure Travel Pack) is an ideal choice, wherever you may be headed. You won't have to deal with the stress of digging around to find your swimsuit or worry whether the zipper will break during travel. Created by Cotopaxi, this stellar bag will help you stay super organized, which will give you more time to chill out. Plus, you'll love the way it looks in pictures.
2Bring some snacks on the plane (or bus, car, whatever)
The Snickers commercials had it right: You're not you when you're hungry. Don't let yourself get hangry when you're traveling long distances. This will make the trip a lot less enjoyable, because when your stomach is empty, you won't have all the energy you need to revel in your surroundings.
Equip yourself with some healthy snacks that are easy to cart around, like the Ambition Bars by Pamela's Products. They're made with all-natural, gluten-free, and organic ingredients, and each of them has a little kick of caffeine that will provide the boost of energy you need to get through your kayaking excursion. (Psst, the Salted Caramel Latte flavor is to die for.)
3Set an automatic reply in your email account
A survey by Expedia found that 76 percent of Americans are guilty of checking their email while they're on vacation, but setting an automatic reply is a small trick that will take some stress off your back. You won't have to worry about whether your co-workers are wondering why you aren't responding to their inquiries, and you'll probably be less inclined to keep reaching for your phone. Chances are, the emails in your inbox can certainly wait until you're done relaxing.
4Don't put too many things on your itinerary
It's hard to pick and choose which activities you want to do when you're going somewhere exciting for your vacation. As tempting as it might be to sign up for them all, though, be realistic about how much you can fit in. If you're running around, trying to get to a million excursions or destinations in one week, you'll be so burnt out that you won't even have the time to unwind. Just put a couple things on your schedule and use the rest of your time to kick your feet up.
5Set aside some time to do an activity you love
Maybe there's a novel you haven't gotten the chance to read yet, or a yoga class you wanted to stream online. Your vacation is the time to catch up on those activities that get pushed to the side during your normal working hours, so ensure you get the chance to do all those things. The more you do what you love, the more you can relax and feel like the queen that you are.
6Give social media a break as much as you can
Platforms like Instagram seem like the perfect place to showcase your vacation, but don't fall into that rabbit hole. We already know that spending too much on social media can exacerbate anxiety, negatively affect self-esteem, and take you out of the present moment. You shouldn't have to face any of that when you're playing around in the salt water. Take all the pics you want, but resist the urge to waste your precious vacay time filtering your many beach photos. Enjoy what's right in front of you.
7Give yourself a day or two to adjust before jumping straight into work
There are a million things to do when you get home from a vacation in order to transition back into your normal schedule. It pays to toss in a cushion day (or two) to adjust back into your regular sleep schedule and restock your fridge. Jumping straight back into work as soon as you get home is a surefire way to kill the relaxed vibes you've cultivated over the last week. So chill out for a minute before you jump back on the work bandwagon. You deserve it.