Little star and teen executive producer Marsai Martin on how she learned to play the ultimate terrible boss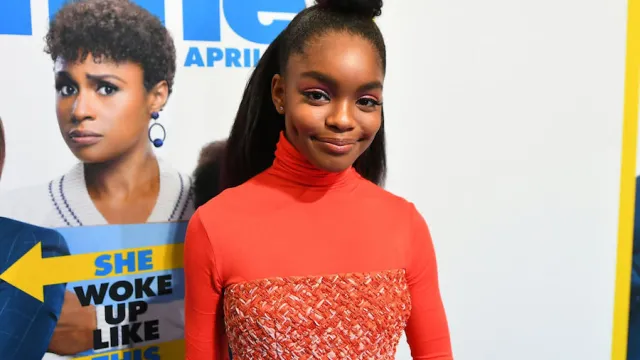 Marsai Martin is only 14 years old, but with Little, she has already made Hollywood history. In theaters April 12th, the Black-ish actor pitched the idea for the film to Black-ish executive producer Kenya Barris when she was only 10 years old after watching 1988's Big with her mother. Martin wondered what that kind of movie would look like if it featured female characters who resembled her community, and if the protagonist returned to her childhood rather than fast-forwarded to her future.
Almost four years later, Martin's pitch has brought us Little, a comedy from Universal Pictures starring Martin, Regina Hall, and Issa Rae. Martin is also credited as an executive producer, making her the youngest executive producer ever in Hollywood. Martin's transition into movie development continues as the teenage entertainment powerhouse now has a first-look production deal with Universal.
Little focuses on Jordan Sanders, a fashion-forward tech mogul who is as shockingly heartless towards her employees as she is successful. We're talking legit workplace cruelty here—from licking an employee's apple and asking him to take a bite as punishment to mocking an employee's need for health insurance. One of the staffers at the mercy of big Jordan's wrath? Her perpetually overworked and overwhelmed assistant April, played by Issa Rae, who is forced to know Jordan's neuroses and mean streak more intimately than anyone else.
At the beginning of the movie, we learn that adult Jordan, played by Regina Hall, wasn't always so horrible. Little Jordan, played by Martin, endured years of childhood bullying. As soon as she became a successful adult, Jordan vowed to never get hurt again. That meant making sure she was too tough for anybody else to ever bully—no matter who she had to demean in the process.
A series of bizarre events causes Jordan (Hall) to wake up as her middle school self (Martin) and remember how it felt to be that powerless, vulnerable, bullied little girl with nobody but April to help her navigate this new (but not really new) reality. As Martin expertly portrays the mannerisms of a terrifying, decades-older business woman, we're treated to a simultaneously hilarious and heartwarming story about second chances, friendship, and girl powertold by Black women leads.
Martin told HelloGiggles, "You don't really ever get to see these body swap type of films with female empowerment themes and an all-Black women cast. That was important to us—and important to the audience, also—to see that we can be in these types of films."
Read more of our conversation with Hollywood's youngest executive producer and star of Little below.
HelloGiggles (HG): You're a young person, yet you truly encapsulate the attitude and demeanor of this horrible, horrible grown boss in her 30s. How did you prepare for that character? Did you draw from anything in your own life?
Marsai Martin (MM): To be honest, it didn't even need much preparing. We wanted to do this movie for a long time. I pitched it when I was 10, so we had a good time span—what, three years?—of just me growing up and understanding the industry more. Because, of course, in this place that I'm in, there are always adults around me. Plus, I'm homeschooled, so I don't hang out with other kids often.
You get to learn a few things going to parties, afterparties, events, and stuff like that. There is a lot of information I got for this character through those three years getting me to this moment.
HG: You and Issa Rae are hilarious together. Did you have a favorite moment on set with Issa?
MM: So many. It would probably have to be the fight scene—even though it was super hot outside and we were all sweating. Or the scene at the bar when we were dancing together, That was at 1 a.m., so we were all really tired, but it was cool to shoot.
Issa is awesome in general, and she is a creator, too. So so she is really great to look up to.
HG: We witness little Jordan experience bullying before she becomes a bully herself and is challenged to grow past the pain. The film is a comedy,  of course, but there is a lot of depth in those moments. What do you hope audiences take away from Little?
MM: I hope they take away from the film that there is such a thing as second chances. That you can just be your true self and everything will be okay. You don't have to change for anybody else. Jordan had to go through so many things to get back to that point, but she got there.
HG: You've worked in this industry for quite some time, but this movie makes you the youngest executive producer in Hollywood history and now you have a first-look deal with Universal. As you take on this larger behind-the-scenes role, what kinds of projects do you hope to develop throughout your career? Any specific genres or specific kinds of stories you'll be focusing on?
MM: We have so many genres and TV shows and films that we can go back to through remakes, but there are also original films and TV shows that I want to capture. Whether it's a romantic film or a comedy or a drama, or scary movies or horror films. Whether I'm creating or being those types of characters.  There are a lot of things I'm thinking about and stories I want to create—for me and for my friends, too.
HG: What do you hope other young women are inspired to do when they see the work you're doing in Hollywood?
MM: I hope it inspires them to just be themselves. To be confident in what you think and to be confident in your passion. A lot of kids like me are too scared to say what is on their minds because they think it won't be heard or that someone will doubt you. But you won't really know until you say something. And if you stick to the right people and hang around people you trust, then you'll find a way. You gotta just roll with it. You'l get a lot of no's before a yes, but you have to stick with your passion.