If one of The Little Mermaid's sisters grew legs, we have a feeling they'd look like Lorde at Coachella
Oh Coachella, how you leave us waiting with bated breath to see our favorite celebrities and their crazy outfits. With this in mind, we eagerly stalked Instagram and Twitter to see what our favorites wore, and naturally, Lorde is at the top of the list.
After what feels like years of the star being MIA, we are so glad to see her shining her bright light once again. And of course, Lorde killed it with her Coachella style when she looked like The Little Mermaid's younger sister… if she were the coolest and had legs. Lorde literally sparkled in her attire of choice, nailing the summery festival vibes without looking like every other musician at the fest.
https://www.instagram.com/p/BS_folfhuCM
Lorde sported high-waisted, sparkly pants in a mesmerizing blue iridescent hue, pairing them with a bejeweled turtleneck and bustier. The look feels super ethereal with a grounded twist, considering that the pants were wide-legged and loose and paired with Adidas. The whole look is not what you'd expect for a performer to wear at a festival, and that's why we love it. Lorde has made a name for herself by answering to no one but herself, whether it's through music or sartorial choices. And this look feels purely her in the best way.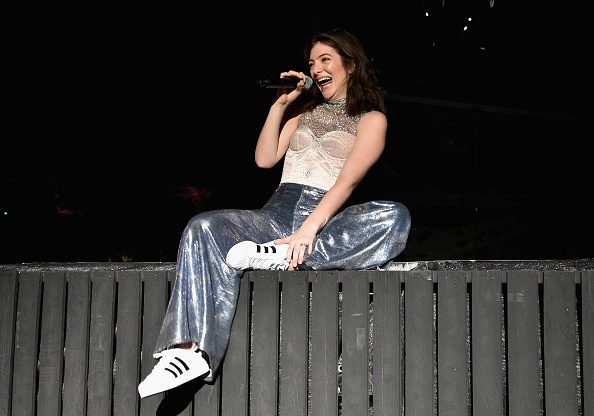 Our favorite Lorde is giggling Lorde on a stage during Coachella! With her otherworldly dance moves and mermaid-esque outfit, it's no wonder that she killed it during weekend one of the festival. We're here for her and here for this look.
Our only question is where can we buy those pants?!