People are freaking out because this mom gave her daughter unicorn hair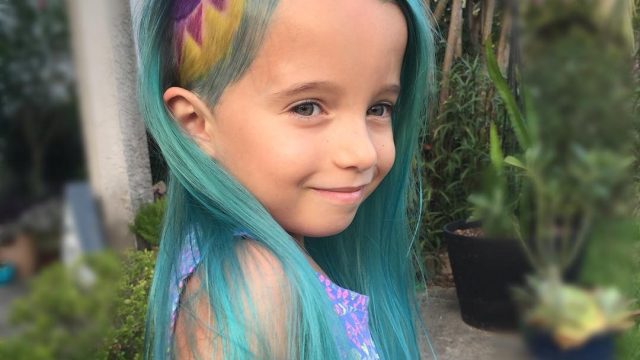 These days, you've undoubtedly come across plenty of Pinterest-inspired hair trends that, years ago, may have been seen as "taboo" or too risky for most "traditional" jobs. Yet, it's now totally cool to take your normal shade of blonde, red, or brunette and transform it into something truly Instagram-worthy.
From Lisa Frank rainbow hair to hair inspired by a watercolor painting, expressing ones' individuality by choosing a vibrant color (or colors!) on top of your head is generally welcomed these days, and we love it. I mean, who wouldn't want to look like a real-life version of My Little Pony?
Of course, it only makes sense that if grown women are loving themselves some glow-in-the-dark hair,a young girl would, too… right? However, a Panama Beach City, Florida mom and hairstylist is coming under fire for giving her six-year-old daughter Lyra a bright teal unicorn look, complete with a side shave and a purple, pink, and yellow sun design shaven in.
Mary Thomaston, who herself rocks multiple shades of the rainbow on her locks, told  The Luxury Spot that Lyra had been asking for a side-shave and colorful dye job for years, and she finally caved when she checked with Lyra's school to make sure the vivid look would be allowed.
"I told her if the school gives us permission then I'll do it, and they allowed it. Her hair is already really light so all I had to do was add the temporary color. I tried to talk her out of the shaved side because I thought she might regret it once it was done but boy was I wrong. She was sooooo excited."
A hairstylist herself, Mary put Lyra's safety first, choosing Manic Panic products, which are non-toxic and non-permanent, adding,
"Sunblock actually has more harmful chemicals than Manic Panic. While I'm not one of those moms who gives into her child's every wish, I will reward my child for being a great kid. This is something she really wanted, and I knew it was safe so I figured why not?"
On social media, however, fellow parents took Mary to task, questioning the safety of dyeing a child's hair and even her parenting skills. Others felt that colored or dyed hair should only be for adults, to which Mary says,
"Really? Because when you're a grown up with crazy-colored hair, people say that such things are for kids. It's a contradiction. I say why not let them have fun while they're young! Who knows what type of job she may end up with, but a lot of them won't allow unnatural colors. When you think about it that way, it's actually the perfect time to let them experiment with color."
Lyra's brightly colored hair may not be for everyone, but I can't be alone in wishing I had the confidence to rock unicorn hair like she does… and I'm 20 years older than her. In the end, what's more beautiful than individuality?