An 8-year-old girl casually destroys clothing gender norms in this video, and we are bowing down
A quick shopping trip to any kids' clothing department will reveal the blatant perpetuation of gender stereotypes surrounding our children — and that surrounded us when we were growing up. T-shirts emblazoned with messages that girls can't do math or girls only care about makeup are rampant, but one 8-year-old British girl is already smashing the patriarchy of the mall department store.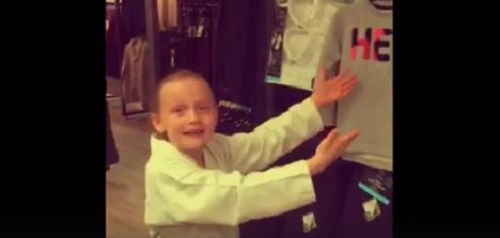 Daisy Edmonds, young queen in a karate uniform, was on a shopping trip at Tesco with her mother when she became rightfully infuriated.
Daisy immediately noticed the stark contrast in the messaging present on the girls' clothing and the boys' clothing. She begins questioning why the girls' shirts say, "Hey!," "Beautiful," and "I Feel Fabulous," while the boys' shirts say, "Desert Adventure Awaits," "Think Outside The Box," and "Hero." Daisy's response was so passionate that, thankfully for us, her mom began filming it.
"It's unfair because everyone thinks that girls should just be pretty and boys should just be adventurous. I think that's wrong because why should boys' and girls' clothes even be separated because we're just as good as each other."
With the eloquence of a gender studies professor, Daisy unpacks the deeper, adventurous meanings of "Think Outside The Box," and compares it to the empty simplicity of "Hey!" While "Think Outside The Box" inspires boys to "follow your own dream," when it comes to "Hey," she asks, breathlessly frustrated:
"WHAT DOES THAT MEAN?"
If Daisy is our future, the world is in good hands.