You can now get a Little Caesars pizza stuffed with three feet of cheese, because American innovation is boundless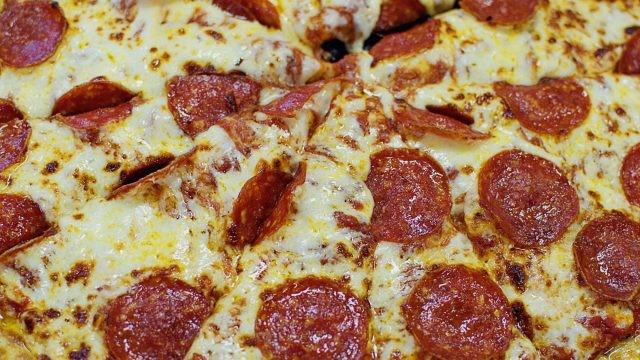 If you've ever eaten a slice of pizza and thought, "This is really delicious, but it would be better with several more feet of cheese," then boy do we have some news for you. Little Caesars is now stuffing its pizza crust with three feet of cheese, so if you ever felt the desire to eat cheese the same height as a preschooler, your time to shine is finally here. But honestly, we just can't decide if this is the worst idea or the best idea ever.
According to a press release from the company, the new Little Caesars pizza is called — and we're not making this up — the ExtraMostBestest Stuffed Crust Pizza. It's reasonably priced at $9 (plus tax), but we can't help wondering if the toll it will take on your digestive system will come with a much, much higher cost. Perhaps eat only if you have good health insurance?
The pizza will include fresh mozzarella and Muenster cheese, tons of pepperoni, and, of course, crust stuffed with even more mozzarella cheese (three feet of it, to be exact). And yes, it will be part of the offerings that are Hot And Ready between 4 and 8 p.m., so if you're on the go and need to grab dinner fast, this is definitely an option for you.
The pizza chain shared a photo of the new concoction on Twitter, and it actually looks pretty yummy… but still, you should probably only attempt this if you're a serious Little Caesars pizza fan.
"Like so many people, we are truly obsessed with cheese," Edward Gleich, Little Caesars senior vice president of global marketing said. "So it's only natural that we've been asking ourselves, 'just how much cheese can one pizza hold?' I think the new ExtraMostBestest Stuffed Crust Pizza pushes it to the brink."
To the brink? Yes. We'd say they've made it there. And all the talk about this insane pizza is bringing a certain Jurassic Park quote to mind…
 If you want to try out the pizza, you should do it soon, since the ExtraMostBestest pizza from Little Caesars is only around for a limited time. You deserve some kind of prize if you can eat it and live to tell the tale. That's a lot of cheese, dude.