Everyone just scored a free Little Caesars lunch combo thanks to this unlikely March Madness win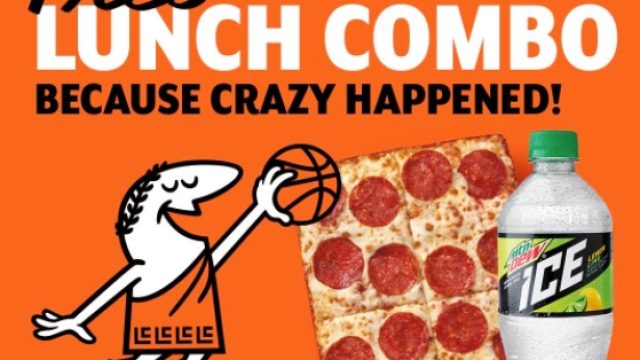 March Madness is upon us, which means it's time for exciting games, dramatic upsets and competitive office pools. People expect there to be some surprises, but this year, pretty much no one saw this coming. On Friday, March 16th, the No. 16 seed (the University of Maryland Baltimore County) beat the No. 1 seed (the University of Virginia) in the "greatest upset in NCAA tournament history." And thanks to the UMBC Retrievers, we all just scored a free Little Caesars lunch combo.
UMBC didn't just beat Virginia at the buzzer, either: The Retrievers crushed the Cavaliers in a 74-54 victory. Guess they really wanted everyone to get some free pizza, huh?
March Madness has grown in popularity over the years and is now "second to the Super Bowl in impact," according to Forbes. Naturally, it's the perfect event for brands to capitalize on in order to grow sales and get some exposure amid all the fun. On Friday afternoon, Little Caesars tweeted out its newest promotion, which promised a free lunch combo to customers if the No. 16 seed beat the No. 1 seed (which, prior to 2018, had never happened before). Now, the pizza chain probably didn't expect it would actually have to honor its "If Crazy Happens" promo. But thankfully, it's sticking to its word.
The free Little Caesars lunch combo includes four slices of deep-dish pepperoni pizza and a 20-ounce soda.
The Little Caesars lunch combo will be available Monday, April 2nd between the hours of 11:30 a.m. and 1 p.m. local time. According to Little Caesars' terms and conditions, the deal is only available at participating stores, and it's good for one lunch combo per family (defined as as parents, children, siblings, and spouse).
Time to celebrate, y'all.
If you really want to snag a Little Caesars lunch combo at no cost, you should head to the location closest to you a bit early. Because we're sure people will be lining up for free pizza. Who wouldn't? It definitely beats having to make your own March Madness snacks.
Will there be any other March Madness upsets like this? And more importantly, will we get more free stuff from other companies because of it? Inquiring minds need to know.