Lisa Marie Basile's Light Magic for Dark Times probably contains the spell you need to heal yourself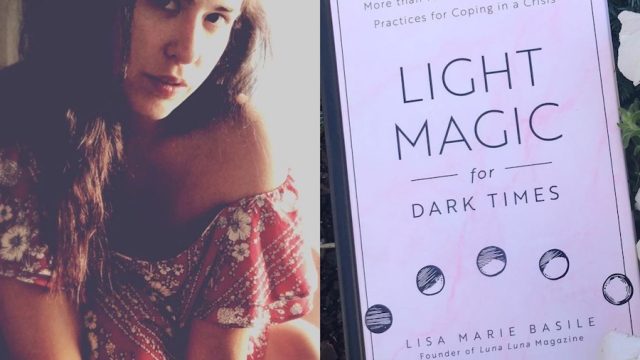 When you google Lisa Marie Basile's name, what pops up is the descriptor "poet-witch." Though those nine letters contain enough weight on their own, Lisa's depths stretch even further. She is the creator of Luna Luna Magazine, an online publication and community that revolves around self-expression. She has authored (and is currently authoring) several books and poetry chapbooks—Apocryphal, war/lock, Triste, Andalucia, Nympholepsy—and has been nominated for what seems like just as many awards. Though she is a HelloGiggles alumna, Lisa has also written for The New York Times, Narratively, Refinery29, Bust Magazine, Cosmopolitan, and more. Perhaps most importantly, she is an advocate for those going through the foster care system.
In her first nonfiction book, Light Magic for Dark Times, Lisa acknowledges the binary that is darkness and light. Though many consider the former to be "negative," Lisa shuns that idea, reminding readers that darkness can be just as illuminating as light. To help us navigate these waters as we learn to care for ourselves, the author has crafted over 100 spells and rituals that will help you tap into your inner power during times of need. This book is for those who need a guide on their journey toward healing.
To shine a light on what Lisa has created (pun intended), we reached out to the author herself for more information on her new literary venture.
HelloGiggles (HG): One of the first things I noticed about your book's release is that it occurs on September 11th. Based on what your book covers, I imagine that there is significance behind this choice?
Lisa Marie Basile (LMB): Actually, there is no relation. It's just a day when my publisher releases books—although my marketing manager and editor both definitely mentioned that it was a meaningful date. As a New Yorker (I moved here 11-12 years ago) who also lived just blocks away from the World Trade Center for many years, 9/11 is a very powerful day for me. I often visit the grounds—it's a place to reflect, and it's got a very specific, intense energy. I honor those families and the lives lost, but we didn't intend on the book coming out that day.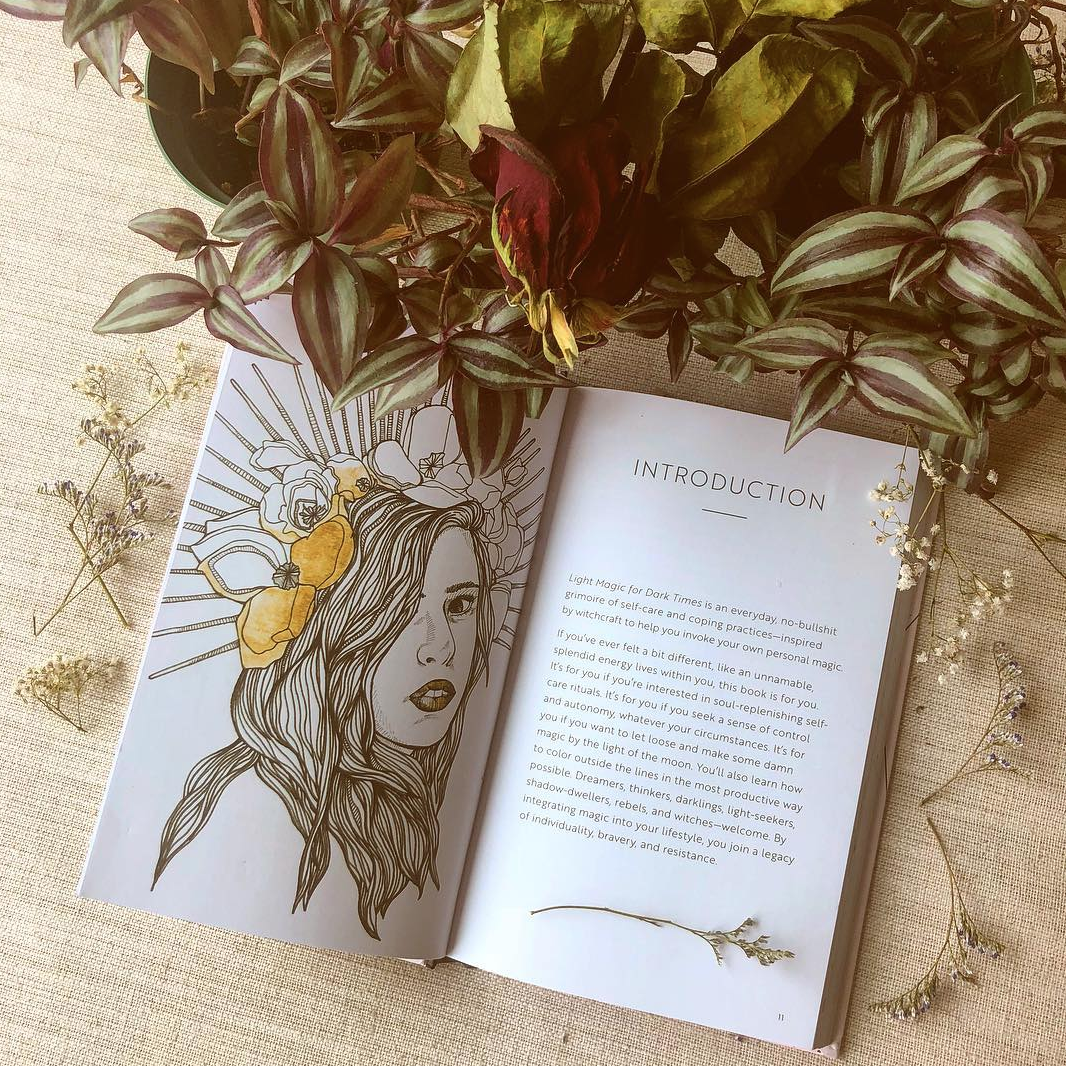 HG: As you mentioned in your writing, some of what you cover—crystals, the zodiac, self-care rituals—is "trendy," especially with modern women. Why do you think that is?
LMB: Yes, totally, and I adore it! It's a really amazing time. There may be two things at play here—first, I think we've been talking more publicly and more often about social issues, like racism and sexism and sizeism and classism. For many people, this requires a lot of emotional energy and labor. So people have naturally been trying to take care of themselves and advocate for making time to do so. To reclaim our bodies and identities. Where maybe we used to think self-care was selfish, we've all sort of collectively agreed that we need it.
We want to decide when and how to care for ourselves. That's a radical act, really, when society tells you that you are invisible, or when your trauma or pain prevents you from taking those steps. I think we're also coming to an apex where the digital has met with the need to be more nature-based in our lives. The more connected we get, the more we crave those grounding forces—and that's great, since we're natural creatures.
So crystals, herbs, tarot—I think it's a way to get back to something simpler, grounded, and calming. Those magical tools are so personal, and using them sort of requires focus and attention and directed energy. That's, you know, hard to do when we're all so damn busy. It's nice to take some time for yourself…and why not make it into a fun, beautiful ritual? Candles and colors and crystals—they are all symbols for our desires and hopes, and they allow us to get creative and personal with our expression.
HG: You've been open about dealing with your own darkness, such as your journey involving chronic illness and the foster care system. Is there a specific ritual in this book that came in handy for you during a dark time?
LMB: Oh my gosh, so much of the book has been adapted from my own rituals. (I also made sure to do each before including it in the book.) Because it's one ritual or practice per page, I had to distill some of what I did into a short ritual or practice, but lots of what I wrote in the book came from what I'd consciously done as a way to reclaim some of my own personal power—and also some of what I'd unconsciously done (creating ritual, without really knowing I was tapping into a sense of magic) when I was younger.
One of the rituals I wrote, "A bathing ritual for moving through feelings of grief," is one I've turned to a lot over the past year. I lost a few people right before I started writing this book, and that grief was thick and heavy and very real. That grief actually informed a lot of the book, because I wrote it from a place of great compassion, gratitude for life, and appreciation for the ebb and flow of darkness and light.
I have always used "A new moon ritual for kicking a creative block." The moon's phases are intimately tied up, I think, in our day-to-day life, whether we know it or not. Full moons tends to create a wild and rambunctious energy, for example. Like, do you feel a little more zest or intensity then?
The moon phases are great for looking at things in a cyclical sort of way. A new moon can represent a blank slate, a time to start over. So whenever I'm feeling either blocked or ready to recalibrate, I'll use the lunar cycle as a little reminder. As a foster youth, I spent a lot of time connecting with the archetype of the witch, and I definitely think her power, resiliency, feminism, and staunch individualism has always inspired me…and this book.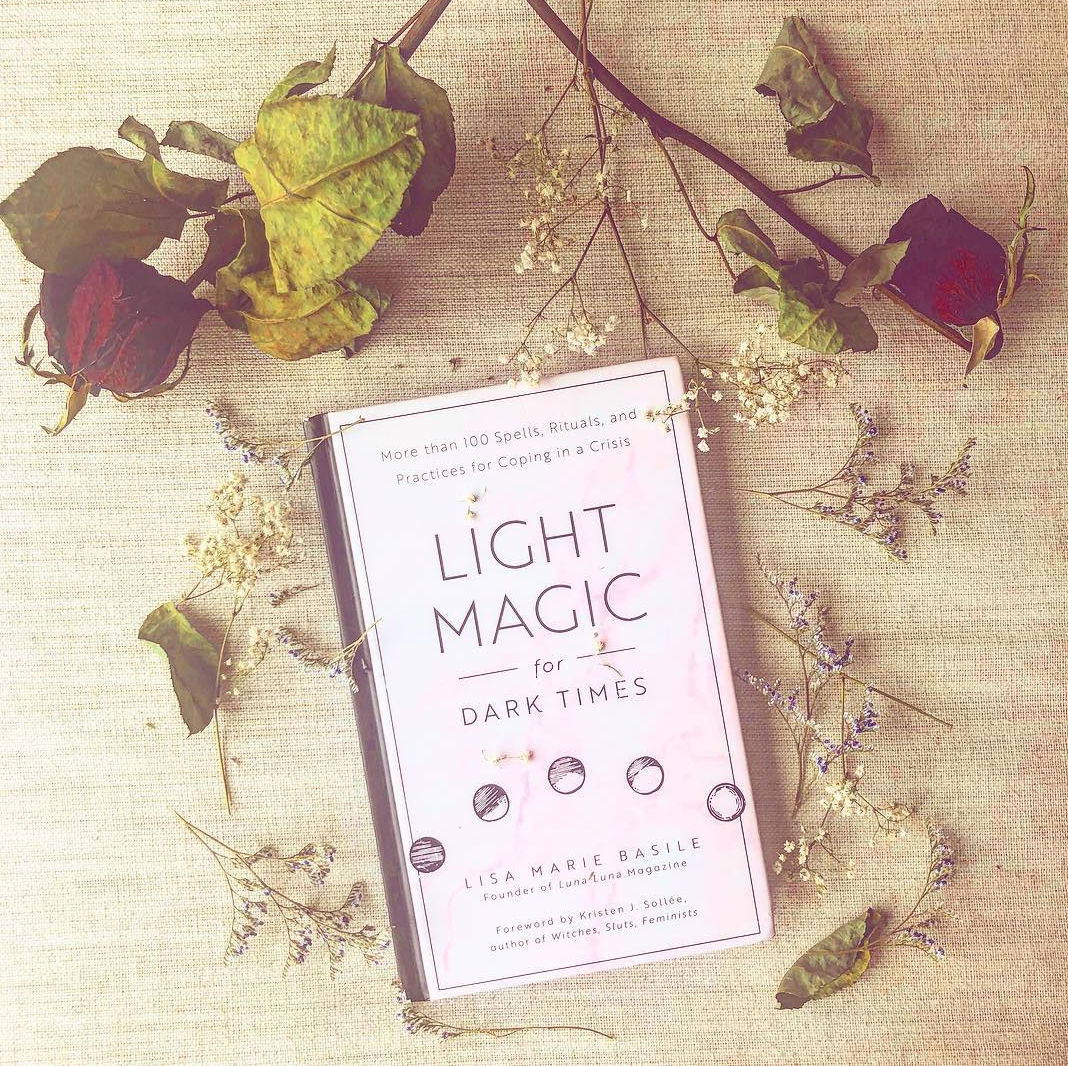 HG: I feel like nowadays, many consider ritual and witchcraft to be part of a personal practice, but you emphasize that it can be used in the name of community. Can you talk more about this?
LMB: There are SO many amazing and magical things happening right now. At HausWitch in Salem, there are group workshops geared toward tarot and social justice. At Word Bookstore in N.Y.C., my friend Andi is leading group workshops in ritual and astrology—with a heavy emphasis on how this can be empowering—and at bookstores like Catland in Brooklyn, there is a garden that community members can volunteer to tend to. I think the sheer fact that we continue to get together to meditate, discuss magical beliefs, and even heal (I think of digital covens, like the one geared toward hexing Trump) says something.
We make magic alone, of course. But we also make magic when we're together. We do group ritual, yes, but we also inspire and educate one another, which I think is a huge part of magic. Learning to hone in on empathy, trust, being vulnerable, making change—these are all things you can learn in a community setting that make your magic even more powerful. I have a section in my book about Community Magic, and I was inspired to write that by many of the community leaders and editors I know—people who bring people together to inspire and create goodness (and cast spells!).
HG: In that same vein, how can one balance magic in the name of self-care, and magic in the name of community?
LMB: I think that our magic-making is often reflective of where we are, and our energy levels, and that's okay. If you know that you are tired, exhausted, rundown, emotionally overwhelmed (or if you're trying to prevent that), you focus your magic on self-care. You might opt for something simple, rather than a huge ceremonial practice. You light a candle and pull a tarot card. You take a magical bath. You write letters to the dead. You do a release ritual.
But when your energy and empathy and magic is feeling good and you've got more to give, you may focus that in a community setting by making green magic, by volunteering with a local garden, or by hand-making items (maybe you charge them under the moon or program them with healing) that you donate to a local shelter. We have to take care of ourselves before we can help others, usually. My book makes space for both, and I think that's because I wish I had *all* the energy…and sometimes I just don't (especially with a chronic illness).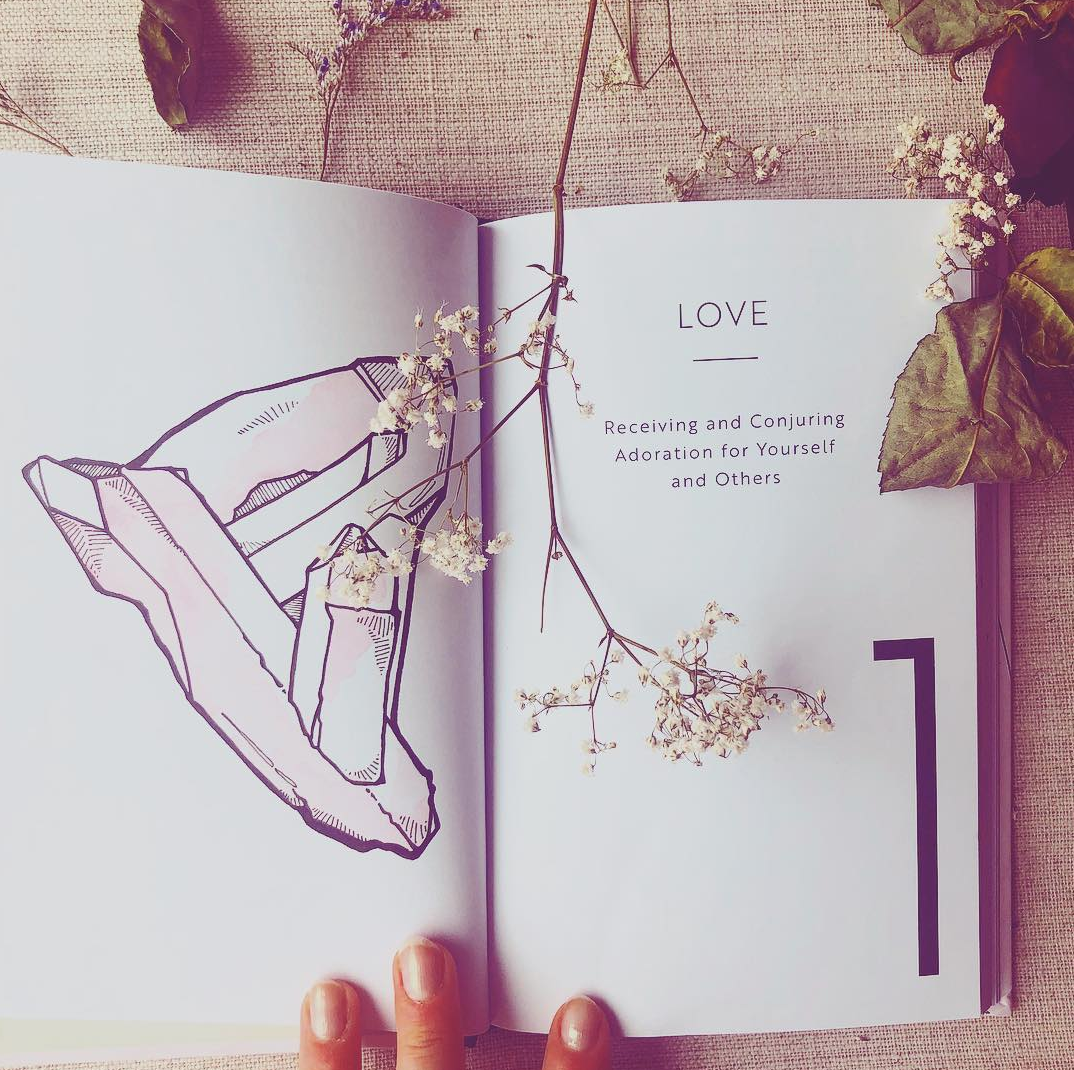 HG: You discuss how ritual and magic can be particularly beneficial for those experiencing oppression. Why do you think that is?
LMB: I think it's SO important to acknowledge that even though magic and witchcraft are going through a trendy period, people across the world have turned to magical practices or cultures of magic. They might be known by different names and look/feel totally different. For many, their practices were or are ways to reclaim identity and autonomy under oppressive regimes or colonialism. Ritual allows for community and teaching and unity, and that is powerful, especially when people experience racism, erasure of identity and culture, poverty, or health issues.
When you sit down to cast a spell or simply meditate, you are in charge of your energy and time. Also, it's so important to recognize that the "witch" is still punished in some countries, and that many people still practice in secret.
HG: I think it's extremely important than you brought up spiritual appropriation in your book's intro. What would your advice be to those who want to practice, but don't want to appropriate?
LMB: Learning to incorporate magic into your lifestyle is always a work in progress. I think that it's important to contextualize and understand your behaviors. That's something I've learned over the years, and I am sure I've made mistakes before. For example, the word "smudge" is very commonly used, but it's actually a practice observed by many indigenous Native American people.
You might begin by renting a book or joining a Facebook group and asking people who are open to offering advice. The Internet is a great place to start. Sometimes mistakes occur (because we're learning), but diversifying the books you read and the practitioners you buy from, listening to different podcasts that feature people practicing all sorts of magic (I love Fat Feminist Witch and The Witch Wave for these purposes) can help enrich our knowledge and learn what questions we should even be asking ourselves. I am sure I have made mistakes, but I try to actively ask questions and seek the roots of magical practices.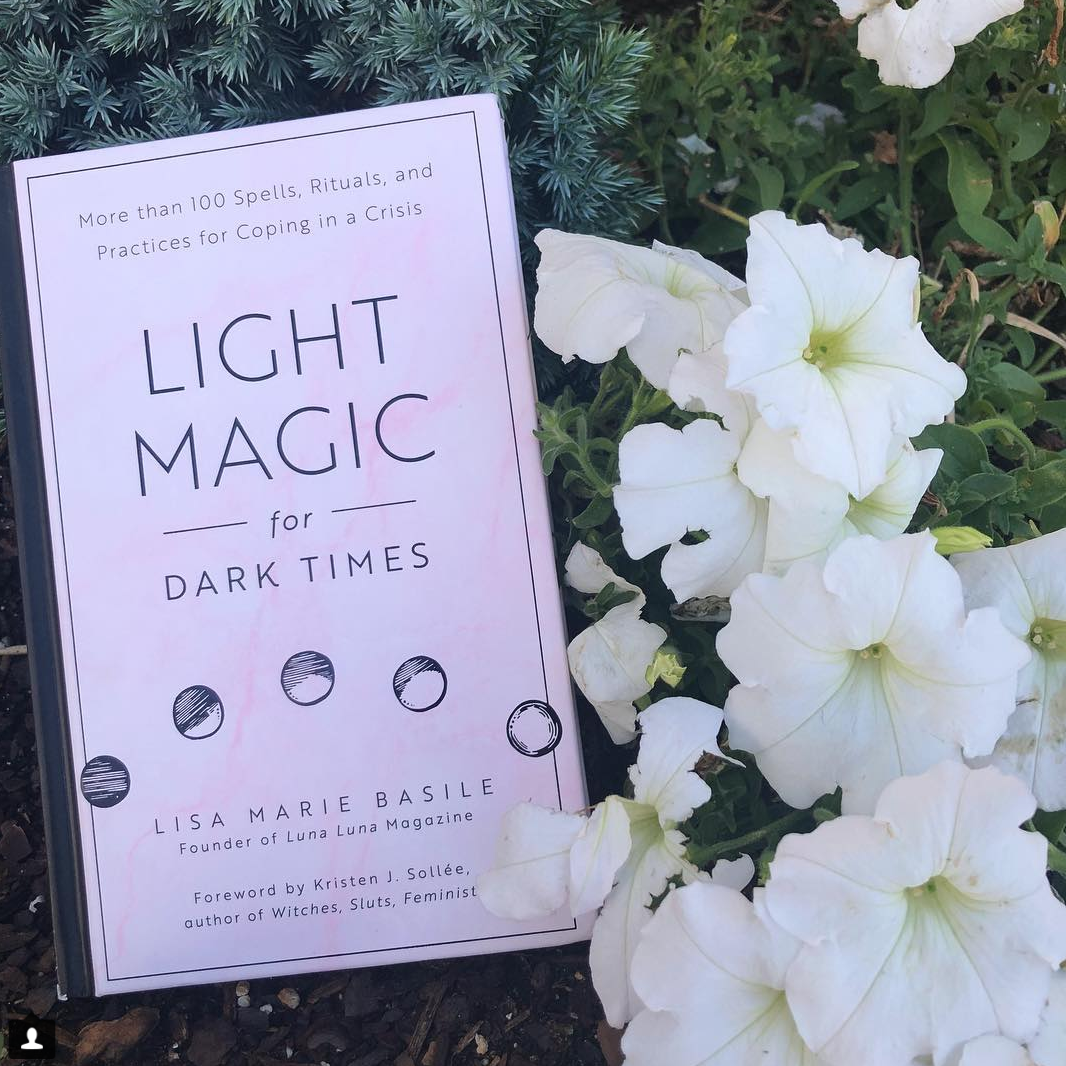 HG: You mention that language is one of the most powerful forms of magic we have. With this in mind, what did you set out to do with the language in this book?
LMB: Writing this book was a healing practice for me. It allowed me to acknowledge, celebrate, honor, and inhabit my light, love, and compassion. And my past. And naturally, it forced me to reflect on why I was even writing it, what healing means, what regeneration feels like. I thought about my magazine, Luna Luna, too. It's a space for people to share all sorts of stories and ideas—to express themselves. We've built a community out of the magazine, and the one thing I noticed over and over again in writing and editing for it is that people want to be loved, to find supportive friends, to be heard, to be validated, to share ideas. Language enables us to do that, to really reach out and connect.
I wanted the language in the book to feel like that: friendly, loving, supportive — and, of course, with a poetic twist, because I'm a poet!
HG: I am in awe of how many different, specific scenarios you crafted within your book—banishing recurring nightmares, recharging after a protest, and dealing with the loss of a pet are just three of more than 100. You prove that darkness can take many forms, but that it's universal. How did you come up with these scenarios?
LMB: Thank you so much! My editor wanted me to include 100 practices or rituals, which I thought, admittedly, was A LOT. But soon after we talked, I realized that, actually, there was so much ground to cover, and that I wanted the reader to feel like they could really turn to the book for almost any purpose. I began talking to friends, and asked them what sorts of rituals or practices they would want. I went to workshops and listened to people's needs. I made a list of practices that I had built into my own life, and I simply considered everyday scenarios. What would be painful? What might lead someone to feel drained? What sort of pain do people go through?
Everything I wrote [is something] I tried or had done before, of course, and I made sure that each felt doable, accessible, and inspired enough to include. I want the book to feel inviting and welcoming for all, and so I tried to cover everything from the light, dark, and liminal. I hope it feels like a magical recipe book for life.
Lisa Marie Basile's book, which comes out on September 11th, 2018, can be ordered on Amazon here. For all other ordering methods, you can find more information here.