Nostalgia alert: You can now buy Lisa Frank bed sheets at Walmart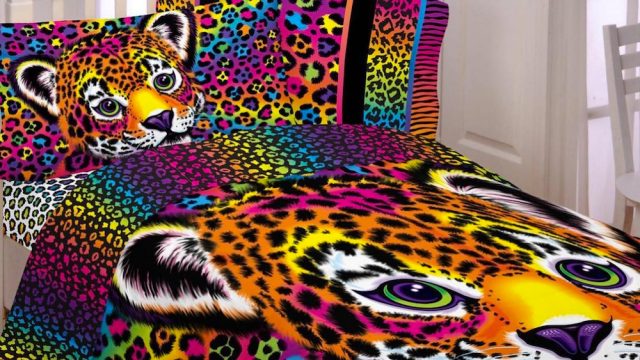 Just in case you needed a kick of color and a sweeping dose of nostalgia on this Monday afternoon, Walmart is selling Lisa Frank bed sheets that will tug at your heartstrings and send you down a '90s spiral. You probably didn't even know that you needed these in your life, but even the most neutral decor-loving among us have to admit that these look like an absolute treat.
As with all of Lisa Frank's products, these sheets are a feast for the senses. The vibrant colors and mix of patterns will send you hurtling through time and space to an age when your biggest priority was organizing your trapper keepers and eraser collection.
https://www.instagram.com/p/BY1K7o1grdU
Who doesn't love sweet lil tigers?
The set includes a comforter, flat sheet, fitted sheet, and pillowcases. It's also machine washable — who doesn't appreciate that kind of convenience?
Lisa Frank will always be in style no matter what year it is, so why not stock up on some goodies while you're at it?
https://www.instagram.com/p/BYcEk2TlrqD
https://www.instagram.com/p/BXGml7wg_Rb
And whether the sheets are your style or not, you have to admit that the resurgence of Lisa Frank products has been an absolute delight. The Lisa Frank-inspired beauty wormhole is an absolute gem, we can't stop scrolling.
https://www.instagram.com/p/BW0QQrHgWXd
https://www.instagram.com/p/BY6FzW5Avf8
https://www.instagram.com/p/BU4rFmAFew8
It's too good!
Head on over to Walmart and check these sheets out for yourself. If nothing else, it'll take you on a trip down memory lane — the perfect antidote to your case of the Mondays.