These lipsticks are going to be ESSENTIAL this fall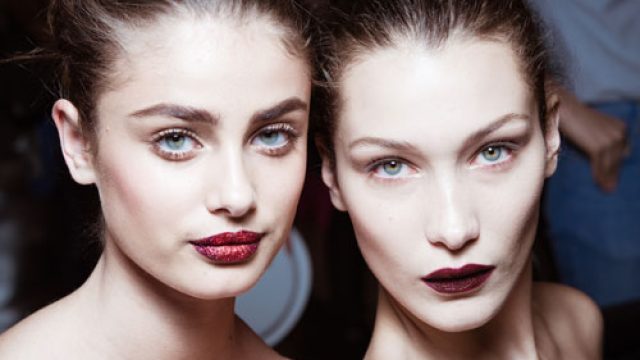 The lady is a vamp! Fall is coming and that means it's time to spruce up your wardrobe (think big sweaters and lots of boots) and freshen up your makeup. Our favorite beauty trend for fall is vampy lipsticks!
Throughout the Fall 2016 runway shows, we spotted a serious theme when it came to lip color, and all signs are pointing to dark shades and vamp vibes.
From Versace to Marc Jacobs, deep reds, vibrant plums, and even darker hues were present. So get ready to channel your dark side this season with your lipstick choices. When in doubt, think the darker the shade, the sexier the lip pout!
Burgundy Babe
Halston Sage might not be a model, but the actress sure looked like one while attending the Marc Jacobs Divine Decadence fashion show in July. Her burgundy lip was both sexy and devilish at the same time. To recreate this deep red hue use Urban Decay's Vice Lipstick in the Hex shade.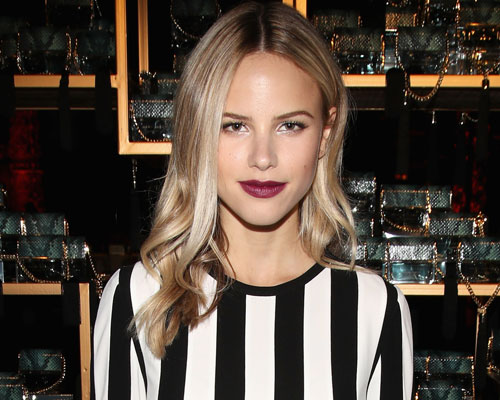 Glitter Red
Versace's Fall 2016 show revealed that red hues never go out of style. In order to switch things up just a little bit, the designer had her models rock a glitter hue of the classic shade for a glamorous and show-stopping look. Try Kat Von D's Studded Kiss lipstick in Metallic Berry for your own glitzy pucker this season that will look great from fall all the way to New Year's Eve!
https://www.instagram.com/p/BHeQiaaAqsx
Ruby Red
If glitter isn't your thing, a glossy ruby red, might be more your style. This model sported a shiny and sweet red pucker while walking the Guo Pei Haute Couture show during Paris Fashion Week in July, and gave us major lip envy. You can dress up any look and go from day to night, by simply adding a bold cherry red color to your lip like Bobbi Brown's Nourishing Lip Color in Poppy.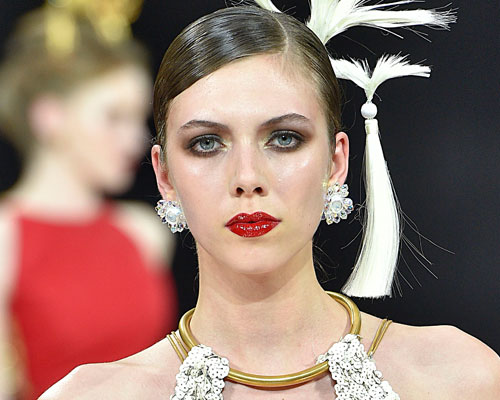 Berry Matte
Matte shades are definitely in this fall — in every dark shade imaginable. We suggest trying a berry matte tone (think wine lips) like the one used during the Dolce & Gabbana show at Milan Fashion Week earlier this year. It is just the right amount of color, while staying a little bit on the conservative side. To pull off this look, check out MILK's Dip Out in Wine.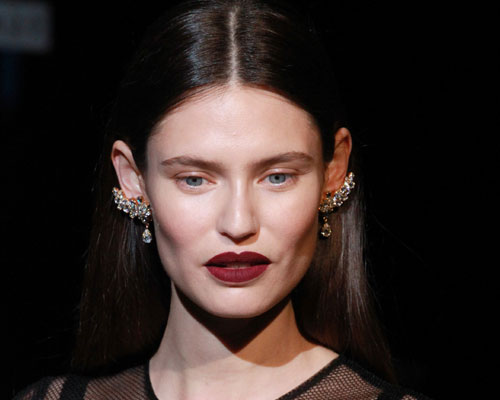 Dark Chocolate
Dior Fall 2016 show was all about the dark lip hues, especially cocoa-colored lipsticks. It is an edgy look that is both sophisticated and funky for the on-the-go girl. It might look a little dark for some, but you can lighten up your look with greens and neutrals in your wardrobe. To recreate this color palette, try MAC's Antique Velvet Lipstick.
Purple Pucker
While French actress, Adele Exarchopoulos didn't walk in H&M's show during Paris Fashion Week, she was on point with her lip color as she watched the show. A bold purple pout screams confidence and definitely shows off one's personality. NYX's Full Throttle Lipstick in Trickster is ideal for this purple perfection.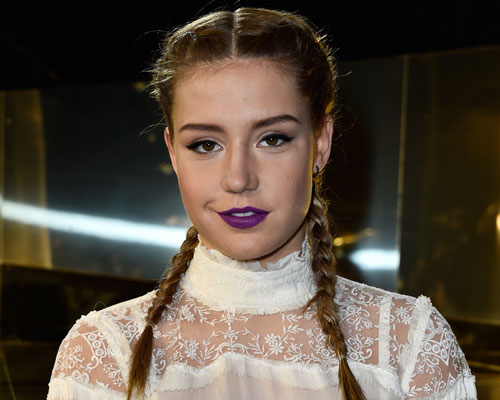 Black Beauty
In the Marc Jacobs Fall 2016/Winter 2017 show, the models crossed over to their dark sides with a dark black pout. The whole feel was gothic and chic. If you're going to rock this shade, pair it with a dramatic eyeliner and sleek black wardrobe. For an everyday look, you can opt out of a dramatic eye and wear more white in your ensemble. Bite Beauty's Amuse Bouche Lipstick in Black Truffle is the perfect lipstick for the job!
Which vampy shade are you willing to try this Fall?