Lipstick-shaped nails are causing a major stir on Instagram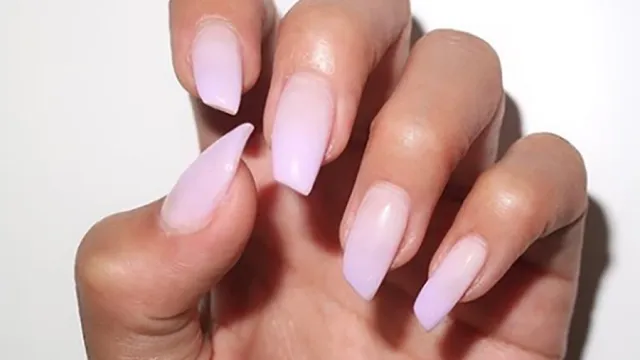 South Korea-based nail artist extraordinaire, Park Eunkyung, owner of Unistella, is no stranger to starting nail art trends. After all, she is the mastermind behind such innovations as bracelet nails and shattered glass nails. If you follow Park, who has also worked with celebrities like Bella Hadid and Cara Delevingne, on Instagram, then you know that she's always up for experimenting and going against the grain. That is, she sets the trends—never follows them. Her latest invention is no exception. Introducing: lipstick-shaped nails, the nail art trend that's currently blowing up on Instagram—for better or for worse.
With nails that are shaped, as the name explains, like a lipstick bullet, the photos took us by surprise when we first spotted them. In the current landscape of perfectly shaped coffin- and almond-shaped nails, Eunkyung's lipstick-shaped nails stand out. But not everyone is on board with the asymmetrical shape, with many people commenting that the nails look broken.
But Eunkyung insists the shape is actually super comfortable—and has a functional purpose. "I highly recommend this lipstick shape," she wrote on Instagram. "It's so cool and pretty! Especially for people like me who think long nails are uncomfortable. You should definitely [try] these. They're so comfortable!"
If you're on board with lipstick-shaped nails, prepare to get inspired by some of the coolest designs on Instagram.
https://www.instagram.com/p/BzNcd5VlsPw
For a more subtle introduction to the lipstick-shaped nails trend, try sheer nude or pink nail polish.
https://www.instagram.com/p/B1oLT2ABbqw
Incorporate another one of this season's biggest nail trends: multi-colored manicures.
https://www.instagram.com/p/B1bCVzfgc_Q
You know we can't get enough of flame nail art.
https://www.instagram.com/p/B0BMUv5F5GI
Neon diagonal tips are given new life thanks to this asymmetrical mani.
https://www.instagram.com/p/B1aMCZogp1j
Multi-colored, ombré, accent stickers—everything about this manicure is perfection.
https://www.instagram.com/p/B1VtdMoluHP
Remember jelly nails? They got an upgrade, too.
https://www.instagram.com/p/B02uyXuFi6s
We love the subtle, muted tones of these lipstick-shaped nails.
https://www.instagram.com/p/B0obU7pgahO
The shape becomes way less jarring when you opt for a delicate, minimalist mani.
https://www.instagram.com/p/B0LaV2ZoWKj
Feeling adventurous? This graphic nail design might be right up your alley.