People think this should officially be Oprah's campaign slogan for 2020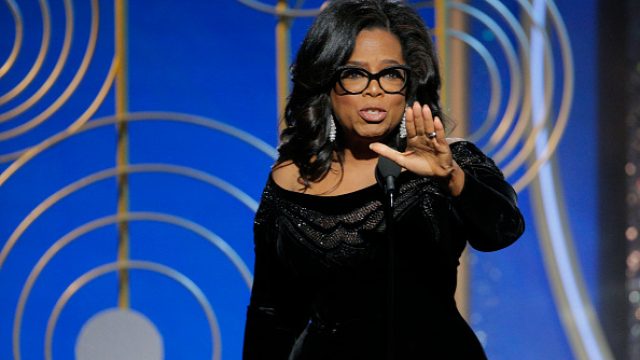 Last night, January 7th, Oprah made history as the first black woman to accept the Cecil B. DeMille Award at the 2018 Golden Globes. And now the Twitterverse is abuzz with cries of #OprahforPresident, saying one line from her powerful speech at the Golden Globes should be the media mogul's campaign slogan.
Oprah's passionate speech advocated for gender and racial equality. She recalled watching Sidney Poitier winning the Academy Award for Best Actor in 1964. She alluded to the #MeToo movement and the strides survivors of sexual harassment and assault have made this year. And she mentioned Rosa Parks and activist and rape survivor Recy Taylor.
But among Oprah's calls to fight for equality for all people and speak out against corruption, one line stuck out.
"I want all the girls watching here and now to know that a new day is on the horizon," Oprah exclaimed. "And when that day dawns it will be because of a lot of magnificent women and phenomenal men fighting hard to make sure they become the leaders that take us to a time when we never have to say 'Me too' again."
https://www.youtube.com/watch?v=fN5HV79_8B8?feature=oembed
Oprah's speech led many to question whether she was considering running for president in 2020. And Oprah's partner, Stedman Graham, stoked the rumors by saying that the former talk show host "would absolutely" run for president.
"A new day is on the horizon" even sounds like it could be a campaign slogan, as some denizens of Twitter were quick to point out.
Some commented on the whole speech's presidential vibes, too.
https://twitter.com/udfredirect/status/950204696295297024
Oprah denied any intentions to run for president in a backstage interview with Bloomberg. But along with Graham's comments that Oprah might run, two of her close friends anonymously told CNN that she had been considering a campaign for months.
"A new day is on the horizon" is certainly up there with "Yes we can," "Let America be America Again," and "Stronger Together" as far as campaign slogans go. And while Oprah hasn't confirmed her candidacy yet, we would be 100 percent here for her campaign and this amazing slogan.