Lindsay Lohan apologized for saying the #MeToo movement makes women look "weak"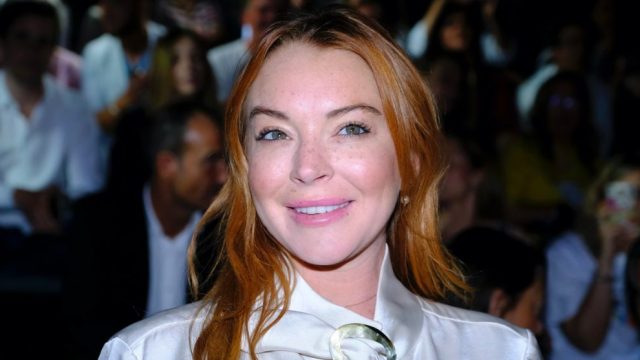 In a recent interview, Lindsay Lohan shared her thoughts on the #MeToo movement—and much of what she had to say was problematic at best. The actress and soon-to-be reality star prefaced her comments by saying that she is "very supportive of women," but then went on to say she believes the movement makes women look "weak."
"I don't really have anything to say," Lohan told The Timeson August 4th. "I can't speak on something I didn't live, right? Look, I am very supportive of women. Everyone goes through their own experiences in their own ways."
She continued, "If it happens at that moment, you discuss it at that moment. You make it a real thing by making it a police report. I'm going to really hate myself for saying this, but I think by women speaking against all these things, it makes them look weak when they are very strong women. You have these girls who come out, who don't even know who they are, who do it for the attention. That is taking away from the fact that it happened.
Before we go any further, let's make one thing clear: Women—and all victims—who speak up about sexual harassment or assault are not weak; in fact, they are incredibly strong and brave. Victims who come forward not only must relive the trauma of their experience in a very public forum, but they're often subjected to intense public doubt, scrutiny, and, in many cases, anger and slut-shaming. It's a major reason so many rape and assaults go unreported every single day. Lohan's comments reveal a profound misunderstanding of what speaking up entails.
https://www.instagram.com/p/BlWDY_rAUkj
Lohan is unfortunately only one of a number of recent celebrities to imply that many women who come forward are merely seeking fame or attention. On August 8th, Backstreet Boy Brian Littrell told TMZ he believes Nick Carter's accuser, Melissa Schuman, is just a "fame seeker."
Even "progressive" celebrities have displayed potentially dangerous levels of ignorance on the subject. Girls creator Lena Dunham immediately came out in defense of friend and Girls writer Murray Miller when actress Aurora Perrineau accused him of rape. While Dunham later apologized for her initial response, it goes to show how deeply ingrained doubting women who come forward is in our culture.
According to the National Sexual Violence Resource Center, only 2-10% of all sexual assault cases are falsely reported, whereas 63% of sexual assault cases are never reported at all.
As disappointed as we are in Lohan's words, we can't say we're completely surprised. She infamously asked followers to "stand up" for Harvey Weinstein in October 2017. false
Just a few days later, on Sunday, August 12th, Lohan apologized for her comments.
"I would like to unreservedly apologize for any hurt and distress caused by a quote in a recent interview with The Times," Lohan told PEOPLE in a statement. "The quote solely related to my hope that a handful of false testimonies out of a tsunami of heroic voices do not serve to dilute the importance of the #MeToo movement, and all of us who champion it. However, I have since learned how statements like mine are seen as hurtful, which was never my intent. I'm sorry for any pain I may have caused. I feel very strongly about the #MeToo movement and have the utmost respect and admiration for the women brave enough to come forward and speak out about their experiences. Their testimony has served to protect those who can't speak, and give strength to those who have struggled to have their voices heard."
We sincerely hope that Lohan uses this as an opportunity to educate herself on the facts surrounding victims of sexual misconduct. She has a powerful platform, and words matter.