Lindsay Lohan is the new face of Lawyer.com, and everything feels right in the world if only for a fleeting moment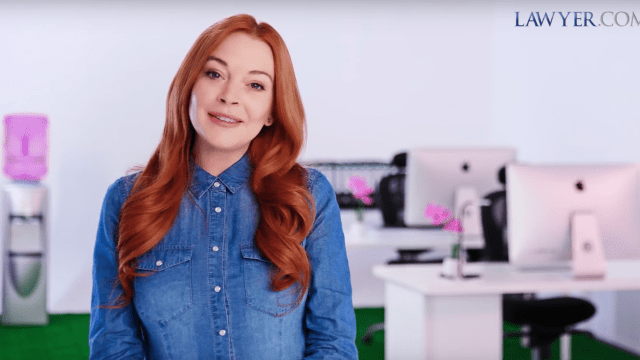 Lindsay Lohan is officially back on our screens — in her original accent, no less — but unfortunately, it's not because she *finally* got Mean Girls 2 off the ground. In a very interesting twist of fate, the Life-Size actress is the new spokesperson for Lawyer.com — and honestly, we can't decide if we should have seen this one coming. But it seems we're not alone, as Lohan was just as surprised that Lawyer.com wanted her to be its spokesperson.
In her debut video for the lawyer directory company, Lohan, who famously spent much of the latter half of the 2000s embroiled in numerous legal battles, poked fun at her own legal history.
"When Lawyer.com first reached out to me, I was confused and a little scared because I thought I was in trouble. But when they asked me to be their spokesperson, I was intrigued, Lohan joked. "Lawyer.com is about protecting people. From getting a DUI — let's not pretend like I didn't get one...or two or three or some others..."
Between 2007 and 2013, Lohan made headlines on many occasions following arrests for driving under the influence, shoplifting, assault, and leaving the scene of an accident, with subsequent arrests for violating probation and failing to complete court-ordered counseling sessions and community service. She was finally released from her probation in 2015.
https://www.youtube.com/watch?v=xRMKBbPNRjg?feature=oembed
But while she makes light at her previous legal issues in the ad, the actress revealed in a press release that she was eager to work with company because she understands how important it is to be well represented. She said, "I'm excited to work with Lawyer.com because I know how hard it is to find quality legal help, and this is a great opportunity to help people in need."
In addition to being the spokesperson, Lohan will also serve as a marketing and brand advisor for the company. While her new partnership with Lawyer.com is certainly perplexing given her history, it is refreshing to see the actress look (and sound) so much like her former self.
Fingers crossed we'll be seeing her in Life-Size 2 soon.