Lindsay Lohan is rocking a very ~interesting~ accent for this kind of awesome reason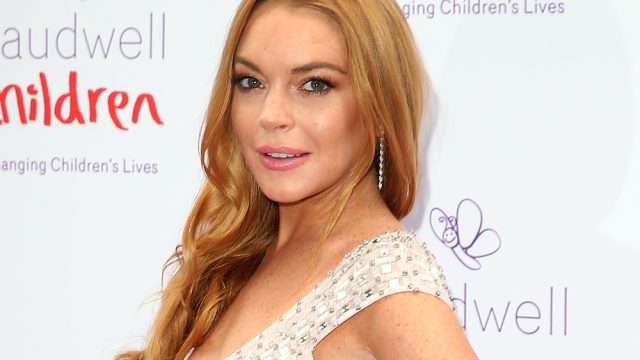 Lindsay Lohan, the star of The Parent Trap and Mean Girls, has been keeping things relatively low profile recently. But that changed yesterday, when she was interviewed at the opening of her new nightclub in Greece. Lindsay Lohan spoke with an unusual new accent, and everyone is taking notice.
Before her club opening last night, the star was most recently sighted traveling around the Middle East visiting Syrian refugees. She has been totally sweet about visiting with children living in difficult circumstances, and we totally support her work to bring more awareness to the crisis.
Lindsay Lohan even brings up her work with refugees as she talks about her love for Greece in the below video.  And it's this interview where you'll notice Lindsay's unusual accent.
https://www.youtube.com/watch?v=ItCChreyTxA
Yeah, that is definitely an odd-sounding accent, and we are really confused where exactly she picked it up. However, Lindsay is an American living in London and traveling to places like Turkey and Greece, so she has definitely been exposed to a number of different accents in that time.
Naturally, when the internet heard her accent, everyone freaked out.
But it turns out that Lindsay has a very clear explanation for her accent, and it's actually kind of awesome.
Lindsay explained to the Daily Mail that her accent developed from a thirst to learn new languages.
"It's a mixture of most of the languages I can understand or am trying to learn. I've been learning different languages since I was a child. I'm fluent in English and French, can understand Russian and am learning Turkish, Italian and Arabic."
THAT is actually an awesome reason to develop a weird accent. We applaud Lindsay's awesome dedication to linguistics, and we're so impressed. We can barely remember the few bits of high school Spanish we picked up, so six languages is pretty boss.
Lindsay even gave a name to her new way of speaking.
Lindsay has since deleted this Tweet screencapped by Jezebel above. But we love that she's owning it, and we think that LILOHAN is the perfect name.
So we're with Lindsay in giving a bit of an eye roll to her critics.
We just wish we knew enough languages to speak LILOHAN for ourselves!