Lin-Manuel Miranda and this "Stranger Things" star just had the most spectacular Twitter exchange ever
Two of the biggest cultural phenomena of 2016 are Broadway's Hamilton and Netflix's Stranger Things, so it seems only right that the stars of these two entertainment wonders be card-carrying members of a mutual admiration society. Basically we found out that Lin-Manuel Miranda AKA Alexander Hamilton and Gaten Matarazzo AKA Dustin Henderson are totally obsessed with each other and we get it because we are totally obsessed with these dudes, too.
Here's how it went down: On Thursday, Miranda, who is in the habit of tweeting inspirational goodness to his rabid fan base, sent out the following missive, using a well-played GIF of Matarazzo in Stranger Things.
When Matarazzo saw the tweet, he reacted totally appropriately:
And Miranda just kept the love train going:
Matarazzo took a beat to bemoan the limitations of social media in its failure to fully accommodate the needs of two fanboys this obsessed with each other:
And Miranda, Master of the GIFS, volleyed a perfect one Matarazzo's way:
Um, you guys, we think we ALL won by getting to live vicariously through this Twitter thread, and we can only hope these two superstars just keep tweeting back and forth forever.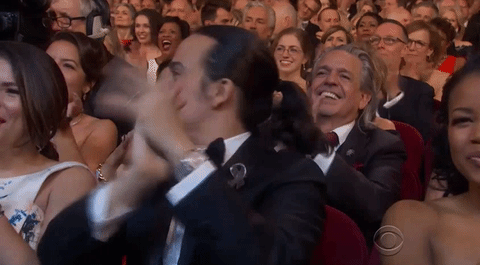 For the fans, guys, for the fans?