"Hamilton's" Lin-Manuel Miranda just wrote a rap about Hillary Clinton, and, perfection
Here's a serious question no one's asking: Is there anything Lin-Manuel Miranda can't do? Because Vulture just let us know that he performed a version of "Ten Duel Commandments" with lyrics about Hillary Clinton at a Hillary Clinton fundraiser, and, woah.
We already know that Miranda has the ability to drop some sick beats because he rapped about Harry Potter, oh, and also about Full House,but wait till you lay eyes on this.
Accompanied by fellow Hamilton co-starRenee Elise Goldsberry, Miranda debuts some inspired lyrics that name the ten things every American needs to do in the weeks leading up to election day.
They even manage to sneak in some rhymes, like "Watch Hillary examine the terrain, watch her campaign with the man Tim Kaine. Tim Kaine in the membrane / Tim Kaine in the brain!"
https://twitter.com/udfredirect/status/788213418985684992
Okay, we know you're dying to see the lyrics so that you can perform this rap yourself.
If this isn't motivation to vote, we don't know what is.
"Your last chance to participate. Roll up to your polling place, vote up in your home state. And it's down to the nitty gritty. Three weeks to go, are you ready New York City? Yes, in a world gone berserk... "
They're right, things are down to the wire. Time is running out.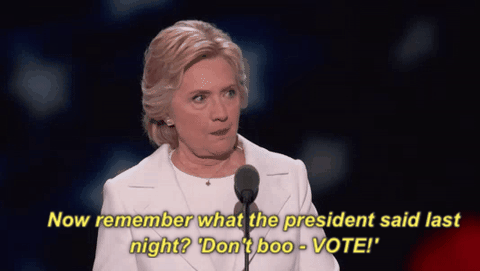 As always, Manuel's signature humor was injected generously into his performance, and we're feeling more inspired than ever to get out there, make our voices heard, and make a difference. This rap will probably be in your head as you walk into the polling place, and hey, there's nothing wrong with that! In fact, it's the power mantra we've been waiting for.
Thanks Lin-Manuel Miranda, we can always count on you for super catchy — and informative — entertainment.