Lin-Manuel Miranda live-tweeted his three-year-old son's first "Hamilton" experience, and it's better than "Hamilton"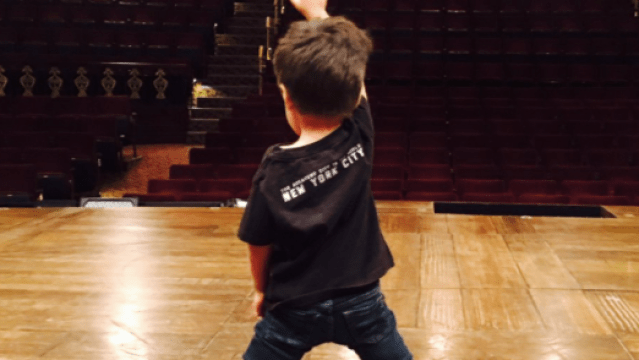 Lin-Manuel Miranda, theater God and Hamilton creator, took his three-year-old son to see Hamilton for the first time. This is very sweet in and of itself, but it gets even better because Miranda live-tweeted the entire experience, and it's better than the show itself.
"In advance of his 3rd birthday, we took lil man to Act One of Hamilton on Saturday," Miranda wrote on Twitter.
He then tweeted his son's reactions during all the musical numbers, and they are as follows:
During "Alexander Hamilton" — "'Those stairs need to COME DOWN.' He was very concerned the stairs would not come down. Whew!"
During "My Shot" — "Various punching sounds, furious applause."
During "The Schuyler Sisters" — "Total DELIGHT in seeing @elizjudd as Angelica, with whom he has played in the park several times."
During "You'll Be Back" — "Upon seeing King George, yelled, 'HE'S GOT A SWORD!'"
During "Meet Me Inside" — "'WHY ARE THEY BOTH WEARING SHOES?'" to which Miranda offered up an explanation, "Maybe because we don't wear shoes inside?"
The best part, however, was when Hamilton and Burr sang together and his son yelled out, "She has two daddies!" According to Miranda, "his best friend at school has two daddies and he is crazy about them."
Here is the entire Twitter thread from Miranda's son's first Hamilton experience.
This is the ultimate "take your child to work" day.
https://www.instagram.com/p/BaIxUNBh8_Z
The best part was when some hero Twitter-user turned the photo of Miranda's son into a perfect graphic. false
I mean…