Lin-Manuel Miranda announced cast for "The Room: The Broadway Musical" in an *almost* believable April Fools' Day prank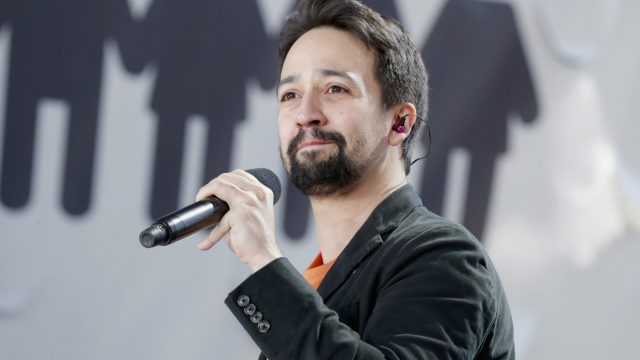 It's April Fools' Day, which means there's no shortage of pranks floating around social media. One of the best, however, comes courtesy of Hamilton star Lin-Manuel Miranda and TheaterMania, who jointly announced a Broadway musical adaptation of Tommy Wiseau's cult classic The Room.
According to the fake story first circulated by TheaterMania, Lin-Manuel Miranda's Tommy Wiseau's The Room: The Broadway Musical apparently has a cast, key art, and even an early version of the song list.
"TheaterMania has exclusively learned that Wiseau has turned to none other than Hamilton creator Lin-Manuel Miranda to make his dream come true," the post read. "As you'll see, it almost has as many songs as Hamilton, and is probably just as epic."
The "cast" for the adaptation — which, we have to admit, we'd totally buy tickets to — included Mark Rylance, Justin Guarini, Broadway legend Patti LuPone, Billy Magnussen, Annaleigh Ashford, and Lin-Manuel Miranda himself. And, to make it even better, the mock track list included some hilarious titles, including "Where's My F**king Money," "You're Tearing Me Apart, Lisa," and — obviously — "Oh Hai, Mark."
If anyone could make The Room into a musical, it'd be Lin-Manuel Miranda. The Tony-winner is crazy talented, and he'd no doubt turn the so-bad-it's-good cult film into a Broadway masterpiece.
"This is all VERY premature," Miranda tweeted, along with the link to the TheaterMania story. "We'll try it out of town in San Francisco."
While Twitter quickly caught onto the joke, at least one fan seemed pretty upset that it ended up being an April Fools' Day prank.
Ever since the Golden Globe-winning The Disaster Artist perfectly recreated many of The Room's iconic scenes, Wiseau's work has been more popular than ever. He recently starred in The Neighbourhood's music video for "Scary Love," and it was kind of amazing.
Let's be honest, though: You know you'd want tickets to see this show.
Even Justin Guarini (yep, *that* Justin Guarini from American Idol) joined in the fun.
While Lin-Manuel Miranda's Tommy Wiseau's The Room: The Broadway Musical might not be hitting Broadway (or San Francisco) anytime soon, who knows? For now, we're hoping the rumors that Tommy Wiseau is releasing a 3-D version of The Room end up being true. We definitely wouldn't hate it.