Lin-Manuel Miranda and his wife Vanessa Nadal are expecting baby #2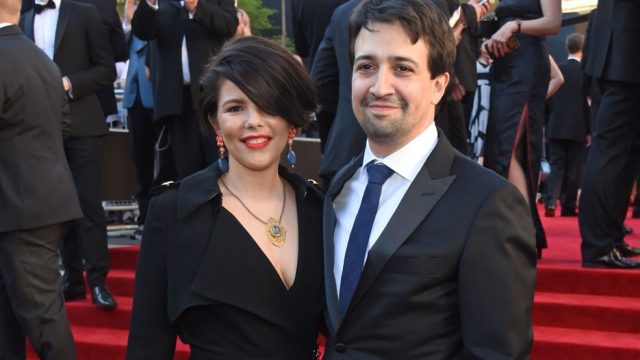 This is something worth celebrating. Lin-Manuel Miranda is expecting a second baby with his wife Vanessa Nadal, there's no doubt about it — that kid is going to know a thing or two about the Founding Fathers.
The creator of Hamilton got married to Nadal back in 2010, and had a son named Sebastian in 2014. Currently three, Sebastian has already seen the Broadway show with the help of two booster seats, and seems pretty supportive of the musical (especially since according to Miranda, he thinks that Nadal wrote the lyrics to "Dear Theodosia," his favorite song.) So, we have a feeling that he's going to be an incredible big brother — and perhaps help his new sibling learn all of the words to the popular musical.
Miranda confirmed the pregnancy himself, after a fan on Twitter politely asked whether or not Nadal was pregnant after seeing her arrival at the London Evening Standard Theatre Awards. (While it's somewhat risky to ask, we have to say that she managed to do it with a lot of class — by using a gif to help.) Miranda wasn't afraid to answer back with an "Oh hell yeah," adding a bit of humor to the verification.
His fans seemed surprised that he was able to keep the secret for so long.
false
The tweet was liked almost 5,000 times, and fans were quick to point out clues that baby #2 was on the way. For one, he mentions a baby in this rap he performed back in August.
We wish nothing but the best for this talented family, and hope that Nadal enjoys the rest of her pregnancy!