This skin care-obsessed food editor uses $200 worth of product before 6 a.m. every day
Welcome to The Beauty Files, where HelloGiggles editors and contributors share what exactly they put on their faces, and why. We want to take you on this voyeuristic journey because we believe makeup means something different for every single person — applying makeup is a conscious, intimate decision we make almost every single day, and there's usually a method behind the madness. Join us every week as we spill the beans on beauty products, and feel free to submit your own Beauty File. E-mail us at [email protected]!
My name is Lily Rose and I'm the West Coast Editor at The Daily Meal. I spend a lot of my day writing about and eating food, but I also spend a large portion of my time reading about skin care and beauty.
Everything I know about beauty I learned from magazines. Growing up, my mom typically went makeup-free and I didn't have any cool older cousins around to teach me how to do things like exfoliate or apply eyeliner. After years of pouring over Teen Vogue, Glamour, and Allure (plus many ill-advised brow moments and Proactiv spot treatments), I am the one friends come to for beauty advice.
I have really tried to pare my products down to make a simple day and nighttime routine, but I'm product-obsessed at heart and can't wait to tell you all about it!
5 a.m. – 5:15 a.m.
Yes, I wake up at 5 a.m. virtually every weekday morning. I am practically a zombie at this time, but that's why I hop in the shower to force myself to get going. There is something so gorgeous about a morning shower. It's the best time to be mindful and to set your intentions for the day. Plus I use products that smell amazing and put me in such a good mood!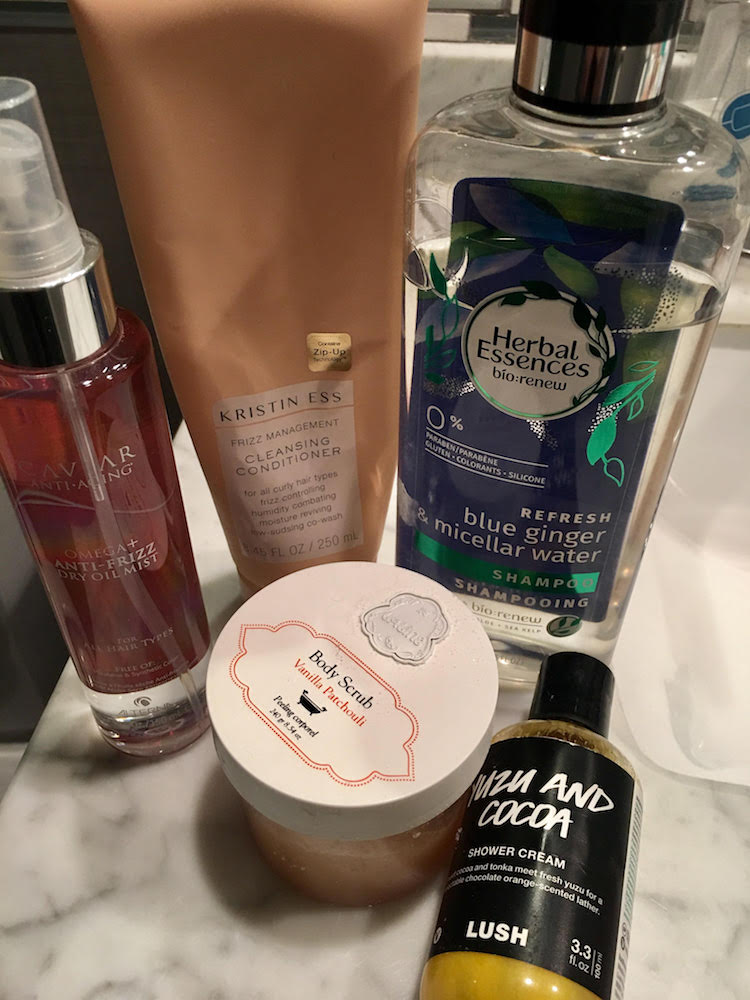 I always start by washing my face in the shower with a wash cloth and CosRX's low pH Good Morning Gel Cleanser ($11). I have lash extensions so I have to be extra careful about getting face wash and other stuff near my eyes. I really love this cleanser because it's low-foaming and doesn't make my face feel dry and squeaky after. It's just cleansed!
I usually only wash my hair at night because I prefer the way it dries, but I'm washing my hair this morning with Herbal Essences Blue Ginger & Micellar Water ($5.99) (smells divine and doesn't dry out my thick wavy Jewish-girl hair) followed by Kristin Ess's Cleansing Conditioner ($14) – which as you can see, I have squeezed to death and have practically used up. I tie my hair up in a knot and let the conditioner work its magic (a must for anyone with aforementioned thick wavy Jewish-girl hair).
While that soaks, I use Yuzu and Cocoa shower cream from Lush (now discontinued) all over my body. The scent is coconut-y and comforting. I follow this with a product from Laline. Laline is an Israeli bath and body line that I am fully obsessed with that I discovered in San Francisco, but loaded up on when I went to Israel. Now I have to pop by their store every time I'm in the Bay Area! Their body scrubs are some of the best I have ever used. They're made with dead sea salt and avocado and grape seed oils and intensely hydrate your skin while buffing all the gross dead stuff away. The Vanilla Patchouli scent ($26.97) is my absolute favorite. After that, I rinse out my hair and hop out to begin my favorite part of my morning routine, SKIN CARE!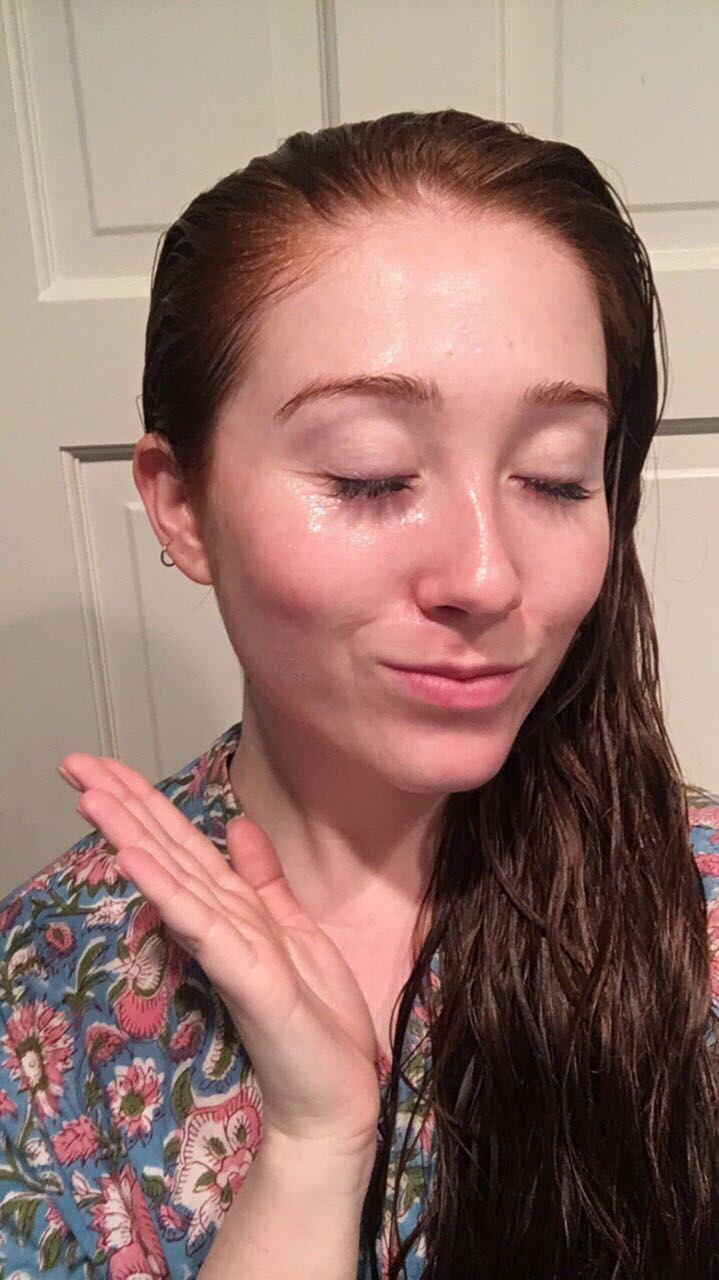 5:15 a.m. – 5:45 a.m.
Full disclosure, I was a die-hard Rio Viera Newton Google Skin Doc convert for a while, so a lot of the products I still use are based around that. I truly believe in my heart of hearts, that adhering to her skin care routine (in addition to quitting coffee) has saved my skin.
I begin by rubbing Bio-Oil ($7.69) everywhere that I am prone to stretch marks (aka my butt and thighs). I love my body and I love my stretch marks, but I have no real desire to have more of them and like a gajillion (real number) people have recommended this oil to me. I love the vaguely nutty scent. I have read that it's important to hydrate your skin right after you've showered because that's when the pores are most open. Then I rub Everyday Oil ($22) everywhere else. I use so much Everyday Oil I practically drink it. This is my third bottle of the stuff since hearing about it from Angela Trimbur on the Glowing Up Podcast- shout out to my Glowmies! This body oil is hydrating and quickly sinks in to my skin. Plus it smells so natural and floral and good. I even put it on the ends of my hair sometimes for fragrance and hydration!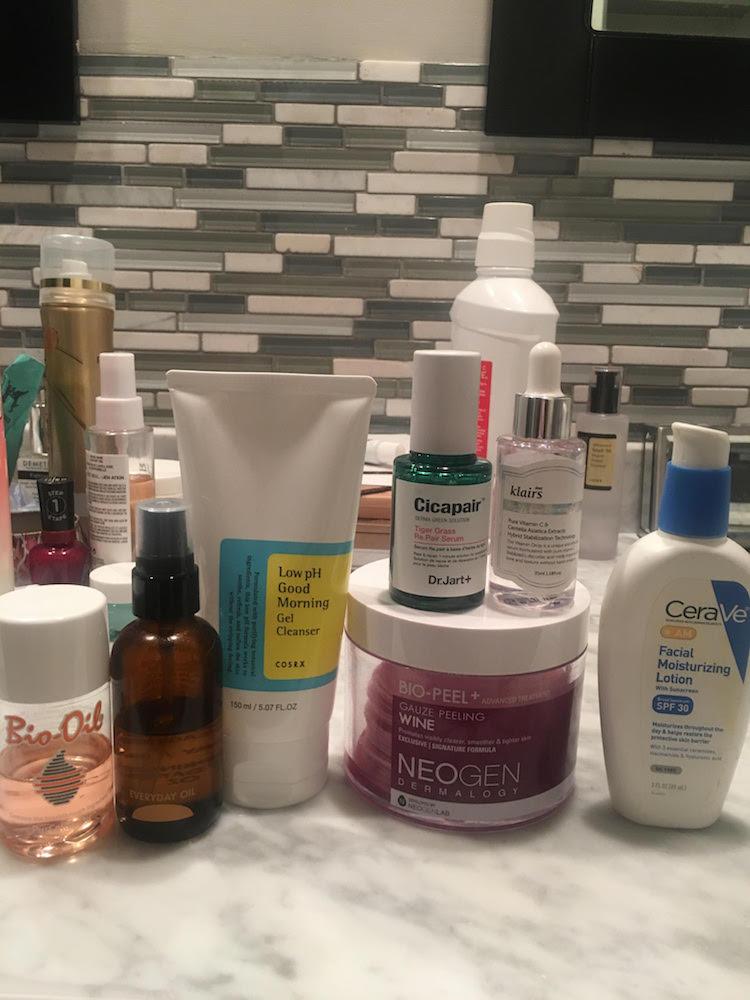 Next I take a Neogen Bio-Peel ($27) pad and rub that baby all over my face. I used to use the citrus one, which exfoliated me nicely without irritating my skin or creating micro-tears, but I switched to the wine scent because Rio said it works better. On me it seems to work exactly the same as the other one, just now my face smells like grapes. With the same wet wash cloth I used in the shower I wash off the excess from the Neogen pad.
I then pat Cicapair Tiger Grass Repair serum by Dr. Jart+ ($46) into my face to control redness, followed by Klair's Freshly Juiced Vitamin C Serum ($23). I follow this with CeraVe facial moisturizing lotion with SPF 30 ($13.49). I may sit in an office all day but SPF is important, people!
I feed my sister's cat and our dog while I let my skin soak and breath. I will typically prepare my breakfast and lunch at this time to bring to work/check Twitter.
5:45 a.m. – 6 a.m.
I am shook that I only have 15 minutes to get dressed and do my face, but I constantly do this to myself which is why I am totally (semi) prepared! The name of my work-face make-up game is "easy." Anything that I can put on with my fingers or with a few quick buffs and strokes will go on my face while I mentally ransack my closet for an outfit. Occasionally I like to trick myself into thinking it's "French-girl beauty" even though I am about as French as a curly fry.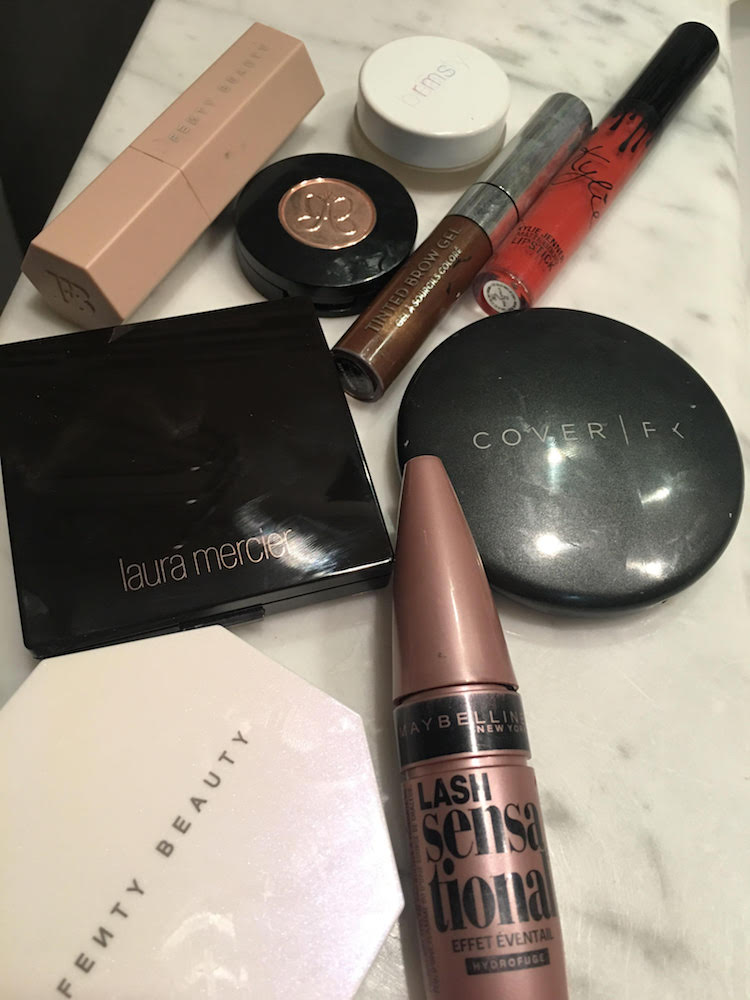 My skin has been pretty well-behaved for about six months now, so I rarely wear any sort of foundation or CC cream. I am obsessed with my RMS Beauty "Un Cover-up" ($36) in shade 00. It's super lightweight, but still buildable so I can apply it to anywhere that I'm typically red, aka around my nose, chin, plus any random spots or discoloration, with my fingers. I used to be a NARS Radiant Creamy concealer ($30) stan, but ever since my friend Tynan told me they're not cruelty-free I've stopped. I haven't gone totally cruelty-free yet product-wise, but I am definitely trying to move in that direction.
I then use a Fenty Beauty Match Stick ($25) in "amber" to contour. I am fiercely fair-skinned and typically all contour shades look too warm on me, but this is a very cool-toned shade in a chubby stick that I can apply easily and beat to death with my beauty blender ($20) in less than two minutes. I do my cheek bones, jaw line, and near my hair line. If I'm feeling fancy (and I am today) I will sweep the lightest dusting of Cover FX bronzer in "Sunkissed" ($28). I set my t-zone, nose, and chin, with Laura Mercier Translucent Pressed Setting Powder ($36) and then I do my brows.
I have a complicated relationship with my eyebrows. I used to fill them in heavily until I realized I looked like Sandy Cohen from The O.C. and stopped doing that. Now I use a few quick swipes of an Anastasia tinted brow gel ($22) in the shade "Chocolate" and try to call it a day. My brows are sparse in the front, so I try to carefully fill them in with an Anastasia brow powder duo ($23). To be quite honest, I typically screw this part up one or nine times before I quit and decide that these will just be my brows for the day.
I don't need to do my lashes since I have lash extensions, but I do put a little Maybelline Lash Sensational Mascara ($6.89) on the lower ones as my lashes are naturally blonde. I look a bit unnatural and like a white rabbit (you know, the ones with red eyes) when I don't wear it.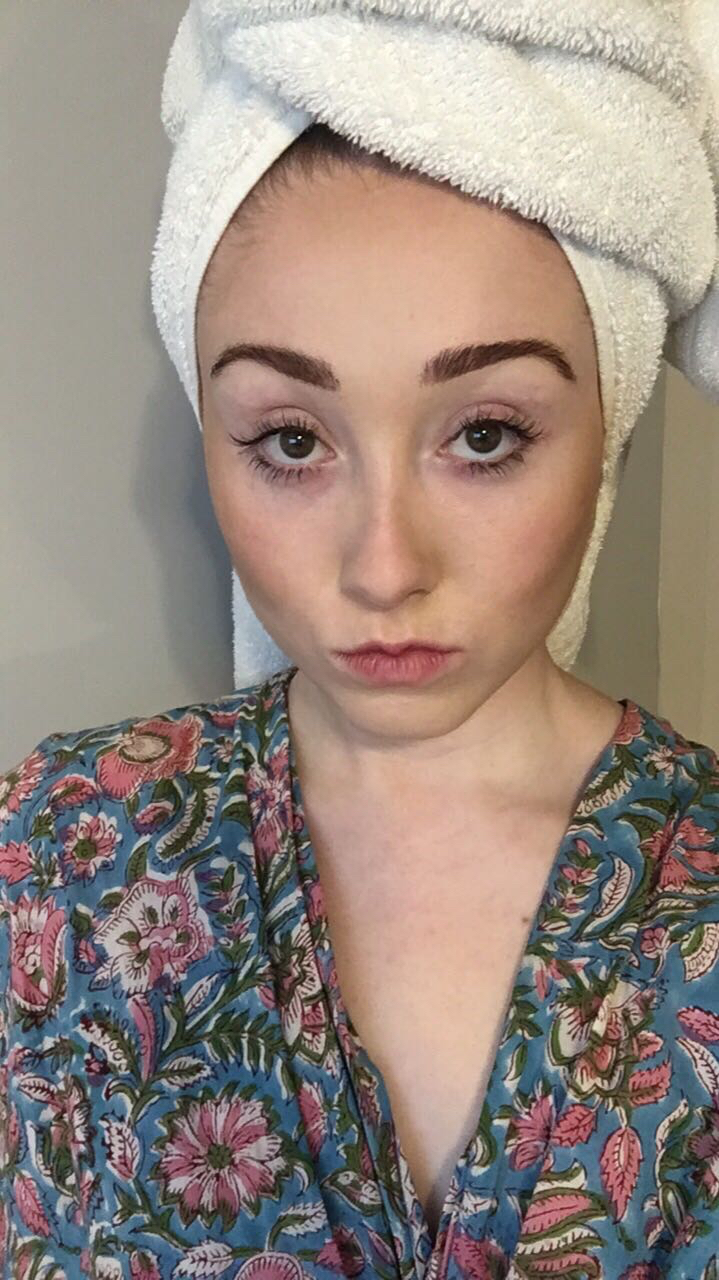 I take my hair out of the towel and spritz a shit ton of Alterna's Omega+ Anti Frizz Dry Oil Mist ($34). This is my holy grail for battling frizz. If you have thick, frizzy, horse-like hair as I do, you can pop this in your hair wet or dry, as much as you want, and your hair will look shiny and be soft. Plus it smells amazing. You're welcome.
7:30 a.m. – 3 p.m.
I tend to get oily under those florescent lights in my office. I bring my Laura Mercier Translucent Pressed Setting Powder ($36) with me to do touch-ups, but I'm typically so busy I forget. It's always fun to catch my reflection in the bathroom mirror and realize that my chin alone, could solve U.S. dependence on foreign oil.
However, I am obsessed with the Aesop Resurrection Aromatique hand balm ($27) I keep in my office bag at all times. It has notes of mandarin rind, rosemary leaf, and cedar atlas, but it mainly smells earthy and good, like sunshine.
Sometimes when I get home, I remove all my makeup and use the jade roller ($14.99) I keep in my refrigerator to de-puff and calm my skin. Today does not feel like it is going to be one of those days.
4:30 p.m. – 6 p.m.
I stayed at work late and had to run home to get ready for dinner with my friends. My hair has been pulled back for the last half of the day as I seem to always end up having it, and I'm not loving the way it looks down now with the enormous crease my Goody Ouchless hair tie for Thick Hair ($10.09) has made in my mane. I flat iron while watching the reboot of Queer Eye. How is every single one these guys the most adorable man I have ever seen?
I'm running low on time (it typically takes me about an hour to flat iron my waist-length hair) and I need to fix my face. My nighttime look is always heavier and more involved than my day time look if I am going out. I touch up my concealer, my contour, and my brows, but add a healthy sweep of Cover FX bronzer in "Sunkissed" ($28) in all the spots on my face the sun would naturally hit me, i.e. cheeks, forehead, chin, and a little on my neck. Then I take my absolute GOAT highlighter, the Fenty Beauty Killawatt Freestyle Highlighter ($34) in Lightning Dust/Fire Crystal — an absolute must for pale girls — and apply it in a sweeping motion to my cheekbones, sides of my forehead, under my eye brows, and the tip of my nose. I am going for full glazed doughnut tonight. I top off my look with Kylie Matte Liquid Lipstick ($29) in the shade "22".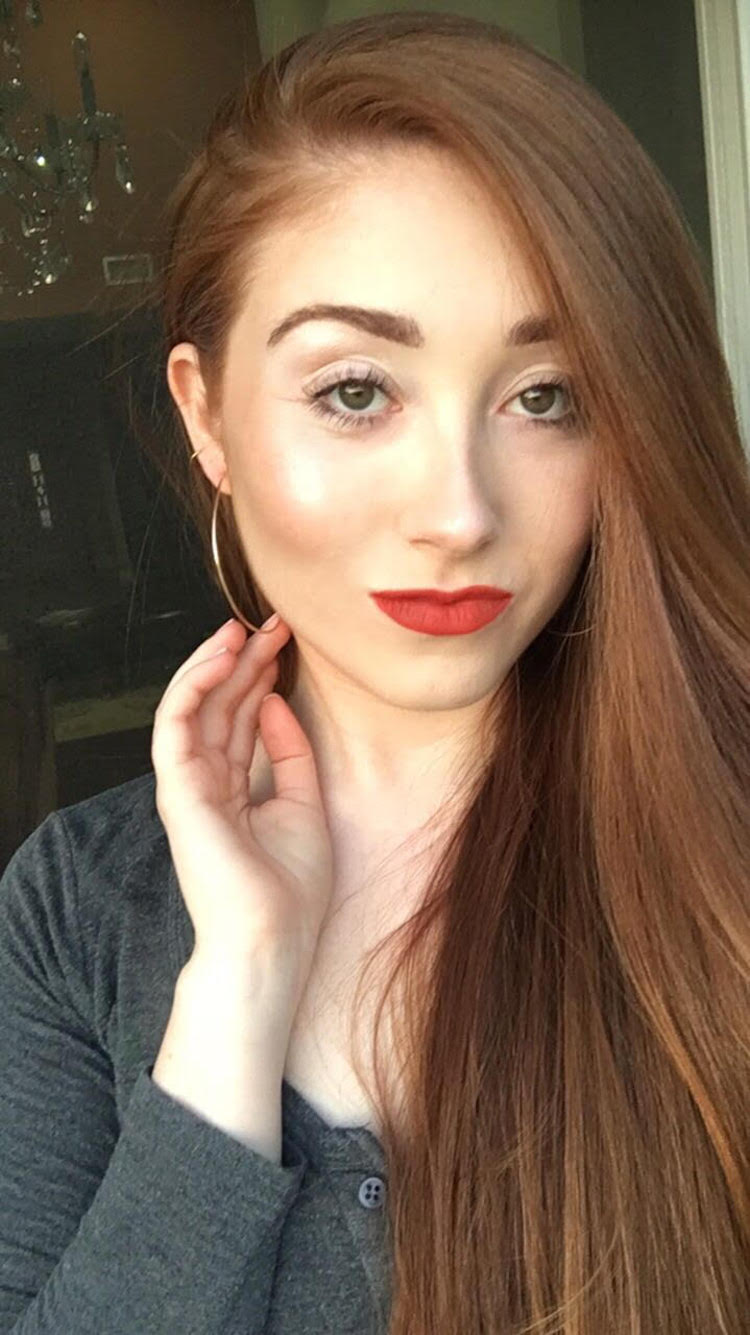 I change out of my work clothes and into something a little more casual, and then I'm out the door!
10 p.m. – 10:30 p.m.
I try to think of removing my makeup at the end of the day as a necessary evil. I truly, truly, hate it and if I could fall asleep in my makeup every night without breaking out or ruining all of my pillow cases I would. I wet a cotton pad with Garnier's Skinactive Micellar Cleansing Water ($6.99) and wipe all the makeup off of my face. Then I use a wash cloth and warm water and wash off all the left over dirt with my CosRX's low pH Good Morning Gel Cleanser ($11). I towel off and then apply CoxRX BHA Blackhead Power Liquid ($16.99) to my chin, nose, and forehead. This is another Rio-approved item. I leave it on for 30 minutes while I watch another episode of Queer Eye. Antoni Porowski, love me!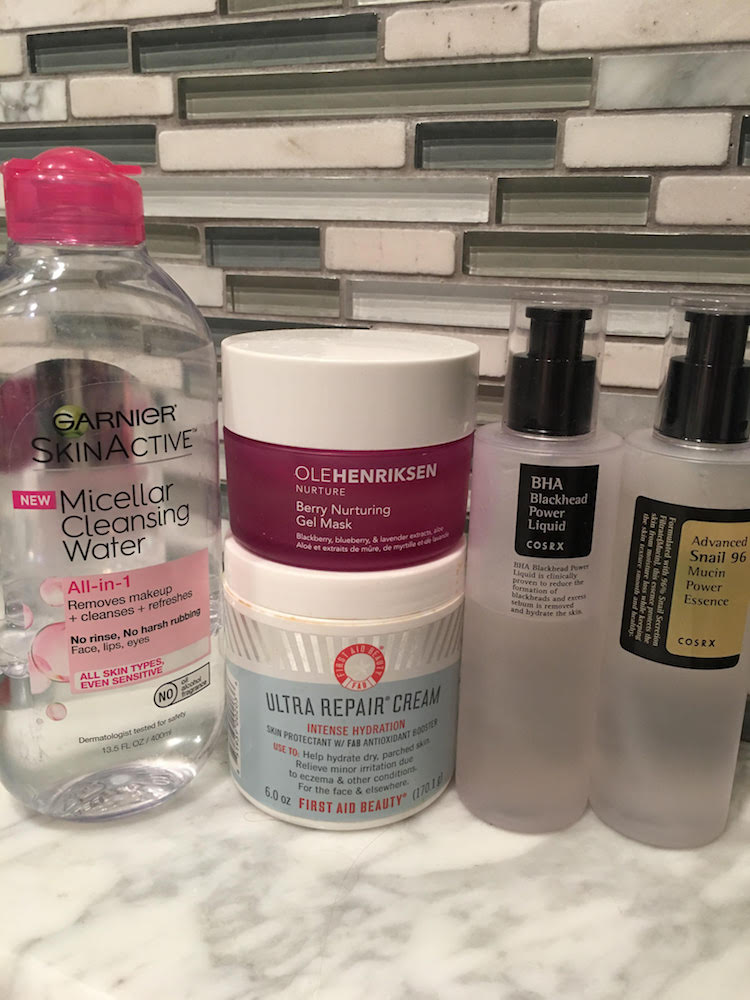 10:30 p.m. – 11 p.m.
I use a warm wash cloth to remove the blackhead liquid from my face. Sometimes after this step I will mask with my Olehenriksen Berry Nurturing Gel Mask ($36), but tonight I'm too tired. Instead I squirt four drops of CosRx  Advanced Snail 96 Mucin Power Essence ($19) into my palms and pat, pat, pat it into my skin. Lastly, I take a generous finger scoop of First Aide Beauty Ultra Repair Cream ($36) and apply it to my face and neck.
I climb into bed with my body pillow and my dog, turn on my humidifier, and tell my Alexa to "play white noise." I fall asleep blissfully.
Indulge in beauty-themed voyeurism by reading all of our past Beauty Files, here.