Lily James absolutely belts her heart out in the first music video for Mamma Mia!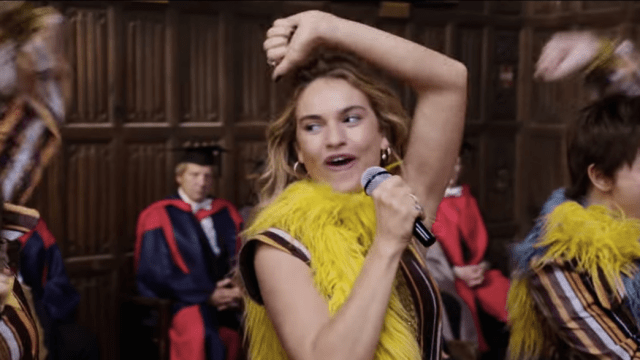 Lily James is kicking off graduation season with the most bonkers and wonderful graduation ceremony ever in a newly released music video for Mamma Mia! Here We Go Again. In the first music video from the upcoming ABBA musical, the younger iteration of Donna and the Dynamos spice up their very mundane graduation with a rousing rendition of "I Kissed the Teacher."
The highly anticipated follow-up to the beloved — yes, beloved — 2008 musical finds Sophie (Amanda Seyfried) and Sky (Dominic Cooper) expecting their first child together and running her mother Donna's (Meryl Streep) hotel on Kalokairi. Once again, she's reunited with her dads (Pierce Brosnan, Colin Firth, and Stellan Skarsgard) and her mother's BFFs (Christine Baranski and Julie Walters) as they all flock the island. Conspicuously absent from all off the trailers is Donna herself, as she seems to have straight-up died.
But while we're all severely worried for the current state of Donna's wellbeing in the sequel, we will learn a lot more about the eccentric innkeeper in her younger days, from her arrival on Kalokairi and meeting each of Sophie's potential dads to establishing her life on the island — to the endlessly catchy music of ABBA, no less.
The charming lyric video for "I Kissed the Teacher" finds young Donna (Lily James) and her fellow Dyanmos (Jessica Keenan Wynn and Alexa Davies) serenading their graduating class.
Watch the adorable music video here:
https://www.youtube.com/watch?v=MkENJUuNW7c?feature=oembed
We cannot get over the franchise's commitment to ABBA-inspired costumes. It's so beautifully on-theme, and we're so on board. Honestly, we don't think we could be more excited for this movie — and we haven't even see Cher's big number yet.
The film also stars Andy Garcia — as Fernando…like the ABBA song, get it? — Jeremy Irvine, Hugh Skinner, and Josh Dylan.
Prepare to lay all your love on Mamma Mia! Here We Go Again when it hits theaters on July 20th, 2018.