Lilly Moscovitz from "The Princess Diaries" wants to start an actual "Shut Up and Listen" podcast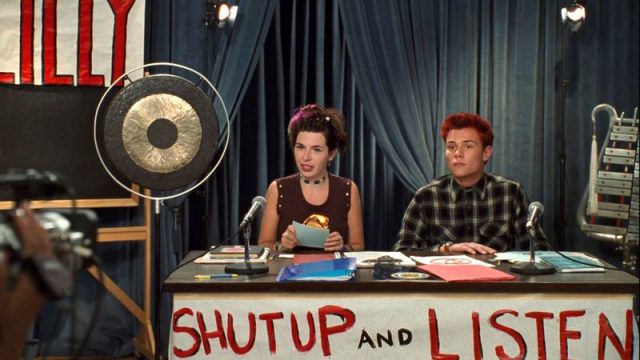 Rumors keep circulating about a potential Princess Diaries 3 (rumors that we are perpetuating, because hellllllooooo, we're excited). To add to our excitement, something else Princess Diaries-related might also be happening. Heather Matarazzo (aka THE Lilly Moscovitz) wants to start a "Shut Up and Listen" podcast IRL, and where can we sign up?
In the movie, Lilly had a cable show called…wait for it…Shut Up and Listen, where she hilariously and unapologetically spoke her mind.
And now, more than 15 years after the OG Princess Diaries debuted, Matarazzo is bringing the show back — but this time as an actual real-life show.
The actress started a fundraiser through Patreon to raise money so the show can become a reality, according to Nylon. She is working on a five-year plan where she'll create her own production company.
"Personally, my goal in the next 5 years is to have one of the most successful and inclusive production companies in the industry (giving Scott Rudin a run for his money)," she explained on her Patreon page. "My company will be one that raises the voices of those who have felt they haven't been seen or heard."
Sounds pretty perfect to us.
Matarazzo has already started recording episodes for the podcast, and we can't wait to hear what she comes up with. false
On her fundraising page, she explained that even though many people believe all working actors are rich, that's just not the case. She broke it down, giving insight into how much she actually gets paid to do mostly independent films.
"Let me break it down: 95 percent of the films I do are independents," she wrote. "My paycheck is 125 a day. That's the rate for a SAG ultra low-budget film. That doesn't include 20% off top for agent/manager commission, before TAXES!! So that's 100 dollars a day, for 12 hours work, which is usually closer to 14-15 hours."
She also explained where your generous donations would go:
https://www.youtube.com/watch?v=09_fXuilDuA?start=44&feature=oembed
If you'd like to be a part of making a "Shut Up and Listen" podcast a reality, head over to Patreon to show your support!