Lili Reinhart could teach us all a lesson about practicing self-care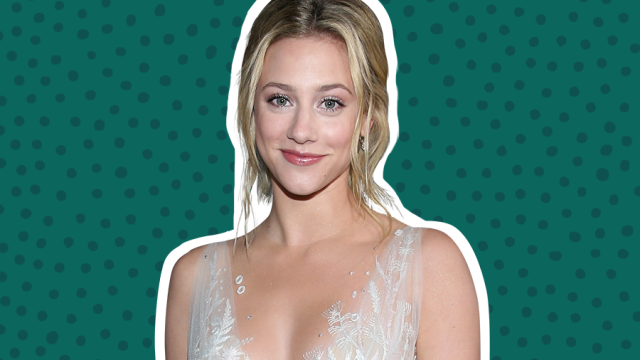 If you think your schedule is crazy, try taking a red-eye flight across the country and then immediately having to host an event where people have come just to see you. That's the setting where I met Lili Reinhart, who, despite having flown overnight from Vancouver to New York to host the relaunch of the American Express Green card, looked as fresh-faced as ever. She is the new face of CoverGirl, after all.
Despite being surrounded by people in a crowded room with loud music, Reinhart fielded questions like a relaxed friend. Much like her beloved on-screen persona, Betty Cooper, Reinhart is whip-smart, poised and well-spoken, but the 23-year-old Riverdale and Hustlers actress is also human, and anyone who has spent even five minutes with her will find that she's just about as authentic as they come.
She's been refreshingly outspoken about her struggles with mental health and balancing self-care in the past, proving that no one—not even our favorite celeb-slash-imaginary BFF—is immune to the struggles of stress, pressure, and mental illness.
Earlier this year, she even got candid on her Instagram stories to share that she had started therapy again for anxiety and depression.
Because as I'm sure we can only imagine, jetting from the Riverdale sets in Vancouver to L.A. gets chaotic, and for someone whose Twitter bio reads: "I take as many naps as I can," the many changes in routine, environment, and time-zone don't make finding time to nap all that easy. Not to mention, since the rise of the Riverdale fandom, Reinhart is busier and gets recognized more often, and as a result, she feels more stressed. Who can blame her?
"I get stressed out very easily, which is not good for someone who travels as much as I do," she says. I really like having a routine in my work and life."
"But if I am traveling a lot, it is nice to have familiar faces around," she continues. "I think it would stress me out so much if I didn't have that to look forward to."
So, when life gets crazy, Reinhart focuses on the little things for self-care. And if she can do it, so can we.
1Self-care tip: Check in with your people
Whether this is hanging with her Riverdale costars, family, or close friends, Reinhart says that it's the people around her that make her feel more grounded. "Whenever I have a long weekend from work, I go to L.A. to see my best friends—they give me that sense of familiarity I need," she says.
https://www.instagram.com/p/B4d5o-qgT-c
2Self-care tip: Read!
As a self-proclaimed introvert who has been open about experiencing social anxiety, she's also big into reading (and soon we'll all be reading her debut poetry book!).
"I feel good when I'm reading a book," she explains. "I feel like I'm doing something productive with my time. I like it a lot better than watching Netflix. I read when I'm on set in between takes. Of course, I do watch Netflix to pass the time, but in the last year I really have been relying on books to keep me occupied.
Reinhart's favorite book genres? Memoirs and thrillers.
3Self-care tip: Find somewhere quiet (even in crowded places!)
"Airports cause me a lot of anxiety," Reinhart says. "It's where I get recognized the most. I manage by trying to sleep on the plane or finding an airport lounge (thanks to Amex's lounge buddy) where I can relax and be somewhere that's a little private. I try to bank hours of sleep whenever I can." Same, girl.
4Self-care tip: Indulge in Netflix when necessary
Of course, when things get out of her control (like that time she got stuck in the Amsterdam airport alone for about 10 hours), Reinhart says that indulging in a Netflix binge is always a good backup.