Lili Reinhart may have just shared a sinister hint about Jughead in "Riverdale" Season 2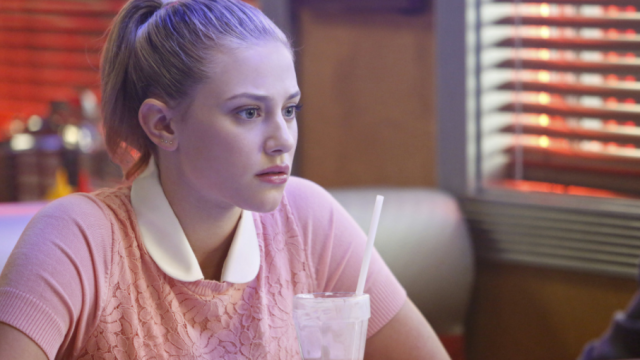 Guys, is everything going to be okay in Riverdale Season 2? We have a sickening feeling that it won't! Perhaps we feel this way because Lili Reinhart shared a sinister possible Riverdale plot line that would make any Bughead fan weep and question their fandom.
Reinhart shared an illustration from Jughead: The Hunger yesterday on her Instagram (The Hunger being an Archie comics spinoff that entails Jughead as a werewolf!). The scene Reinhart shared shows Betty, face cast in shadows, standing over her beau. Jughead has fallen (or been pushed) through a glass door.
We're nervously sweating!
And if you look closely, you'll notice that Jughead isn't the ~human~ Jughead we've come to love. He's definitely transforming into a werewolf!
Uhh — is Riverdale about to pull some supernatural Teen Wolf-esque stuff on us? If the show decides to follow the storyline of Jughead: The Hunger, then perhaps we're about to take a step into fantasy come Season 2.
If your curiosity has been seriously piqued, Jughead: The Hunger is a followup graphic novel to Afterlife With Archie. Among other things, it explains why Jughead has certain *odd* tendencies, and why he's always hungry (see: the whole being a werewolf thing).
We knew he was weird, but we didn't realize Jughead was that weird!
What is our professional Riverdale-obsessed opinion? We think Reinhart's post is a red herring. Adding a supernatural element to Season 2 would detract from all the human drama currently going on. We need to see what happens with Jughead joining the Serpents. And what about Archie's sudden (possibly romantic?) appreciation of Betty? Plus, what about Cheryl? What is going to happen with Cheryl?!
We need to wrap up human drama before we start inhuman drama, right?
We see you, Lili Reinhart, but we just can't buy this plot line yet!