Lili Reinhart says she looked up to Demi Lovato as a young girl for talking about mental health
Demi Lovato's powerful performance of "Anyone" at this year's Grammy Awards is shaping up to be the show's biggest takeaway. After her longtime friend Selena Gomez thanked Lovato for her "courage and bravery," Riverdale actor Lili Reinhart shared her own appreciation for Lovato's openness about her mental health issues.
On her Instagram Stories, Reinhart shared a picture of Lovato onstage at the January 26th show. "Wish I could've been there to give this woman a standing ovation at the Grammys," she captioned. "As a young girl, Demi [was] the first celebrity I looked up to for talking about mental health in such a vulnerable way."
Lovato's performance was certainly vulnerable (and did we mention powerful as hell?). It was her first live performance after her 2018 drug overdose and hospitalization. She wrote the song, which she previously described as a "cry for help," just a few days before her overdose. A few bars into the song, Lovato got too choked up to continue—but, like the survivor that she is, she restarted it from the beginning and pulled off (we'll go ahead and say it) one of the best performances we've seen from the singer.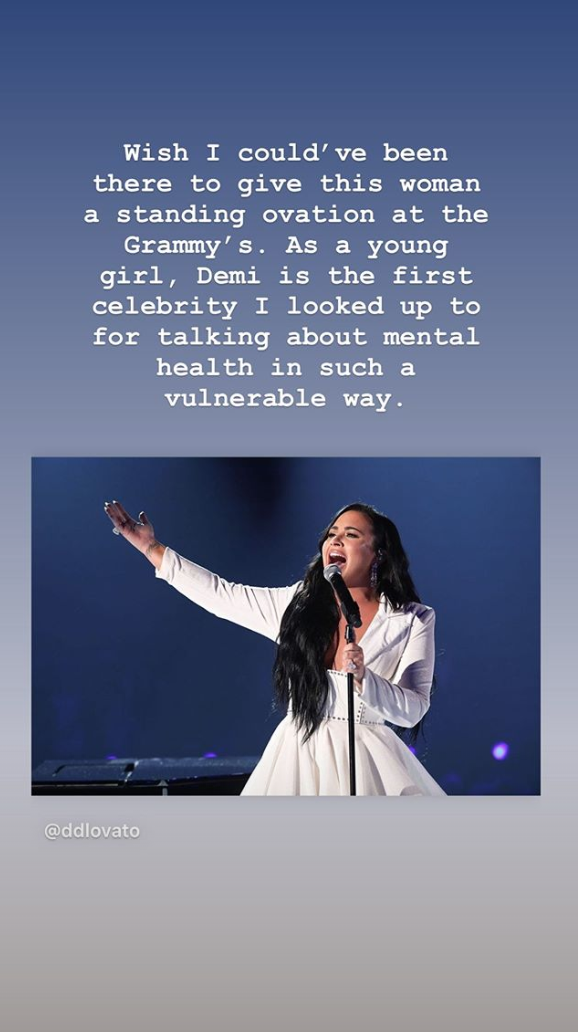 A willingness to be vulnerable (which, we'll just point out, is Brené Brown's definition of courage) is something that Lovato and Reinhart share.
Like Lovato, Reinhart hasn't shied away from sharing her own struggles with her mental health—and she's weathered her share of criticism for her candor.
Recently, Reinhart shared with Jimmy Fallon that she has OCD, then defended her diagnosis from trolls who accused her of minimizing the disorder.
The Hustlers actor has also opened up about experiencing body dysmorphia, seeing a therapist for anxiety and depression, and called out body reshaping apps for propagating "unrealistic expectations" of what the human body "should" (or even can) look like.
Reinhart will also be releasing her debut book of poetry, Swimming Lessons, in May 2020. Her poems will explore "battling anxiety and depression in the face of fame," continuing the precedent of radical vulnerability the 23-year-old has already set for herself.
We're so grateful to Reinhart for her dedication to relentless honesty—and, of course, to Lovato for paving the way. Now, someone get these two on a podcast!