Lili Reinhart and Cole Sprouse's breakup clapbacks blew up the Riverdale group text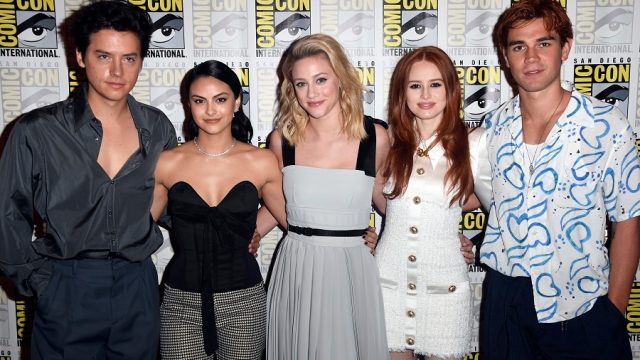 Riverdale fans were undeniably shaken when rumors began swirling last month that Cole Sprouse and Lili Reinhart had split. Fans hoped the couple would deny the rumors and confirm that they were still happily in love. But these two prefer to keep things under wraps, which we respect. Instead of addressing split rumors head-on, they casually posed for a W Magazine cover shoot together, sharing pictures from the shoot on their Instagram pages with an expert clapback at the breakup reports.
On July 25th, Reinhart shared the cover photo on her Instagram page with the caption, "BREAKING: A reliable source has confirmed that none of you know shit," and Sprouse took a hilarious approach to his Instagram caption, writing, "UNPRECEDENTED: Cole Sprouse and Lili Reinhart consume the flesh of 'reliable sources' to fuel their bacchanalian sex cult."
https://www.instagram.com/p/B0WOffWgXJk
https://www.instagram.com/p/B0WOfcZJp0B
Turns out, it wasn't just Riverdale fans that freaked out over the Instagram posts (or that steamy photoshoot). The Riverdale cast was equally floored by the pics, and they discussed it in their group text.
In an interview with Access Hollywood on July 30th, Madelaine Petsch revealed her thoughts about it all, sharing that the Riverdale group chat was blowing up after the photos.
"With that caption, I [was] blown away. I loved it. We all got on the group text like, 'Oh my god! That was so cool!'" she said. "I love them. I don't even know how they come up with this stuff. I was so in awe of that moment."
She added, "I knew they were shooting a cover of W. I did not know it was gonna go in that direction. That shoot was probably one of the coolest shoots I've ever seen."
Because Reinhart and Sprouse are understandably private about their relationship status, we're not surprised that they're being so coy about all these split rumors. They're totally entitled to their privacy, but we must admit, we have so much FOMO about the Riverdale cast group chat. Oh, how we'd love to be a fly on the wall (or an emoji on the screen) for that!