Lil' Kim reunited with Christina Aguilera to sing "Lady Marmalade" live on stage, and it was glorious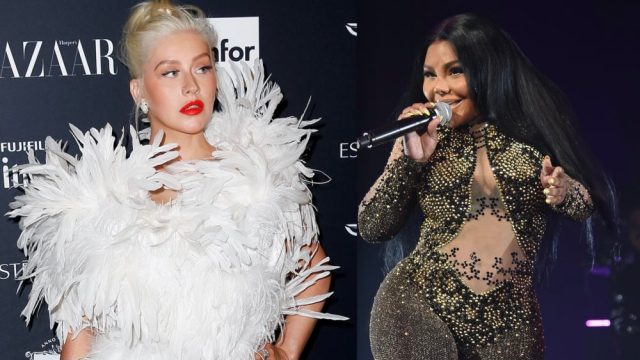 Talk about a nostalgic throwback. On Wednesday, October 3rd, Christina Aguilera was joined onstage by her fellow Moulin Rouge performer, Lil' Kim. The ladies performed their 2001 remake of "Lady Marmalade" for the crowd at New York City's Radio City Music Hall as part of Aguilera's Liberation Tour.
As many will recall, Aguilera and Lil' Kim were featured alongside Mya and Pink on the soundtrack for Baz Luhrmann's 2001 film Moulin Rouge! starring Nicole Kidman and Ewan McGregor. The cover of Patti LaBelle's 1974 track won the four artists a Grammy in 2001 for best pop collaboration with vocals. Aguilera and Lil' Kim teamed up again in 2002 for the track "Can't Hold Us Down" off Aguilera's Stripped album. Obviously, with such rich history between them, it only made sense for Aguilera to invite Lil' Kim onstage to reprise their award-winning number.
Fans knew they were in for an iconic show when Aguilera beckoned her rhinestone-clad friend to the stage.
https://www.youtube.com/watch?v=jS3yGuSzn5k?feature=oembed
Two other familiar faces were in the crowd at Radio City Music Hall that night. Bill and Hillary Clinton attended, and they even snagged a photo with Queen Xtina afterwards.
https://www.instagram.com/p/BohUInygH8v
Not only did fans get a dose of nostalgia with Lil' Kim's surprise appearance, but they were also treated to a few of Aguilera's greatest hits, like "Beautiful," "Fighter," and "Ain't No Other Man." Seriously, guys, if you haven't gotten your tickets for Liberation yet, get on it.
We can't wait to see what other surprises Aguilera has up her sleeve for upcoming shows.