Like all of us, Dolly Parton wants to copy Adele's makeup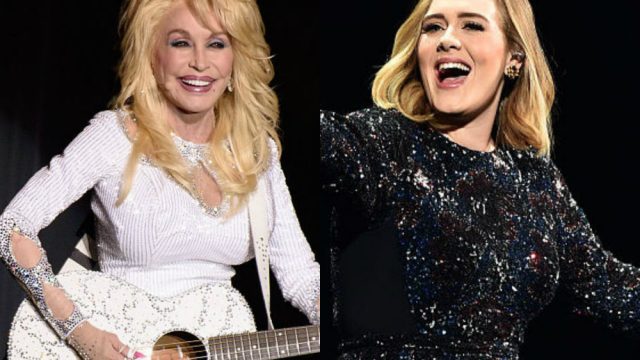 There is no denying that Dolly Parton is a living legend. She's been in the music business for a long time and is a style icon in her own right. With all her accolades and her larger-than-life personality, we can't help but giggle when we realize she's just like us when it comes to her fangirl status for the unmatchable Adele.
BBC reports Parton released her latest album, Pure & Simple, which features new songs that music lovers say are reminiscent of her earlier career. The stripped-down feel of the new album has one song that mentions the British songstress by name and highlights the one feature we are all oh so jealous of — her incredible winged liner.
"Everyone loves Adele," the country star tells BBC News. "With all my little nieces, it's all 'Adele this' and 'Adele that!' And I love how she does her makeup, and so I'm always saying to my little nieces, 'can you fix my eyes like Adele?'"
In Parton's song "Head Over High Heels" she didn't set out to talk about Adele, but it just happened.
"When I started that song, I had not planned to write that line. I was just thinking, 'This needs to be about a girl dressing up sexy, so she's got to have some makeup, and she's got to paint her eyes,'" she says. "And all of a sudden it's like,' And my eyes like Adele!'"
We totally understand Parton's love for Adele because TBH we're obsessed too. We would love to hear a song with the two of them featured — and Dolly would too!
"I would love to write with her," Parton gushed to Entertainment Weekly, and she hopes her latest shoutout will help Adele notice her. "I put that [lyric] in the song in case she [Adele] heard it and looked me up and said, 'Let's do something.' I could ride on her famous coattails!" she joked.
Adele will always be the queen of the winged liner in our eyes. If you're trying to master her signature cat eye, her makeup artist, Lisa Eldridge, released a 22-minute how-to-tutorial to give you all the techniques to work the look in real life. Check it out, below!
https://www.youtube.com/watch?v=ayFFmXmMfN8?feature=oembed