Light-up LED lashes are here, and they are dazzling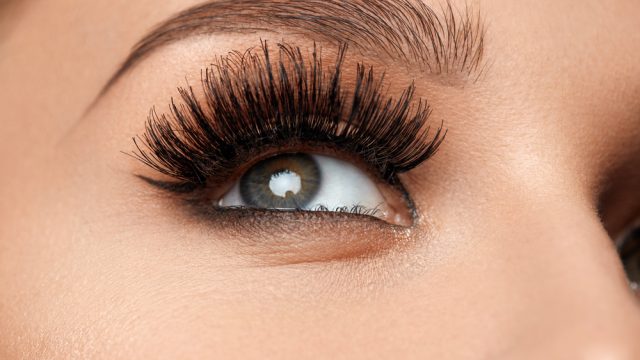 We're thinking that at some point in the near future, you will no longer tango with the messiness of liquid eyeliners and the yuckiness of fake lash glue. Instead, you'll simply apply a strip of awesome tech to your eyes and wait for all the fabulous reactions to roll in. How do we know this? Well, a prototype for the ultimate in fine eye accessories surfaced recently. It's called F.Lashes. Lightweight, LED fake lashes. They debuted at Maker Faire.
The results got us thinking about one of our movie faves, Blade Runner. Here's a static shot of the flashy accessory.
We can't stop staring at the photo. It's trippy but also kinda incredible?
You wanna see this thing in action? Here you go.
Betcha didn't think these little buggers would have different modes. According to video, there's an interactive mode. We think this is perfect for catching that special someone's attention. There's also a dance mode. Perfect for any dark club or moody venue. Then, there's the sparkle mode, because sparkles are awesome.  Need we say more?
According to the designer, Tien Pham's, Twitter page, a Kickstarter campaign will hit the web in July for F.Lashes. Unfortunately, the team behind the glowing lashes won't be able to go into production unless the campaign is successful. So, donate if you want to make it a reality. For now, there's only a prototype and these cool photos.
If this little invention peeks your curiosity, you might wanna check out Maker Faire. According to their website, it's "part science fair, part county fair and part something entirely new." They gather "…tech enthusiasts, crafters, educators, tinkerers, hobbyists, engineers, science clubs, authors, artists, students, and commercial exhibitors" all in one location. They showcase the coolest inventions and stretch our thinking about the capabilities of all things tech.
In any case, we think these LED lashes have the makings of a hit! Apparently, Maker's Faire thought so too. They awarded the product with a blue ribbon.
Remember to visit their Kickstarter campaign once it drops. And you, too, could own a pair of flashing lashes. The future is most definitely here.